Followers may remember that on August 31st, I published an article (see here) and stated that "The recent drop is an opportunity to get long." That call turned out correct. My view on the market changed in January and am expressing those thoughts here.
In January 2016 the market broke through the August 2015 and October 2014 monthly low. See the chart below which shows the SPY: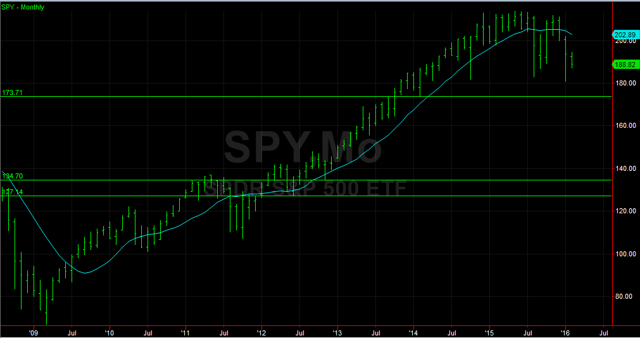 (Source: TradeStation)
This is the first time the market has broken through two such important lows from the start of this bull market in 2009. Also consider that this significant drop in price has occurred very close (timewise) to the previous (4 months apart). This shows us the maturity of the current bull market.
Notice the breakdown of the monthly in January 2008. See how it breaks through two previous monthly support levels and stays under the moving average. We are seeing this pattern develop again.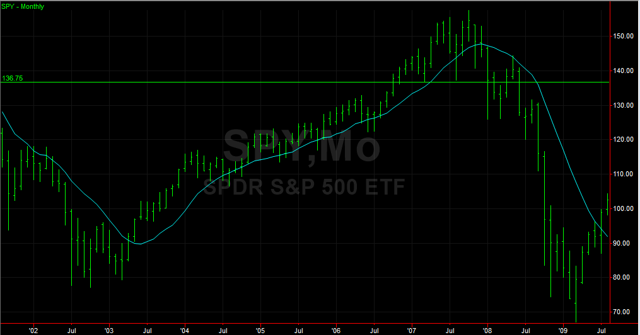 Click to enlarge
(Source: TradeStation)
I first highlighted the importance of the month chart in my article "2 Simple Charts To Monitor the S&P 500" back in September 2014. The monthly filters out all the day to day noise and obviously the picture has changed. Before we move on, let's also look at the daily. Notice how the 100 and 200 day moving averages are no longer support but resistance! Previously, purchases at those average were great trades but we can see that on the last run up, the 200-day MA became a resistance level that price couldn't pull away from.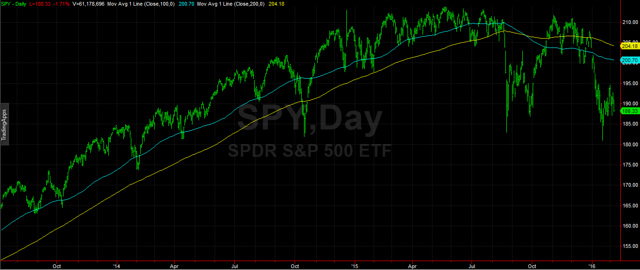 Click to enlarge(Source: TradeStation)
So technicals tell me that the bull market is over, but what other clues are there? Below is a chart that shows the Shiller P/E.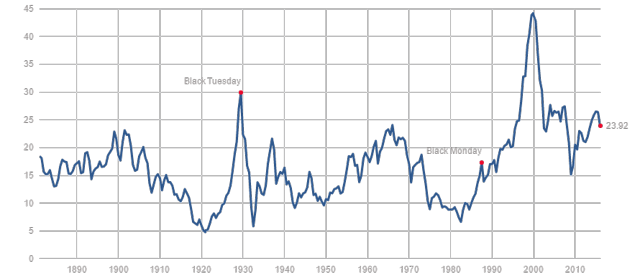 Click to enlarge(Source: multpl.com)
The S&P 500, also doesn't look cheap on P/S (1.7x) or EV/EBITDA (11.9x) either. The charts below show these ratios from 1990 onwards. Data from Bloomberg (symbol used: SPX Index).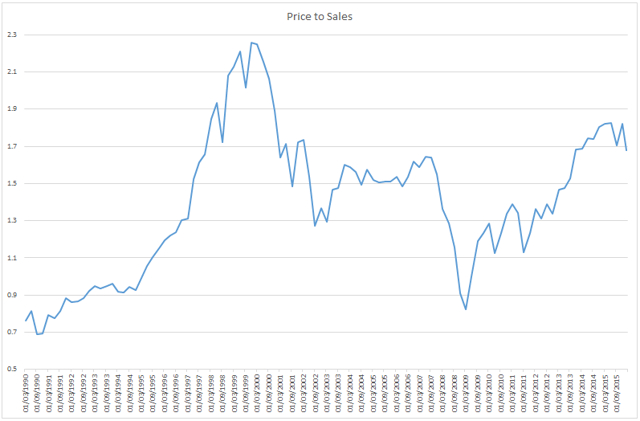 Click to enlarge(Source: Author calculations, Bloomberg data)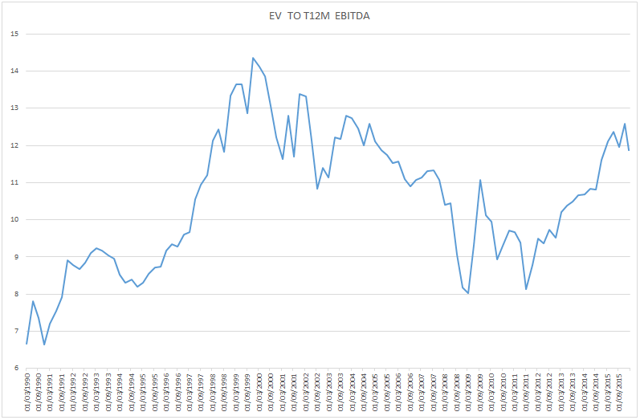 Click to enlarge
(Source: Author calculations, Bloomberg data)
Not only is the market not cheap, but earnings are also in decline. This is what FactSet had to say in its recent report:
For Q4 2015, the blended earnings decline is -3.8%. If the index reports a decline in earnings for Q4, it will mark the first time the index has seen three consecutive quarters of year-over-year declines in earnings since Q1 2009 through Q3 2009.
The difference this time versus 2009 is that valuations are much higher... Furthermore, things are not expected to improve until the second half of 2016. From FactSet:
As is usually the case, analysts are predicting significant increases in earnings and revenue growth in the 2nd half of the year. In terms of earnings, the estimated declines for Q1 2016 and Q2 2016 are -5.3% and -0.4%, while the estimated growth rates for Q3 2016 and Q4 2016 are 5.5% and 10.7%.
On that I believe we will see second half estimates come down as we get closer to the date. This practice is the norm rather than the exception as estimates are usually too optimistic.
While we do not have yet an inverted yield curve we can see the spread between the 2-year and the 10-year has come down to new multi-year lows. Economist Yra Harris believes that this flattening could end up in all hell breaking loose. See his article here.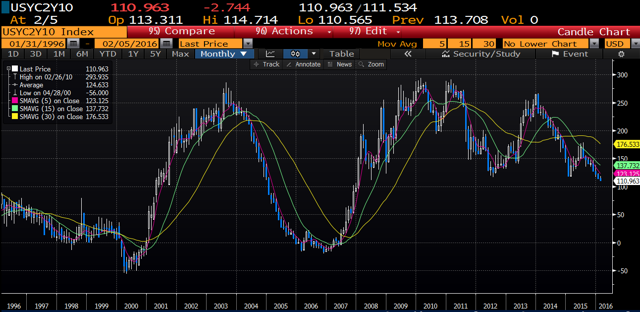 Click to enlarge(Source: Bloomberg)
Now let's taking a look at manufacturing via the ISM Manufacturing Index. Notice how major market declines followed a drop in the index below the 50 level. (Above 50 is considered an expansion of the sector while below is considered a decline). For more on the index see here.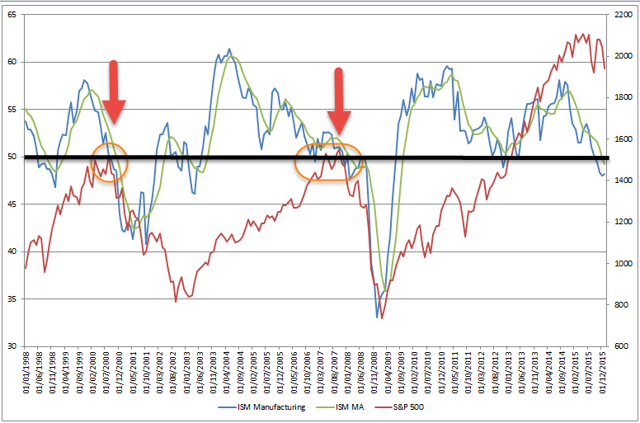 Click to enlarge(Source: Author, Bloomberg data)
And before any readers point this out to me, yes I see that some dips below 50 did not result in a market drop. It would be nice if it were so easy. As investors we are constantly looking for clues and at best this indicator is moving in the wrong direction and is sounding an alert.
Another alert has been triggered by NYSE Margin Debt. Again the latest known figure is below the moving average, and a decent appears to have begun.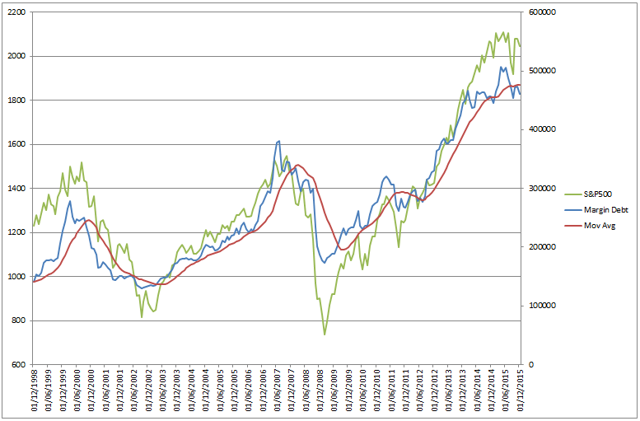 Click to enlarge
To summarize:
Technicals have weakened considerably,
Valuations are not cheap,
Earnings are in decline
The yield curve is flattening
Manufacturing is contracting
Margin debt is off its peak and declining
The evidence tells me that the bull market is over. In my opinion, investors have two main choices:
Increase cash
Balance their portfolio via short positions
It is my belief that now is the ideal time to introduce shorts into a portfolio because shorts are most dangerous in a strong bull market. In 1999 short positions in overvalued internet IPOs destroyed portfolios. For some thoughts on this see my article: "When Shorting Maximizes Portfolio Performance". Now the market is changing and rethinking the logic of some of these valuations. As a result, we are seeing expensive stocks coming back to earth. Many of you will have notice LinkedIn (NYSE:LNKD) -44% decline on Friday. In my opinion that was no surprise as value was much lower and historical results pointed to a decline in growth rates. See my Friday morning article on LNKD here.
Personally I run two strategies: an active exposure portfolio, and a market neutral one. The active portfolio was over 95% net long because I believed we were still in an up market. I waited for more clues. This have appeared over the last month and I have expressed my view in this article. As a result I have taken a first step and changed the composition of that portfolio to around 55% net long via new short positions. (My strategies are not leveraged and maximum gross exposure is 100%). Some of the shorts I put on included Tesla (NASDAQ:TSLA), Monster Beverage (NASDAQ:MNST) and Proofpoint (NASDAQ:PFPT). I've written two articles on PFPT (non-PRO article, PRO-only article). I plan on going market neutral as the market weakens.
Now you may agree or not with my own approach and decision but that is not important here. What is important is to consider the points made, and if you agree that a change in the market has occurred, then to take action which you deem needed to protect your portfolio. Good luck!
Disclosure: I am/we are short TSLA, PFPT, MNST.
I wrote this article myself, and it expresses my own opinions. I am not receiving compensation for it (other than from Seeking Alpha). I have no business relationship with any company whose stock is mentioned in this article.
Additional disclosure: From the tickers mentioned in this article I am long the SPY and short TSLA, PFPT, and MNST.