Late last week, Royal Dutch Shell (NYSE:RDS.A) (NYSE:RDS.B) released its fourth-quarter results and revealed a steep drop of 44% in its profit due an identical drop in Brent oil prices. The primary reason behind this precipitous drop in the company's bottom line performance on a year-over-year basis was the lower realizations that it witnessed in the upstream segment, even as the downstream segment acted as a hedge for Shell and helped it beat estimates.
As shown clearly in the chart below, earnings from Shell's downstream segment have grown impressively this year as the upstream segment has taken a backseat on the back of the weakness in the end market: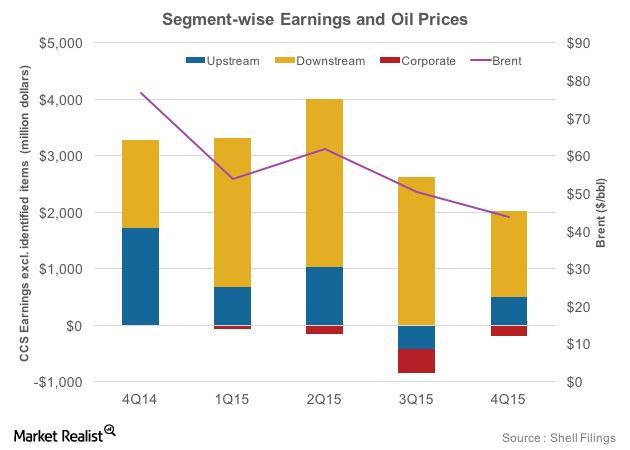 Source: Market Realist
In fact, due to the weakness in oil and gas prices, the upstream segment accounted for only 27% of Shell's earnings last quarter as compared to 53% in the prior-year period. So, for Shell to make a comeback going forward, it needs to turn its upstream business around, and I believe that this is quite likely. Let's see why.
Realizations in the upstream segment could improve
As already mentioned earlier in the article, Shell's upstream business has struggled on the back of lower realizations as oil and gas prices have weakened. However, looking ahead, I believe that Shell now has limited downside in the upstream business as the weak crude oil pricing environment will ultimately improve the demand-supply balance in the industry.
I'm saying this because in 2015, the drop in oil prices propelled demand in the U.S. to the tune of 1.8 million barrels per day, which was double the annual average demand growth seen in the preceding 10 years. This year, as prices have dropped further with the Brent trading at less than $35 per barrel, the possibility of further increase in demand cannot be ruled out.
For instance, in December last year, China took advantage of weak oil pricing and increased imports by 9.3% from the year-ago period to 33.19 million barrels. The country used the soft oil pricing to fill its strategic petroleum reserves, with imports for entire 2015 increasing 8.8% from last year. Now, in 2016, I won't be surprised if China is tempted by the weak oil prices to import more crude oil, especially as the country is now building underground reserves to store more oil.
In December 2015, China brought online an underground storage facility in Huangdao, which can store 19 million barrels of oil. What's more, the construction of three underground facilities in China is already under progress, and it is anticipated that the country will import 8% more oil this year as compared to last year.
Hence, demand from China will play a key role in reducing the oversupply in the end market, apart from declining production in areas such as the Canadian oil sands and the U.S. For instance, oil production in the U.S. is expected to come down to 8.7 million barrels this year from 9.6 million barrels last year, and the good news is that the decline is already happening. At the same time, oil production in other key areas is also going to take a hit due to low prices. As reported by Oilprice.com:
"Wood Mackenzie estimates that 2.2 million barrels per day of Canadian production is currently 'cash negative', while so is 230,000 bpd of Venezuela's heavy oil production, and 220,000 bpd of production from the North Sea. It is also important to note that although we are not seeing considerable production losses, we are seeing a lot of oil being left in the ground that otherwise would have been extracted."
Hence, as a result of improving demand and lower supply, the oil market should be closer to attaining balance going forward, and this will lead to an improvement in pricing. In fact, as shown in the chart given below, oil major BP anticipates that the oil market will see demand and supply at par with each other toward the end of this year itself, which is not surprising given the improving demand and lower supply: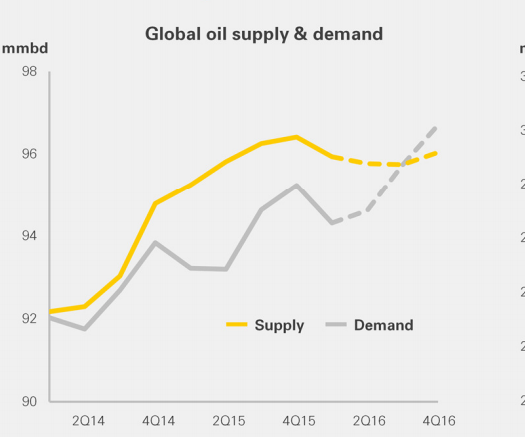 Source: BP investor relations
Other positives in the upstream
Shell is focusing on key growth areas in the upstream segment that will have a positive impact on its performance going forward, such as liquefied natural gas. The company has lined up a number of projects in the LNG segment, with capacity for 9.7 million tons per annum under construction. As shown in the chart below, Shell's new LNG projects that will come online from this year onward will lead to impressive growth in LNG: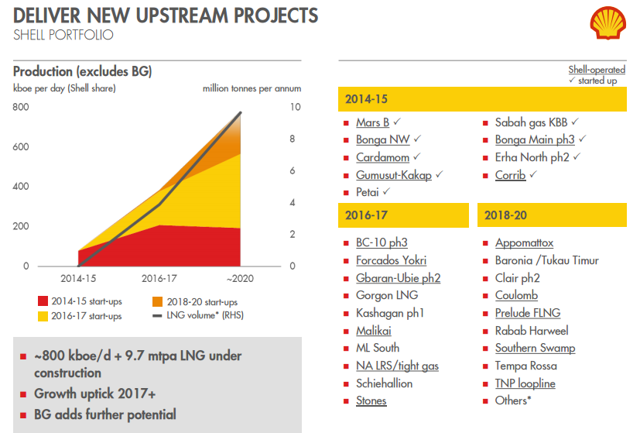 Click to enlarge
Source: Shell
Now, Shell's focus on the LNG segment is a smart move as this particular segment should see better pricing and demand in the long run. This is because it is anticipated that there won't be enough supply in the end market to satisfy the growing need for liquefied natural gas. Take a look at the following chart for example: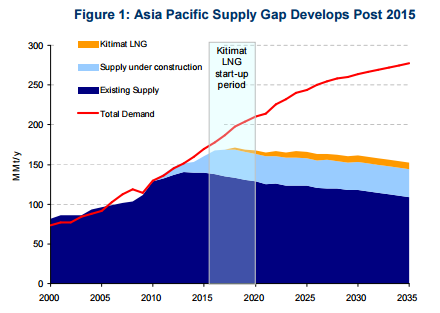 Source: Exxon Mobil
As shown above, LNG demand in Asia is anticipated to exceed supply substantially. As a result, price of LNG in Asia will continue getting better in the long run, and this will eventually allow Shell to benefit from its BG acquisition. I'm saying this because BG's Queensland Curtis LNG project in Australia will further enhance Shell's capacity and reach in this region.
At first, BG's plant will have a capacity of 8.5 million tons per annum with two trains, which can eventually go up to 12 million tons per annum with the construction of a third train. More importantly, BG has already entered into LNG supply agreements for 10 million tons per annum with buyers in China and Singapore. Hence, Shell has made a smart move by acquiring BG as it will be able to strengthen its LNG business and benefit from a possible improvement in pricing.
Conclusion
Shell's upstream business has borne the brunt of the weakness in oil prices, but it is likely that this segment will be able to make a comeback on the back of a more balanced oil and gas market, along with an improving clout in LNG. So, buying Shell at current levels will make sense as its upstream business has probably bottomed out and an improvement in this area will allow the company to improve its financial performance.
Disclosure: I/we have no positions in any stocks mentioned, and no plans to initiate any positions within the next 72 hours.
I wrote this article myself, and it expresses my own opinions. I am not receiving compensation for it (other than from Seeking Alpha). I have no business relationship with any company whose stock is mentioned in this article.