Toward the end of last year, I introduced a different periodic table. Instead of plotting yield vs. dividend growth rates, as I had in prior tables, I plotted yield vs. credit ratings. The idea was to identify high quality Dividend Champions with higher yields.
The idea this time is similar. Except now I have a new tool that rates dividend safety.
Obviously, the reliability and predictability of dividends are very important factors when you are using dividend growth investing to provide growing income and/or good total returns.
Of course, no one can predict the future with 100% accuracy. You can never be sure that every company you own will increase its dividend every year. Things go wrong. Unexpected things happen.
For that reason, I believe that the best approach, no matter what your investing strategy may be, is to attempt to tilt the odds in your favor whenever possible. One of the areas in which such tilting is desirable, obviously, is the probable safety of the dividend.
There are organizations that rate the safety of company dividends. One of them is Wealthy Retirement, which is a unit of The Oxford Club. They maintain a database called Safety Net Pro.
Safety Net Pro is a quantitative system for rating the safety of stock dividends. Using objective data and relevant algorithms, the system rates the probable safety of each company's dividend.
Safety Net Pro assigns each stock an A-F rating on the safety of its dividend. An A rating suggests that the dividend is safe and unlikely to be cut. An F means that there is high risk of a reduction in the dividend.
The Safety Net Pro system considers:
Payout ratio based on cash flow
Cash flow growth
Past dividend cuts
Analyst estimates
Other relevant metrics
Here is the complete rating system: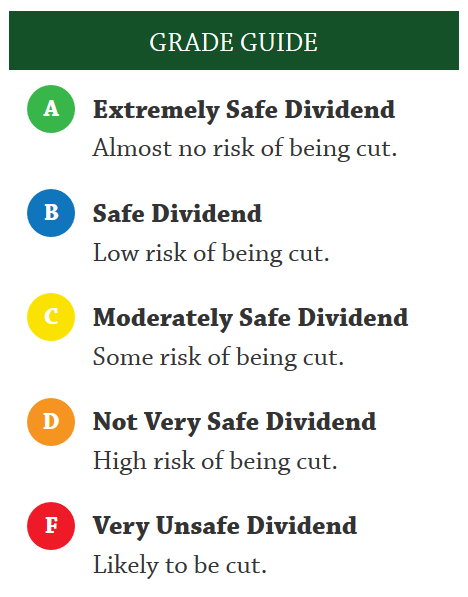 In assigning ratings, there is no quota or required distribution for each rating. Companies are scored based on objective criteria and assigned the ratings they deserve. In other words, stocks are not divided into 5 tiers with 20% of stocks in each tier.
The Safety Net Pro database currently has about 800 stocks rated. I am told that they are working on financial stocks (which require a different analysis), and that they hope to get the database up to 1000 stocks soon.
For more information on Safety Net Pro, click here. (By the way, I receive no compensation from Safety Net Pro. I simply like their rating system, and I am incorporating it into my own stock analyses.)
Let's use the Safety Net Pro ratings as one of the variables in a Periodic Table look at the Dividend Champions. The periodic table format allows you to compare any two variables.
For the second variable, I have selected yield. Yield is probably the most common attribute that dividend growth investors consider when selecting stocks. Certainly it is on everyone's short list.
Without further ado, here is the Periodic Table of Dividend Champions, Dividend Safety Edition.
Yields are across the top and the Safety Net Pro ratings are down the side. The source of the 106 Champions is the Dividend Champions document published by David Fish. The source of dividend safety ratings is Safety Net Pro.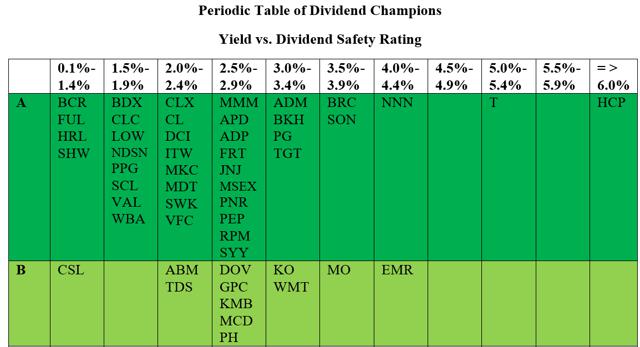 Click to enlarge

Click to enlarge
"NR" means not rated. Many of those are financial stocks that are not yet in the Safety Net Pro database. However, please note that many REITs are rated.
Even where they have Safety Net Pro ratings, I did not list stocks that are "in the red" on the Dividend Champions document, meaning that they have not increased their dividends in more than a year. These are Bowl America (NYSEMKT:BWL.A), Chevron (NYSE:CVX) (dividend safety rating = D), Eagle Financial Services (OTCQX:EFSI), First Financial (NASDAQ:THFF), Helmerich & Payne (NYSE:HP) (dividend safety rating = D), Parker-Hannifin (NYSE:PH) (dividend safety rating = B), Raven Industries (NASDAQ:RAVN), and Tennant (NYSE:TNC).
Comments and Observations
One stock jumped out at me as having an unexpected D rating: Consolidated Edison (NYSE:ED). I contacted Marc Lichtenfeld, the Chief Income Strategist for the Oxford Club. He told me that ED gets a D because of high payout ratios (270% and an expected 307% this year on free cash flow) and declining free cash flow growth.
As always when using the Periodic Tables, remember that they only graph two variables, in this case yield and the dividend safety grades. By themselves, these data points do not comprise due diligence, nor do they tell you anything about valuation. So consider the "green" stocks to be candidates for consideration and thinking. They are not recommendations.
Disclosure: I am/we are long CVX, T, JNJ, PEP, PG, HCP, KMB, MCD, KO, EMR, TROW.
I wrote this article myself, and it expresses my own opinions. I am not receiving compensation for it (other than from Seeking Alpha). I have no business relationship with any company whose stock is mentioned in this article.
Editor's Note: This article covers one or more stocks trading at less than $1 per share and/or with less than a $100 million market cap. Please be aware of the risks associated with these stocks.