Last week, Magellan Midstream (NYSE:MMP) released its 2015 fourth-quarter earnings which revealed quarterly and full-year net income that came in lower than a year ago. Revenue shrank 7.3% and profit fell 2.4% for 2015 but on the other hand, the company reported record distributable cash flow and expects continued distribution growth in the future despite projecting lower distributable cash flow for 2016. So just what is going on at Magellan?
| | |
| --- | --- |
| Segment | % Total Segment Operating Margin |
| Refined products | 60.8% |
| Crude Oil | 29.8% |
| Marine Storage | 9.3% |
Magellan Midstream is an MLP concentrated in the transportation and storage of refined petroleum products, although more recently it has begun to expand more into crude oil. While it is also involved in sales of these products, that part of the business accounts for less than 15% of operating margin. This structure is both good news and bad news for investors in MMP. The good news is the vast majority of the company, the core transportation and terminals business, is posting solid gains, growing operating margins by 9.9% in 2015. The bad news is that with the collapse of energy and refined product prices, the product sales portion of the company has performed so dismally that it had a major impact on both the top and bottom lines despite its smaller size.
| | | |
| --- | --- | --- |
| Source | Full-Year %Change | % of Total Revenue |
| Transportation and Terminals | +5.9% | 70.6% |
| Products Sales | -28.3% | 28.8% |
| Affiliate Management | -37.3% | 0.6% |
| Total Revenue | -7.3% | 100% |
The true measure of an MLP for investors comes from the amount of distributable cash flow the company can generate and the distribution coverage ratio. Distributable cash flow is the amount of cash generated which is available for the company to return to investors through dividends. The coverage ratio is distributable cash flow divided by the amount actually paid to investors. It conveys how safe the company's distribution is in a downturn and whether it has room for growth during better times. Magellan posted a record $943 million in distributable cash flow in 2015 with a coverage ratio of about 1.4 meaning there is some safety and even room for expansion of the distribution. It has some room to manuever and it appears it is going to use it. A 10% distribution increase is planned for 2016 and 8% for the year after, all while distributable cash flow is projected to fall 4.5% to $900 million in 2016. This raises the question as to how safe that distribution will be in the future. Management of course, has assured that it is. They have targeted a coverage ratio of greater than 1.2 which is still better than many of the company's peers. So while products sales have had a definite and significant effect on earnings, it appears for the time being that the remaining 85% of the business can shoulder the load and propel Magellan through a low energy price environment while supporting its distribution growth.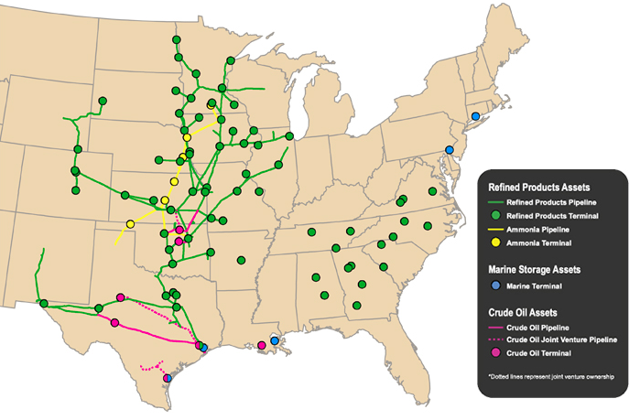 Click to enlarge
Until there's signs of a rebound in the energy market, products sales will suffer but the transportation and terminals business continues to grow regardless. $666 million was spent on organic growth projects in 2015 and another $800 million is anticipated in 2016. During this year, 3 projects are expected to begin operations: the Little Rock pipeline, Saddlehorn pipeline, and a condensate splitter in Corpus Christi. Magellan has plenty of runway left when it comes to growing its core business even with products sales languishing. However, should there be a recovery in energy prices, it could push revenue and earnings palpably higher and as long as the transportation and terminals business continues to crank out the cash, there's no threat that Magellan will start to look like some of its less fortunate peers. While it is hurt by the chaos in the energy market, it is in no real danger as of yet.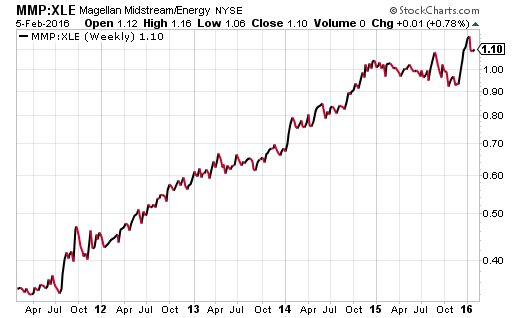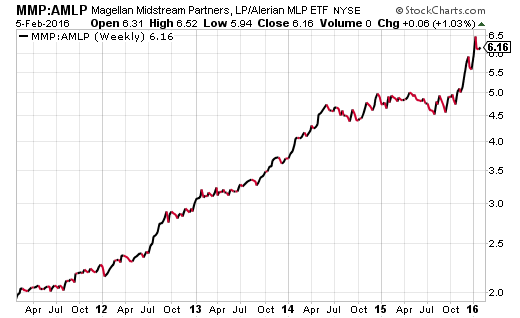 For those who are ready to pour some money into the distressed energy sector, Magellan has proven to be a fast-growing outperformer and as far as MLPs go, it appears to be better positioned and financially stronger than many of its peers. The caveat is this results in a lower yield. Still, 4.9% in a low interest rate environment is nothing to sneeze at, especially when lower risk and the potential distribution growth are taken into account.
Disclosure: I am/we are long MMP.
I wrote this article myself, and it expresses my own opinions. I am not receiving compensation for it (other than from Seeking Alpha). I have no business relationship with any company whose stock is mentioned in this article.