As the market continues to sell off, one of the stocks that has been hit the hardest is Tesla Motors (NASDAQ:TSLA). On Monday, shares broke $150, just a few days ahead of the company's earnings. A further decline after earnings could be a major problem for CEO Elon Musk and shareholders, one that isn't even related to the sale of electric vehicles.
In August 2015, an article on this site discussed how Elon Musk took out a loan to help buy shares in Tesla's latest secondary offering. TSLA sold the stock at $242 a share, and shares have lost about 39% since. With shares plunging by the day, one must wonder at what point Musk could face a margin call for lenders. In November 2015, Reuters UK reported the following regarding the CEO's situation:
Tesla chairman and CEO Elon Musk has pledged 7.4 million shares of company stock to secure personal loans worth about $1.6 billion, according to company disclosures. Goldman Sachs and Morgan Stanley have been named as lenders in the arrangements with Musk. Tesla did not return messages seeking comment. Tesla has warned investors in U.S. regulatory filings what could happen if Musk had to sell the shares. "The forced sale of these shares pursuant to a margin call could cause our stock price to decline and negatively impact our business." Musk, who owns 35.53 million shares of Tesla worth about $7.6 billion, does not accept his annual salary of $35,360.
The issue of a margin call could provide a heated debate for some of these lenders. Since Musk borrowed funds from some firms that were underwriters in the offering, these firms would like a piece of any future debt or equity deals from Tesla. By issuing a margin call to Musk, the firm risks its relationship with him, potentially losing future business. But, at some point, you have to figure risk departments will win out, worried about getting these loans repaid.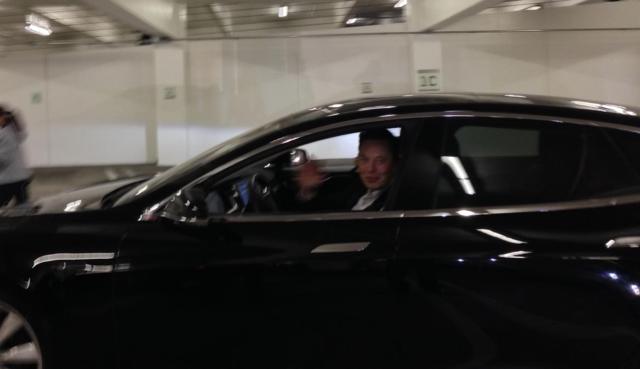 *Look Closely: Elon Musk waving hello to SA Editor Rocco Pendola in 2014
Getting a margin call due to a falling stock isn't unprecedented. Back in 2012, we saw this happen at Keurig Green Mountain (NASDAQ:GMCR). The company was actually forced to fire its chairman and founder due a margin call stock sale that was inconsistent with the firm's trading policies. This can happen, for example, if insiders sell during certain blackout periods, like dates around earnings. Tesla reports this Wednesday, after the bell.
While I don't think Elon Musk will discuss his personal situation anytime soon, investors should get more and more worried as shares come down. The chart below shows how ugly the Tesla decline has been recently. At some point, a large enough decline will result in a margin call, and news of Musk selling shares would likely send the stock even lower, a snowballing effect.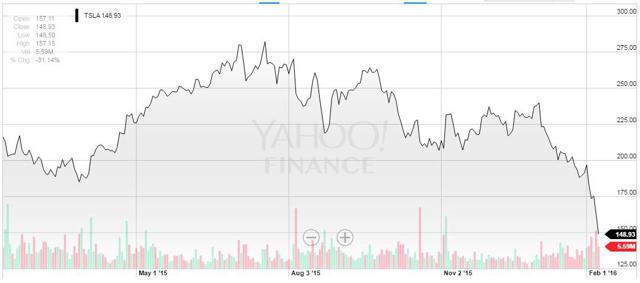 Click to enlarge
Disclosure: I/we have no positions in any stocks mentioned, and no plans to initiate any positions within the next 72 hours.
I wrote this article myself, and it expresses my own opinions. I am not receiving compensation for it (other than from Seeking Alpha). I have no business relationship with any company whose stock is mentioned in this article.
Additional disclosure: Investors are always reminded that before making any investment, you should do your own proper due diligence on any name directly or indirectly mentioned in this article. Investors should also consider seeking advice from a broker or financial adviser before making any investment decisions. Any material in this article should be considered general information, and not relied on as a formal investment recommendation.