Gold investors may be concerned about the congressional appearance of Fed Chair Yellen this week. In recent times, gold investors had good reason for trepidation around Fed appearances and policy, but today gold investors should not fear the Fed. Here's why.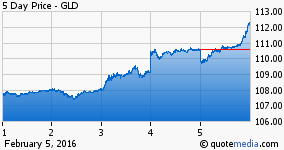 5-Day Chart of SPDR Gold Trust (NYSEARCA:GLD) at Seeking Alpha
As trepidation about abrupt oil price decline, extraordinary dollar strength, Federal Reserve tightening and economic softening has evolved into outright fear about the economy and equities, gold is finally seeing capital support.
| | |
| --- | --- |
| Precious Metals Securities | February Gain to 1PM Today |
| SPDR Gold Trust (NYSE: GLD) | +7.0% |
| iShares Gold Trust (NYSE: IAU) | +7.1% |
| Sprott Physical Gold Trust (NYSE: PHYS) | +7.4% |
| iShares Silver Trust (NYSE: SLV) | +7.4% |
| Market Vectors Gold Miners (NYSE: GDX) | +26% |
| Market Vectors Junior Gold Miners (NYSE: GDXJ) | +21% |
| Direxion Daily Gold Miners Bull 3X (NYSE: NUGT) | +92% |
| Goldcorp (NYSE: GG) | +32% |
| Newmont Mining (NYSE: NEM) | +27% |
| Randgold Resources (NASDAQ: GOLD) | +22% |
| Barrick Gold (NYSE: ABX) | +24% |
Gold relative securities have come a long way quickly. Gold price matching ETFs are up roughly 7% in just this February. The largest gains can be seen where the leverage is. That starts with the levered ETFs, including the Direxion Daily Gold Miners Bull 3X ETF . Gold miners are levered to the price of gold, which matters greatly to their revenues, profit margins and earnings per share. For this reason, you see the exaggerated gains in gold miners versus the large gain in gold this month. But the NUGT ETF also levers investment in the miners by 3X, which in this case has produced extraordinary gains quickly. Given the gains across these securities to date, holders of them may be concerned about their at-risk paper profits.
The U.S. Federal Reserve's monetary policy matters for gold because of its impact on the economy, risky assets, and most directly on the dollar. This week, Federal Reserve Chair Yellen is scheduled to appear twice before congressional panels in the House of Representatives and the Senate. Her prepared statements are likely to note risks to the global economy and financial market stability. However, given the latest jobs report, and still positive expectations for Q1 GDP despite Q4 disappointment, I do not expect the Chair to indicate an alteration of policy at the congressional meetings. She will, however, very likely reiterate the Fed's statement of being data dependent.
Here's why whatever Fed Chair Yellen says or does can only serve gold and relative securities. If she were to imply a change in Fed policy to a less aggressive tightening stance or an even easing stance, then dollar strength must give way. Commodities, and especially gold because of its currency aspects, react inversely to changes in the value of the dollar for U.S. investors. When the dollar gains, gold depreciates in value, and when the dollar depreciates, gold appreciates in value. So if Fed Chair Yellen seems to soften the Fed's position, gold would benefit. This is certainly part of the reason gold has appreciated so much over the last few trading days.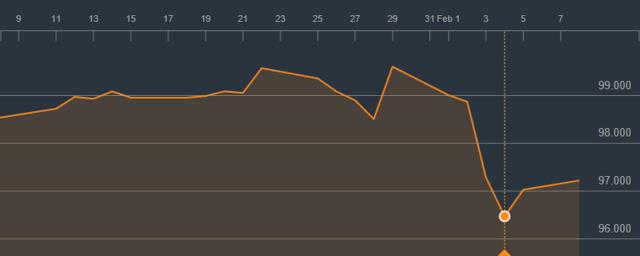 Click to enlarge
The drop in the value of the dollar on economic concerns and anticipated change in Fed policy coincides in the latest spike in gold prices.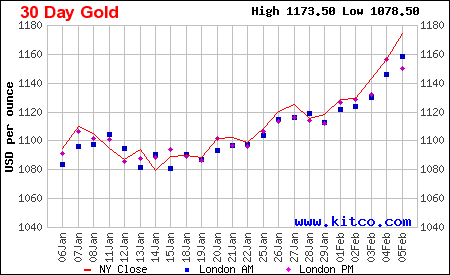 1-Month Chart of Spot Gold at Kitco.com
However, if the Fed Chair seems to imply the Fed is stubbornly holding to its tightening plans, I expect that would severely harm equities. No matter what the Fed believes, investors are increasingly wary about prospects for the U.S. economy. And if equities give way on what seems to be a mistaken Fed view, capital will flock to safe haven securities including gold. Given market doubts about the economy, dollar appreciation could be limited even if the Fed sounds stubborn.
In conclusion, precious metals investors should be at ease with regard to the appearance of Fed Chair Yellen this week. No matter what she says, I do not believe gold and relative security values are at risk. I cover gold regularly and have in the past been a leading voice here on gold investment. I invite relative interests to follow my work on gold here at Seeking Alpha.
Disclosure: I/we have no positions in any stocks mentioned, and no plans to initiate any positions within the next 72 hours.
I wrote this article myself, and it expresses my own opinions. I am not receiving compensation for it (other than from Seeking Alpha). I have no business relationship with any company whose stock is mentioned in this article.