Within the onshore drilling service sector, investors have predominantly accepted the mantra from onshore drillers that market cycles aren't necessarily the worst thing in the world. Analysts and the community especially like to cite Helmerich & Payne, which came out of the last oil cycle with more market share of the overall active rig market than it had prior. This thought process is largely factual. Given the relative "stickiness" of rig contracts once put in place, bear markets shake out weaker capitalized players, allowing the cream of the crop to gain and retain contracts as oil and natural gas markets rebound. Are we seeing signs of this today as we skid along what appears to be near the bottom in the active rig count? How have the three main players - Helmerich & Payne (NYSE:HP), Patterson-UTI (NASDAQ:PTEN), and Nabors Industries (NYSE:NBR) - been performing?
Data Tells The Story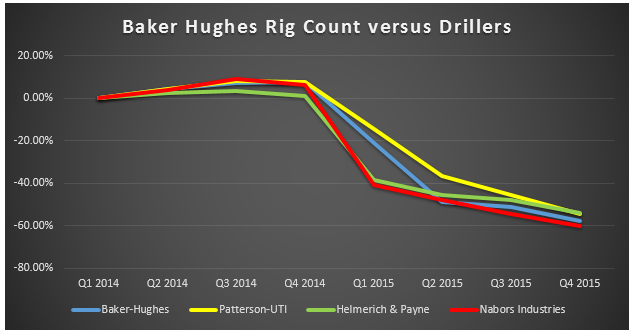 *Data sourced from Baker-Hughes rig count and HP, PTEN, and NBR company filings
As we entered the downward cycle in rigs, the knee jerk reaction of E&Ps was to cut more expensive rigs first, which especially affected Helmerich & Payne. The company is known for having the highest quality rigs in the business (although I believe Patterson is doing a fantastic job of closing that gap) and as a result day rates for Helmerich & Payne rigs were (and are) significantly above industry averages. All of these companies have noted that rig cuts in down cycles are rather indiscriminate; E&Ps performing onshore drilling are quick to react, and cutting expensive day rate agreements with quality equipment is often one of the first items on the expense chopping block.
Along the bottom of this cycle, as more rigs moved from the contracted market into the spot market, these companies have all picked up some gains versus smaller rig companies. In the current spot market, there isn't too much difference between picking up a quality, relatively new build rig from the big three versus older equipment from privately-held competitors. The spot market has remained intensively competitive, and that is where the gains in market share are, and will continue, to come from.
As a result, market share is quickly starting to turn around. My two top picks in this sector, Patterson-UTI and Helmerich & Payne, both now have picked up some minimal market share thus far. Peak to trough active rigs is down 54% for these two (plus or minus a couple hundred bps), compared to a near 58% drop in the Baker-Hughes count in the data. Unfortunately, Nabors Industries, which I've recommended avoiding, has not garnered any market share gains (with my assumptions on 75 active rigs being reported in Q4; the company has not yet reported Q4 2015 earnings). Nabors remains the worst performing of the three, generating negative free cash flow throughout 2015 thus far, all while being the most leveraged of the three. This fact, plus its more extensive offshore exposure, keeps my outlook for the company poor.
I've employed a pair trade here in the past (long HP/PTEN, short NBR) to offset some of the risk in holding these companies. As oil's "lower for longer" theme has become more prevalent, the market has wised up that this is the weakest player of the bunch, and has since sold NBR off due to fears related to its balance sheet and sky-high capital expenditures. NBR shares are down 18% YTD, compared to just a 6% YTD decline for the company that appears to be coming out of this downturn the best, albeit marginally; Patterson-UTI.
Conclusion
If you are an investor that owns one of these three, you need to do more than keep an eye on the results of just one. Market share is easy to lose, and hard to regain. Patterson-UTI remains my favorite pick in this sector, even over industry stalwart Helmerich & Payne. Like with all three companies, it is important to pay attention to cash generation, and not income per share, when evaluating their ability to survive through this downturn. Patterson-UTI recently reported a $0.40/share quarterly loss in Q4 2015, but actually generated over $165M in operating cash flow in the quarter. As long as these companies can continue to tread water on cash flow generation, they will survive this downturn until we see higher oil prices and renewed onshore drilling activity.
Disclosure: I am/we are long HP, PTEN.
I wrote this article myself, and it expresses my own opinions. I am not receiving compensation for it (other than from Seeking Alpha). I have no business relationship with any company whose stock is mentioned in this article.