A January 19 SA article introduced a 20-point checklist for studying Texas Instruments (NYSE:TXN) and Parker-Hannifin (NYSE:PH).
Finviz was added as a resource in a January 24 review of Archer-Daniels-Midland (NYSE:ADM), and a January 29 review of Nucor (NYSE:NUE).
In this review of Qualcomm (NASDAQ:QCOM), I added data from several free online sources that are commonly used by Seeking Alpha participants. I welcome your continued feedback and your suggestions for helpful sources of data.
Resources
Here are the resources used in this current checklist:
FAST Graphs ($9.95 a month) usually is the first source I check when beginning a stock study. In the ADM article, SA reader dunkmaster offered David Fish's CCC list as the best starting point, saying, "You simply can't see more meaningful data in one place." I would not argue with that call.
In a comment following the TXN/PH article, SA reader jrepasch said, "I start with the CCC list (to get ideas if I don't have any) then get stats from M*, S&P, and end up at FAST Graphs."
FAST Graphs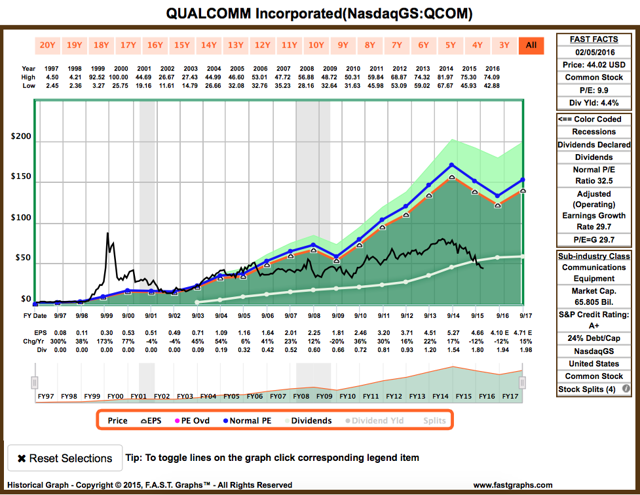 Click to enlarge
1. Credit rating. I first check the Standard & Poor's corporate credit rating. This is found in the lower part of the sidebar to the right of the graph. The S&P credit rating for Qualcomm is A+. Given the present economic environment, I'm not interested in adding a new company to the portfolio with a credit rating of less than A-.
2. Debt. The percentage of debt to capitalization is found immediately below the credit rating on FAST Graphs. Qualcomm's percentage of debt is 24%.
3. Yield. At $44.02 on February 5, QCOM's yield is 4.4%, as indicated in the upper part of the right sidebar. To be more precise, the yield was 4.36%.
4. Price to earnings. FAST Graphs gives a visual image of the historic stock price (the black line) relative to the company's earnings (dark green area). I rate a stock undervalued (UV), fairly valued (FV), or overvalued (OV). The FAST Graph indicates that Qualcomm appears to be undervalued.
5. Review of dividend, price and earnings per share history. FAST Graphs presents the past 19-20 years and estimates of the next year or two for dividends paid, the high and low price for each year, and the EPS for each year. This gives me a sense of the trends and the current status of the stock. QCOM shows a history of:
strong dividend increases,
a price that is down relative to the past several years, and
strong EPS growth until the recent downturn.
An important part of this visual scan is the estimate for future years. Qualcomm began paying a dividend in 2003, at $.09 per share. In 2008, QCOM paid $.60. In 2013, QCOM paid $1.20. The 2015 payout was $1.80. The estimated dividend is $1.94 for 2016 and $1.98 for 2017. FAST Graphs expects slowing dividend growth.
FAST Graph shows the spike Qualcomm's price during the tech bubble of 1999-2000. Above the graph, the table shows a 1998 price range of $2.36 to $4.21. The price range in 1999 was $3.27 to $92.52. The price range in 2000 was $25.75 to $100.00.
FAST Graphs indicates generally strong earnings growth, except for 2001 and 2002, which were slightly below 2000 earnings, a dip in 2009, and a downtrend that began in 2015. FAST Graphs expects earnings to drop again in 2016, and to recover in 2017 to slightly more than the 2015 level.
David Fish's CCC Spreadsheet
I keep David's Excel monthly spreadsheet on my desktop and I refer to it many times each month. David provides a vast array of data for Dividend Champions (25+ consecutive years of dividend increases), Dividend Contenders (10+ years), and Dividend Challengers (5+ years). The spreadsheet is available at no cost from David's website, the DRIP Investing Resource Center (www.dripinvesting.org). Among the many helpful columns in David's spreadsheet, the two areas that I consult most regularly are the number of years of consecutive dividend increases and the group of columns that deal with a company's dividend growth.
6. Consecutive dividend increases. Qualcomm has raised its dividend for 13 years, making it a Dividend Contender. This is found in Column D on David's spreadsheet.
7. Dividend growth rate. Dividend growth data can be found in Columns AK through AO on David Fish's spreadsheet. Column AL gives Qualcomm's 1-year dividend growth rate as 15.5%. Column AM shows QCOM's 3-year dividend growth rate of 24.5%. Column AN shows that the company's 5-year growth rate is 20.2%. The ten-year dividend growth rate is listed as 18.5%.
Column AK shows the dividend growth rates acceleration or deceleration by dividing the 5-year average increase by the 10-year average increase (20.2/18.5 = 1.093).
Many dividend investors focus on the 5-year growth rate because it forms the basis of the "Chowder Rule," a formula developed by SA contributor Chowder, which adds the 5-year growth rate number (20.2 for QCOM) and the current dividend yield (now 4.4 for QCOM), giving a Chowder Rule number of 24.6. Bob Wells refers to this as the Total Dividend Return number (TDR).
finviz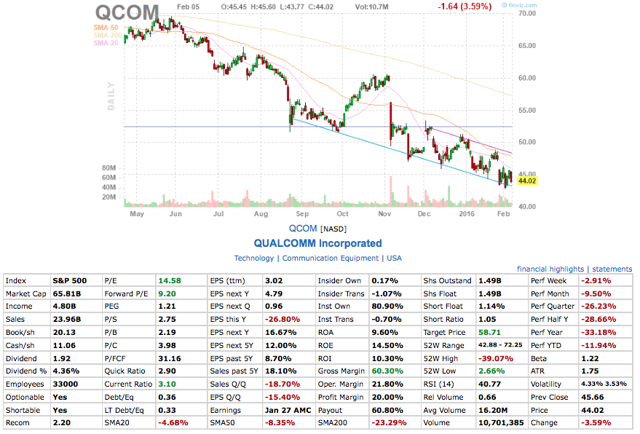 Click to enlarge
I'm still becoming familiar with Finviz (Financial Visualizations), a stock screening tool that offers considerable free financial information. A "tour" of finviz is provided by Investopedia. Below are several data points that are provided by finviz. In the bar at the top left, enter the stock's ticker symbol.
8. Book value per share. Finviz lists the "Book/sh" figure in column one, showing QCOM's book value is $20.13. Below this number is the cash per share, or "Cash/sh," which is $11.06.
9. Price Ratios. Column two provides several ratios related to the stock's price. The most common is the Price/Earnings, or P/E, ratio. It's the stock price divided by the annual earnings, which usually is based on the most recent twelve months. According to finviz, at the top of column two, QCOM's P/E ratio is 14.58. The "Forward P/E" the price divided by the expected earnings for the next fiscal year, showing QCOM's Forward P/E ratio is 9.20, based on an expected 16.67% increase in earnings next year.
Several other ratios are provided for quick viewing in this section:
Price/Earnings Growth (PEG) 1.21
Price/Sales (P/S) 2.75
Price/Book (P/B) 2.19
Price/Cash (P/C) 3.98
Price/Free Cash Flow (P/FCF) 31.16.
10. Trailing 12 months earnings per share. Finviz provides the earnings for the most recent four quarters at the top of column three. The ttm EPS is $3.02. Various analysts and stock services compute earnings differently. "Special items" may or may not be included. "Non-cash charges against earnings" may or may not be included. FAST Graphs, for example, you can choose from a menu of earnings calculations: Adjusted (Operating) Earnings, Normalized Basic Tax-Adjusted Earnings, Normalized Basic Earnings, Basic Earnings, and Diluted Earnings.
11. Earnings estimates. Immediately below the trailing twelve months EPS, finviz puts next year's estimated EPS at $4.79.
Finviz estimates Qualcomm's 5-year earnings per share growth to be 12%. I developed a formula on my Excel checklist sheet to calculate what that figure would be for 5 years out, or the year 2020. For QCOM, using a trailing 12 months EPS of $3.02, the 5-year EPS figure would be $5.32. Can QCOM earn $5.32 in 2020?
A $5.32 EPS seems possible, but it would require a reversal of several trends.
Morningstar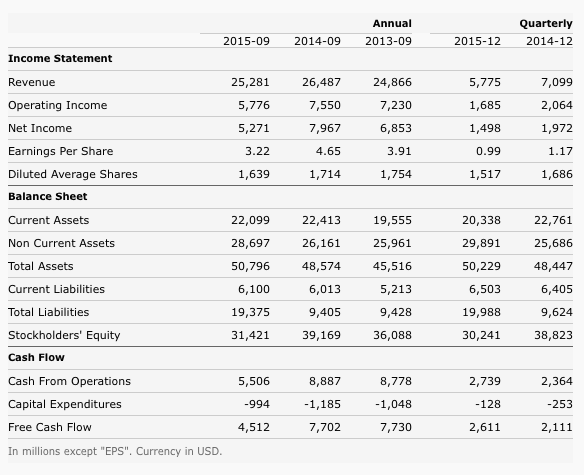 Several Seeking Alpha readers mentioned Morningstar as a helpful resource for stock study. Morningstar provides basic information at no cost, and more information with a premium subscription service. The information here is from the free data.
At the Morningstar home page, type in the ticker symbol for the stock you're studying at the top of the page in the bar with the word "quote" and a magnifying glass. If you enter QCOM, the first thing you see is four stars. Morningstar defines its star system this way:
Morningstar assigns star ratings based on our analysts' estimates of a stock's fair value. A 5-star stock is a good value at its current price; a 1-star stock isn't. Star ratings, which are updated daily, can change for three reasons: because analysts alter their estimate of a stock's fair value, because a stock's price changes, or both.
If you are a Morningstar user, I welcome your assessment of the sections you find most helpful. Significant data can be found by clicking the "Key Ratio" tab or the "Financials" tab.
By staying on the opening QCOM page, and scrolling down to a "Financials" summary, you see the most recent 3 years' data.
12. Revenues and earnings. In the "Income Statement" section, you quickly can see the 3 years' "big picture" of revenue (as of the September quarter for each year), moving from $24.9 billion in 2013, to $26.5 billion in 2014, and down to $25.3 billion in 2015.
Operating income, net income and earnings per share declines are more dramatic than the revenue figures, as represented in the EPS figures: $3.91 in 2013, $4.65 in 2014, and $3.22 in 2015.
This shows that Qualcomm has reduced the number of shares outstanding during the past two years: from 1754 million in 2013, to 1714 million in 2014, to 1639 million in 2015.
13. Balance sheet. Total assets have increased from $45.5 billion in 2013, to $48.6 billion in 2014, to $50.8 billion in 2015.
Total liabilities dropped slightly from $9.428 billion in 2013 to $9.405 billion in 2014. However, total liabilities increased dramatically in 2015, to $19.4 billion. In March, 2015, Qualcomm increased leverage by $10 billion to increase its share buyback plan as part of its policy to return 75% of free cash flow to shareholders.
This was almost a deal-breaker for me. I exited my position in McDonalds (NYSE:MCD) because of a similar move. I was not looking at Qualcomm at the time, but I recently read Brian Nichols' May 18, 2015 article contrasting the McDonalds and Qualcomm decisions.
14. Free cash flow. The "Cash Flow" section includes three items that help round out the big picture. Cash from operations increased slightly in 2013 from $8.778 billion to $8.887 billion in 2014. Cash from operations decreased in 2015 to $5.506 billion, mirroring the decline in net income and earnings per share.
Capital expenditures moved up from $1.048 billion in 2013 to $1.185 in 2014, and then down to $994 million in 2015.
Free cash flow was down sharply in 2015 to $4.512 billion from $7.702 billion in 2014 and $7.730 billion in 2013.
On this page, you can calculate the trend in free cash flow per share by dividing the total free cash flow by the diluted average shares:
2013: $7730/1754 = $4.41
2014: $7702/1714 = $4.49
2015: $4512/1639 = $2.75.
BetterInvesting.org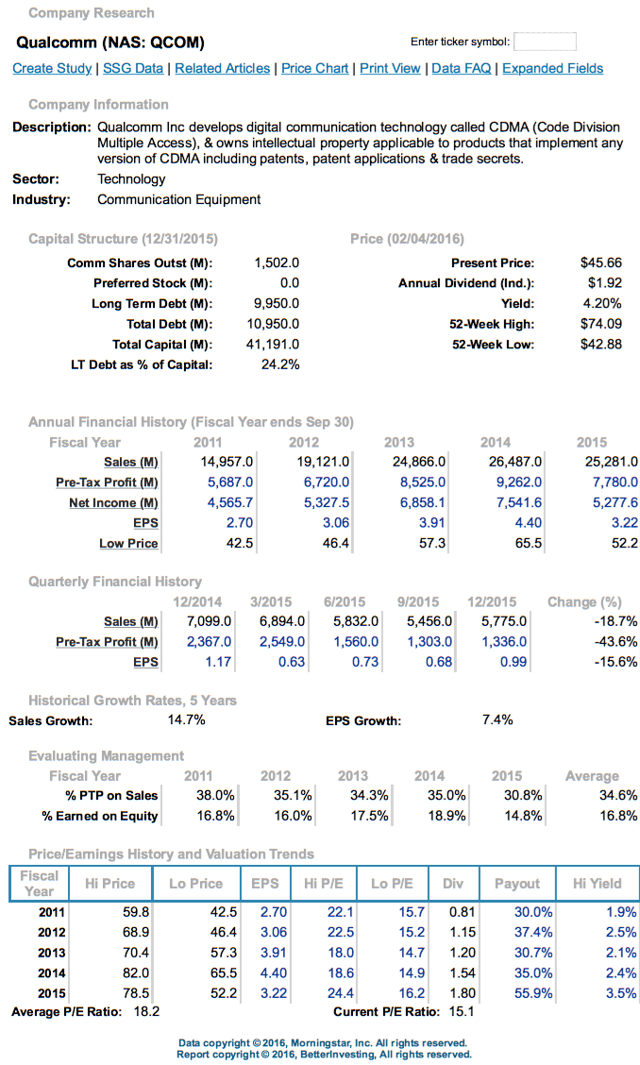 Click to enlarge
This organization provides stock study tools for individual investors and investment clubs. Basic membership is $59 annually. A 1-page "Company Research" summary sheet is provided by Morningstar.
15. Current yield relative to the past five years. One can get a sense of whether a stock is relatively expensive or inexpensive by comparing the current yield with the stock's yield during the past five years. This resource provides a quick look at the high yield during the past five years:
2011: 1.9%
2012: 2.5%
2013: 2.1%
2014: 2.4%
2015: 3.5%.
The current yield of 4.362% is near QCOM's high yield for the past five years. At a current $1.92 dividend, the recent low of $42.88 equated a yield of 4.477%.
16. Average P/E ratio. The current Price/Earnings ratio of 15.1 is lower than the five-year average P/E ratio of 18.2.
If, 5 years out in 2020, QCOM is able to hit a target EPS of $5.32 (as indicated in checklist #11, above), and if the stock traded at the average P/E ratio of the past five years, could QCOM hit a possible high price of $96.87?
What would be a possible low price for QCOM? The low P/E for the past 5 years was 14.7 in 2013. Using an earnings figure of $3.00, and knocking off 10% from the 14.7 P/E, one gets $3.00 x 13.2, or $39.60, which also happens to be 10% off the present price. If one takes 10% off the possible high price of $96.87, a revised target high price would be $87.18. If I round everything down to the nearest dollar, I get a possible low price of $39 and a possible high price of $87. From the present price of $44, I have a potential downside risk of $5 and a potential upside possibility of $43, for an upside/downside ratio of 8.6 to 1.
Is this upside possible? I think the answer is yes, but it will require strong leadership by a management that has recently disappointed.
17. Payout ratio. This resource gives the trailing twelve months EPS as $3.03 (compared to the $3.02 figure shown by finviz). At the current dividend rate of $1.92, the current payout ratio is 63.4%, up from the 55.9% in 2015--both significantly higher than the 30.0% to 37.4% range from 2011 to 2014.
18. Price relative to the past five years. While this information can be obtained from other sources, such as FAST Graphs (which gives the price range for the past 19 years), the BetterInvesting.org resource provides a quick glimpse at the most recent five years, which shows higher highs and higher lows from 2011 through 2014, but a downtrend beginning in 2015:
2011 $42.5 to $59.8
2012 $46.4 to $68.9
2013 $57.3 to $70.4
2014 $65.5 to $82.0
2015 $52.2 to $78.5.
The current price of $44.02 is lower than Qualcomm's price range from 2012-2015.
Website
19. Does the company website provide:
A clear strategic vision?
A transparent assessment about execution of the strategy?
A sense of management's experience, competence, and teamwork?
A clear dividend policy?
Quarterly earnings conference call.
20. I have found that the quarterly conference calls provide important insights about the company's management style and culture. I use the transcripts and webcasts to help me answer the same four questions (above).
Other Seeking Alpha articles.
In addition to Brian Nichols' article mentioned above, numerous SA articles about Qualcomm have been written in the past year. Here are just a few:
Conclusion
On Thursday, February 4, with an absence of strong conviction, I placed a limit order for an initial purchase of Qualcomm shares at $43.51. The order did not fill on Friday, February 5, but it filled on Monday, February 8.
This article is part of the journal of my effort to design a retirement income portfolio. It is not intended as a recommendation to buy or sell any security. I offer this as part of Seeking Alpha's ongoing community conversation about stocks to study and how to design a portfolio. Please do your own due diligence.
Caveat Emptor!
Disclosure: I am/we are long QCOM, JNJ, PG, MMM, MRK, CMI, MSFT, WMT, GPC, IBM, CNP, PEP, WEC, SO, EMR, HCP, PH, UNP, T, EPD, O, DOV, NUE, ADM, TXN, NNN, WPC, MAIN, STAG, HASI, EVA, PEGI.
I wrote this article myself, and it expresses my own opinions. I am not receiving compensation for it (other than from Seeking Alpha). I have no business relationship with any company whose stock is mentioned in this article.