American Electric Power Company Inc. (NYSE:AEP) is a public utility holding company, engaged in the generation, transmission, and distribution of electricity for sale to retail and wholesale customers. The company generates electricity using coal and lignite, natural gas, nuclear, and hydroelectric and other energy sources. It also supplies and markets electric power at wholesale to other electric utility companies, rural electric cooperatives, municipalities, and other market participants. The company serves approximately 5.3 million customers in 11 states.
A Closer Look
American Electric operates in a tough industry space - with only the electric utility business. The majority of the competition has realized that the growth in future comes from integrated utilities segments and major industry leaders have started purchasing assets in the gas-utility business in order to diversify and achieve growth. We have seen this lately with the moves from Southern Company (NYSE:SO) acquiring AGL Resources Inc (NYSE:GAS), and Duke Energy (NYSE:DUK) acquiring Piedmont Natural Gas (NYSE:PNY).
The moves are motivated by the fact that electric-only utilities are seeing declining revenues over the years due to a combination of energy conservation, energy efficiency and shift towards independent power generation/natural gas usage. In addition, power generating companies are moving to secure natural gas infrastructure as the industry moves to accommodate the US government mandate targeting power plants to cut carbon emissions by 32% (by 2030) on the 2005 levels. Most of the CEOs in the utility industry have accepted the terms and do not intend to fight against the mandate.
Specifically, in the case of AEP, the company is solely focused on the power utilities business. Even though the company operates in 11 states, the economy in this region is facing some headwinds, due to the adverse effects of dropping energy prices - as is evident from the chart below.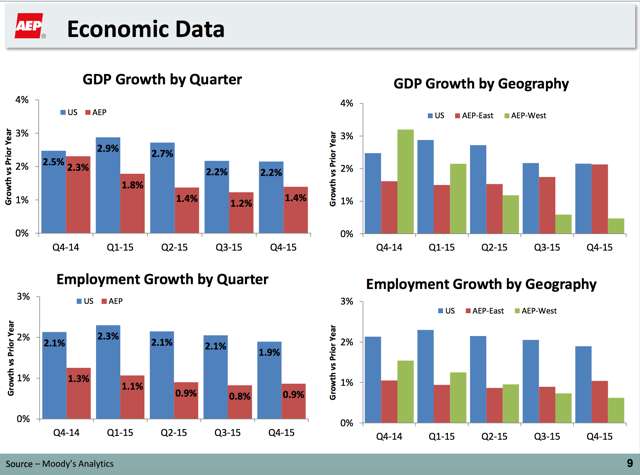 Click to enlarge
(Source: AEP 2015 Q4 Earnings Release Presentation)
Anyway you look at it, those numbers paint a bleak picture. Both GDP growth and employment growth in those regions is a cause for concern as oil rigs are shut down month after month. The continued headwinds make the company's expected 4-6% earnings growth (for 2016) prospects questionable.
Dividend Stock Analysis
Financials
Expected: A growing revenue, earnings per share and free cash flow year over year looking at a 10-year trend. A manageable amount of debt that can be serviced without affecting future operations.

Click to enlarge
(Source: Created by author. Data from Morningstar)
Actual: The utility industry is resilient and has seen steadiness over the years. However, revenue has continued to face some pressure over the years and earnings have followed an erratic behavior. The debt load is stable over the course of time (S&P gives it a "BBB" credit rating) and AEP has a debt/equity of 1.14. The company's balance sheets show a current ratio of 0.60 - much lower than the peers in the industry.
AEP's yield to maturity is as shown below.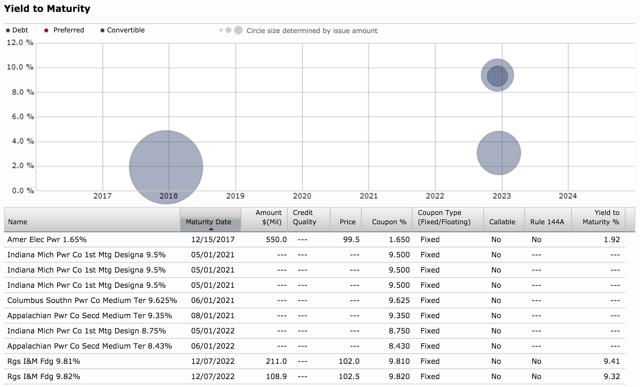 Click to enlarge
(Source: Morningstar)
Dividends and Payout Ratios
Expected: A growing dividend outpacing inflation rates, with a dividend rate not too high (which might signal an upcoming cut). Low/Manageable payout ratio to indicate that the dividends can be raised comfortably in the future.

Click to enlarge
(Source: Created by author. Data from Morningstar)
Actual: Utility companies are slow and steady growers and are perfectly suited for long-term dividend investors. AEP is a Dividend Challenger having raised dividends consecutively for 6 years. The 1-, 3-, and 5-year dividend CAGRs are 5.9%, 4.6% and 4.7% respectively. Coupled with a current dividend yield of 3.56%, AEP has a Chowder Rule number of 8.26. The current payout ratio is 43.4%.
Outstanding Shares
Expected: Either constant or decreasing number of outstanding shares. An increase in share count might signal that the company is diluting its ownership and running into financial trouble.

Click to enlarge
(Source: Created by author. Data from Morningstar)
Actual: The number of shares increased by quite a lot between 2008 and 2010 but have remained fairly stable since.
Book Value and Book Value Growth
Expected: Growing book value per share.

Click to enlarge
(Source: Created by author. Data from Morningstar)
Actual: The book value has trended upwards at a good pace over the years.
Valuation
To determine the valuation, I use the Graham Number, average yield, average price-to-sales, and discounted cash flow. For details on the methodology, click here.
The Graham Number for AEP with a book value per share of $36.06 and TTM EPS of $3.61 is $54.12.
AEP's average yield over the past five years was 4.21% and over the past 10 years was 4.29%. Based on the current annual payout of $2.24, that gives us a fair value of $53.21 and $52.21 over the 5- and 10-year periods, respectively.
The average 5-year P/S is 1.54 and the average 10-year P/S is 1.37. Revenue estimates for next year stand at $35.10 per share, giving a fair value of $54.06 and $48.09 based on 5- and 10-year averages, respectively.
The consensus from analysts is that earnings will rise at 4.5% per year over the next five years. Running the three-stage DCF analysis with an 8% discount rate (expected rate of return), we get a fair price of $64.99.
The following charts from F.A.S.T. Graphs provide a perspective on the valuation of AEP.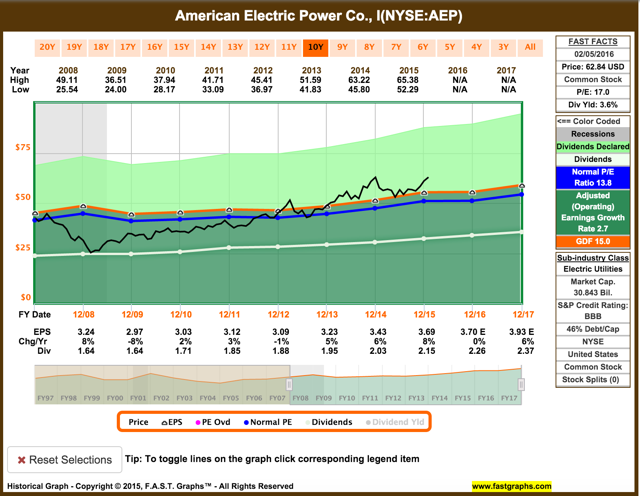 Click to enlarge
(Source: F.A.S.T. Graphs)
The chart above shows that AEP is slightly overvalued. The Estimates section of F.A.S.T. Graphs predicts that at a P/E valuation of 15, the 1-year return would be -9.29%, confirming that the valuation is high.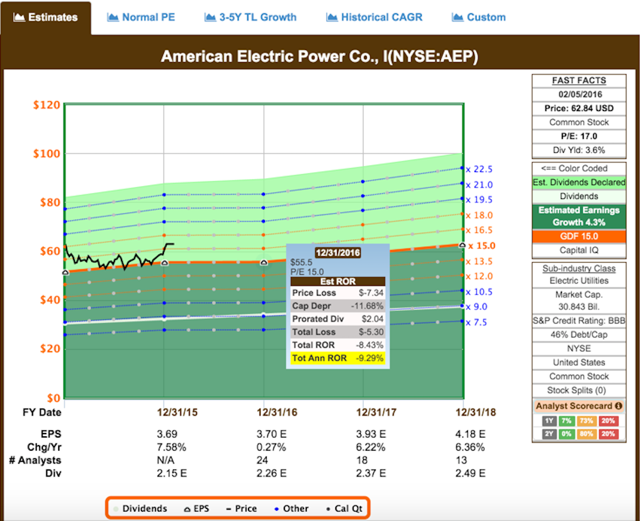 Click to enlarge
(Source: F.A.S.T. Graphs)
Conclusion
Electric utilities in general have seen slower sales industry-wide amid a combination of energy conservation, energy efficiency and shift towards independent power generation/natural gas usage. Coupled with the new regulations from the US government to reduce carbon emissions, electric utilities have started focusing a shift away from dirty fuels such as coal.
AEP has the added threat of operating in the part of the US economy, which has a big focus on the oil production. The company expects earnings to grow at a pace of 4-6% in 2016 but investors shouldn't be surprised if it comes in at the lower end of that range.
The company appears overvalued based on the valuation metrics used above. If we give equal weight to all metrics used above, we get a fair value of $53.79. With investors reaching higher for yield, valuation for utility companies such as AEP are stretched and can translate to lower returns if initiated at current levels. Better entry prices are recommended.
Further Reading
Be sure to check out other stocks analyzed in this sector
Full Disclosure: None. My full list of holdings is available here.
Disclosure: I/we have no positions in any stocks mentioned, and no plans to initiate any positions within the next 72 hours.
I wrote this article myself, and it expresses my own opinions. I am not receiving compensation for it (other than from Seeking Alpha). I have no business relationship with any company whose stock is mentioned in this article.