Investment Summary
Omega Flex, Inc. (NASDAQ:OFLX) is an underfollowed market leader in the production of flexible metal hose, CSST (Corrugated Stainless Steel Tubing) for the residential and commercial construction industries. Since its separation from its parent company Mestek, Inc. in 2005, Omega Flex generated above 50% returns on tangible capital, steadily increased gross margins from 49.9% to 60.8%, generated 10 years of positive free cash flow while maintaining a level share count. The company has a clean balance sheet with no debt, generates ample cash to fund growth initiatives and insiders currently own over 10% of the equity. Finally, Omega Flex will benefit from multi-year tailwinds in the residential construction industry.
Business Overview
Omega Flex manufactures flexible piping products primarily to run natural gas into residential and commercial properties - though applications for flexible piping are in a variety of industries. Traditionally, contractors running fuel pipes in residential/commercial properties used heavy black iron pipe. However, since its development in Japan and its importation in the US beginning in the late 1980s - approved by the National Fuel Gas Code in 1998, flexible piping is increasingly used in residential construction. The reason is that it is much easier and cost-effective for contractors to install flexible pipe as opposed to black iron pipe. The latter has to be sized and cut according to the specific layout of the house. Installing CSST is much like installing electrical wire and the result is substantial savings in labor.
Omega Flex's main brand CounterStrike was introduced in 2004 to better resist potential damage from lighting strikes and is much more suitable to places like the Southeast. Indeed, one of the arguments against using CSST piping by contractors is that unless it is properly installed, that is that it is properly bonded and grounded, a natural event such as a lightning strike can result in a fire hazard to the property. This has led to a variety of lawsuits against CSST manufacturers that have been largely dismissed by the courts.
In 2008, Omega Flex introduced DoubleTrac specifically for fuels for generators. The advantage of such flexible piping is the ability to easily curve it depending on the layout of the generator. They also recently introduced DEF-Trac, a modification of DoubleTrac, specifically for diesel emissions fluids. All diesel engines require such piping for regulatory purposes. A more recent product is SolarTrac. SolarTrac is the specific piping used for residential and commercial "solar heated domestic hot water systems." With all of these different piping solutions, Omega Flex offers a larger variety of joints and Excess Flow Valves (EFV) under the AutoSnap brand that regulates the flow of gas.
Omega Flex is one of about ten manufacturers of a variety of CSST products under their signature brand names TracPipe/CounterStrike. All of Omega Flex's products are manufactured in the US at their Exton Pennsylvania facility or in the UK facility in Banbury for the European market. Many of Omega Flex's competitors are either small private producers or a part of larger companies such as Parker-Hannifin (NYSE:PH) or Smiths Group Plc (OTCPK:SMGKF). Parker-Hannifin doesn't break down the numbers for their Parflex division, though their flexible pipe is mainly centered on industrial applications. Smiths Group Plc's Flex-Tek Division, which sells Gastite is probably the closest competitor to Omega Flex's TracPipe/CounterStrike. In their latest annual report (2015), Flex-Tek showed sales of £84M ($124M). Importantly, their divisional operating margin was at 18.5% a drop of 40 basis points compared to 2014 versus a 130-basis point increase in operating margins for Omega Flex.
Addressable Market
Industry sources estimate that approximately 500,000 new single-family homes use CSST piping. To get a sense of the addressable market with a back of the envelope calculation, consider that a typical single-family home requires between 150-175 feet of flexible pipe. Based on the recommended piping width and typical setup, the calculated cost of just the pipe is approximately $944: $5.81/feet for ½" and $5.19/feet for 3/8" (see diagram provided).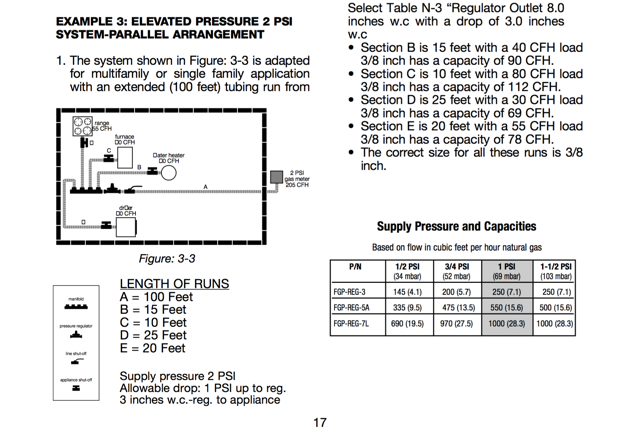 Click to enlarge
Thus, assuming an average 150 feet per home implies about $520M in yearly sales of CSST in the United States. If Omega Flex has a current revenue run rate of $92M then they currently have approximately 18% of the CSST residential market. To be sure, this doesn't take into account the other products that Omega Flex sell for the install: the AutoSnap and AutoFlare fittings, for example. I am also leaving out estimates of their industrial piping solutions such as DEF-Trac.
Financial Overview
Since its spinoff from Mestek in 2005, Omega Flex has compounded revenues at about 3%. But this hardly tells the full story. Given that revenues are directly tied to the health of the housing market, it's not surprising that between 2007 and 2009, revenues fell from $75 million to $44 million. However, two important things to note: Even with almost halving revenues Omega Flex was able to maintain its profitability. In this period between 2007-2009, they were able to increase gross margins by 290 basis points during the height of the housing collapse. Second, with a modest recovery in the housing market since 2010, Omega Flex has been growing revenue CAGR by 15%. More impressive are the across the board gains in operating margins, EBITDA and Free Cash. Operating margins have gone from 7% in 2010 to a recent 23%. EBITDA has compounded at 27% and free cash 24%.
Omega Flex produces phenomenal returns on invested capital. Between 2010 and TTM, the return on invested capital has increased from approximately 25% to 40%. It is a very capital light business: Capex runs between $150 thousand to $600 thousand - more recently, on the upside given investments in SolarTrac and DEF-Trac.
Other things to note:
1) Management appears to be conservative capital allocators. Lately, they've been returning excess cash to shareholders through special end of year dividends. In December of 2015, they declared a special dividend of 0.85 cents a share.
2) Share count since the spin-off has been the same. Management hasn't issued itself stock options instead focusing its compensation on a phantom stock plan. Very little insider selling as well. Over the past two years, insiders have sold only about 12,071 shares.
3) Management has significant skin in the game: The current CEO Kevin Hoben currently has about 10% of an equity stake. Mark Albino has a 4% stake. The majority of the shares were in the hands of the Reed family (founders of Mestek until they came to Omega Flex after the spinoff). Deutsche Bank recently issued a 13-F in which it appears they purchased the block from the Reed family. The other important institutional investor is Brian Bares's Nine Ten Partners (5%).
4) No institutional coverage: management issues 10-Ks/10-Qs but no quarterly conference calls. No analysts currently cover the company.
Valuation
Omega Flex has a current market capitalization of $300M and an EV of about $275M. The market is currently valuing Omega Flex at 11x TTM EBIT.
However, with the housing market coming back online and gearing up for a multi-year build out, Omega Flex could really ramp up revenues. Housing starts are projected to return to a long-term average of 1.5M units per year by 2017-2018 with Fed Funds at 2.19%:
Housing and Interest Rate Forecast, 12/31/2015
2011
2012
2013
2014
2015
2016
2017
Housing Activity (000)
Total Housing Starts
612
784
928
1,001
1,108
1,257
1,521
Single Family
434
537
620
647
711
840
1,089
Multifamily
178
247
308
354
397
417
433
New Single Family Sales
306
368
430
440
496
607
802
Existing Single-Family Home Sales
3,793
4,125
4,473
4,334
4,576
4,550
4,809
Interest Rates
Federal Funds Rate
0.13%
0.13%
0.13%
0.13%
0.19%
1.00%
2.19%
90 day T Bill Rate
0.05%
0.09%
0.06%
0.03%
0.08%
0.83%
1.94%
Treasury Yields:
One Year Maturity
0.18%
0.18%
0.13%
0.12%
0.37%
1.25%
2.60%
Ten Year Maturity
2.79%
1.80%
2.35%
2.54%
2.15%
2.82%
3.68%
Freddie Mac Commitment Rates:
Fixed Rate Mortgages
4.46%
3.66%
3.98%
4.17%
3.87%
4.47%
5.28%
ARMs
3.04%
2.69%
2.61%
2.44%
2.53%
3.04%
4.09%
Prime Rate
3.25%
3.25%
3.25%
3.25%
3.28%
4.00%
5.19%
Data are averages of seasonally adjusted quarterly data and may not match annual
data published elsewhere.
For more forecast details, visit www.HousingEconomics.com.
Household formation is robust and will underpin the housing market recovery. The latest housing starts for December was 1.28M, an increase of 14.4% from last year.
At 1.5M and assuming the rough calculation of what it costs to lay out CSST piping in a single-family home (without price increases), I estimate the following (I leave out the added revenues associated with multi-family CSST piping):
| | | |
| --- | --- | --- |
| Cost of CSST per Single Family House | $944.00 | $944.00 |
| Housing Starts (assumed as base case) | 1,100,000 | 1,500,000 |
| Half use CSST (Industry source) | 550,000 | 750,000 |
| Addressable Market | $519,200,000.00 | $708,000,000.00 |
| Revenues OFLX | $92,000,000 | $127,440,000 |
| Market Share | 17.72% | 18.00% |
At a run rate of $127M with and without gross or operating margin expansion, Omega Flex could be earning between $2.50 to $2.60 EPS once housing starts reaches 1.5M - this implies that the equity is currently trading at about 11X EPS or about 7.8X operating income.
Historically, Omega Flex traded at about 20X over the past decade. Assuming margin compression to 15X, we get a price of about $37-$39 over the next two to three years.
Catalyst
The continuing recovery of the housing market will allow Omega Flex to continue to show top line and bottom line growth. It provides a certain amount of safety to hold the stock for the foreseeable future. One potential catalyst for the equity is the recent Deutsche Bank transaction. As owners of about 45% of the equity DB may want to find buyer for the business, either a larger conglomerate or private equity. Given the recent dividend payouts, it does appear that Omega Flex is throwing off more cash than it can reinvest in the business at such high ROICs. It would make sense for it to be a division of a larger business giving it the ability to reinvest that cash in different markets. Also, consider that CEO Kevin Hoben is 69 and may also want to cash out his 10% stake in an M&A deal.
Risks
The housing market gains fail to materialize. The Fed increases interests and the economy stalls out. Even in this scenario, Omega Flex will be OK. If they were profitable in 2007-2010 with the housing collapse, it's hard to imagine capital loss because of macro events.
Pricing wars: So far, the trend in CSST piping prices seems to be a steady increase according to some contractors that I've spoken to. Omega Flex and Flex-Tek's Gastite are the two main players in residential construction piping in the US market and are behaving rationally in terms of pricing. There's no guarantee, however, that a price war for market share may not break out, however.
Litigation risk: The past few years have seen a series of cases against CSST manufacturers concerning their potential fire hazard. So far, Omega Flex has been able to win in court against plaintiffs culminating in the Tincher v. Omega Flex decision in the Pennsylvania Supreme Court for Omega Flex.
Disclosure: I am/we are long OFLX.
I wrote this article myself, and it expresses my own opinions. I am not receiving compensation for it (other than from Seeking Alpha). I have no business relationship with any company whose stock is mentioned in this article.