Background
REITs, and in particular mortgage REITs, have taken a beating over the past last year, especially since the Fed raised rates in December 2015 for the first time in nine years. In my view, this market beat-down has been due in large part to the uncertainty created by the Fed about interest rate policy. A Fed that has seemed bound and determined to raise interest rates despite decidedly mixed economic data has created the kind of lingering fear and even paranoia that sends investors fleeing. The mREIT sector has been smacked lower out of all proportion to the dangers facing it from higher rates.
In the current environment created by the Fed, there is some doubt as to whether mREITs will even survive. "Do mREITs Have Much of a Future" is a typical headline that reflects those fears and sets forth the basic arguments for avoiding mREITs.
Where others see warning signs, I see opportunity and value. The important thing to focus on at times like this is not a Fed on a Kamikaze mission to prove that it can still raise rates. Instead, it is recognition that the earnings power of mREITs is intact and they remain viable investments.
With the REITs about to report their earnings for the fourth quarter of 2015, now is a good time to sift through the mREIT cast-offs for hidden gems. Sooner or later, mREITs will come back into fashion despite current misgivings about the Fed and overblown worries about the long-term direction of interest rates. Those interested in these investments are wise to prepare and maintain lists of mREITs that interest them.

Ellington Residential and the mREIT Herd
Ellington Residential Mortgage REIT (NYSE:EARN) is one of the aforementioned hated mREITs. It has suffered along with the rest of the mREIT field over the past two months.

Ellington Residential chart, December 2015-present.
If you look through a number of mREIT charts, you will notice that they all have similar patterns. Around 20 January 2016, there was intense selling pressure that proved to be a short-term selling climax. It followed a long, slow steady decline for these stocks, which had been gathering steam for years. The true turning point for the sector, as everyone who lived through it recalls, was then-Fed Chair Ben Bernanke's notorious "Taper Tantrum" speech of May 2013. The entire sector has been in ambulatory care since.

Chart of four representative mREITs 2009 - present.
Whether or not the frenzied unloading of mREIT shares of 20 January was capitulation selling is impossible to know yet. Thus, we are looking for fallen angels in the trash heap, hoping to find some golden nuggets wrapped up in old fast food wrappers. It does happen, but first identify the best prospects and then choose your moment.
Discussions about mREITs can get extremely learned in a hurry. Once an author begins using terms like swaps and throws out numbers as short-hand -- "they made a great decision to load up on the 3.5s instead of the 4s!" -- you've pretty much lost most of your audience. I believe in keeping it straightforward, because many investors who don't work in the industry may be interested in these stocks, too.
In addition, getting lost in the technical details and stressing the fine points is not going to help keep you out of trouble anyway. The market is going to punish your mREIT as part of the herd when confidence vanishes regardless of whether the CEO really did load up on those 3.5s or instituted a buyback program or sold those 30 years just in time. The guys who run these outfits are all bright, they all review the same news flow, and they can all re-orient their portfolios in light of changing economic data.
I am going to make a straightforward argument for why Ellington is an interesting mREIT at current levels. In the process, I will try to avoid as much jargon as possible. You may disagree with my case, but my main goal is to make it so that at least everyone can understand it.
Ellington Insiders have been Buying
The main reason Ellington is on my list is recent insider buying.

Source: Finviz.com.
Officers at Ellington have been snapping up shares for months. CEO and President Penn Laurence, for instance, by my count has bought 10,311 shares since mid-January 2016. Others insiders have been buying chunks of stock as well.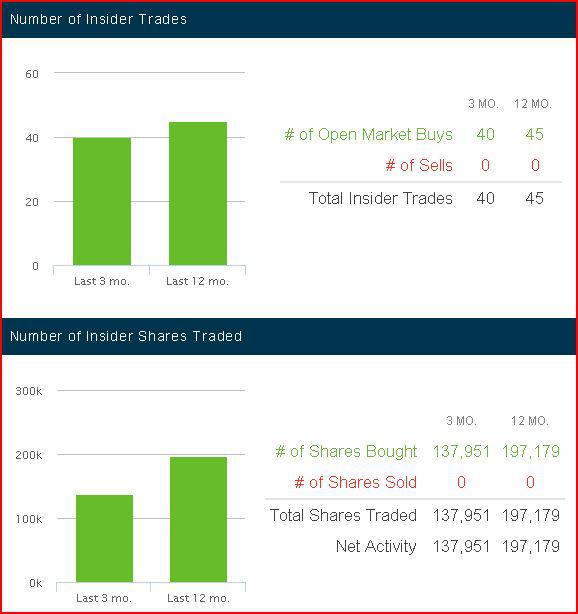 Source: Nasdaq.com.
Many traders swear by insider buying and use it to guide their investments. It is rare to see a company with no reported insider sells at all within the past year, and numerous buys. This is a bullish sign.
One could argue that the insider buys at EARN have been relatively small and concentrated among a handful of people. However, they also have been shrewd, as the stock price has been rising recently.
Shorts are Avoiding Ellington
Short sellers are usually pretty good investors. You don't become a short seller unless you have been in the markets for a while and understand the game.
Shorts were interested in Ellington in 2015, when rate fears were at their height. However, they have abandoned the stock recently.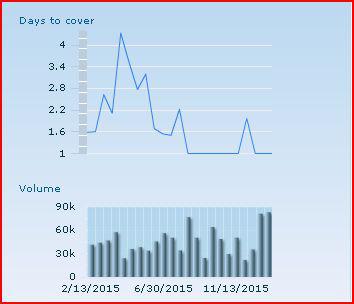 Source: Nasdaq.com.
In fact, currently short interest in the stock is less than a third of an average trading day's volume.

Shorts are not infallible. What I look for is changes in sentiment. Shorts appear to have decided as a group that Ellington is not a good bet to go much lower any time soon. The insider buying noted above may be one factor scaring them off.
Ellington Covers its Dividend
The most important thing for any dividend payer from an investor's standpoint is that it cover its dividend. The latest data that we have from Ellington is from its 4 November 2015 earnings conference call. CEO Penn stated:
Core earnings even after backing out catch-up amortization adjustments was a healthy $0.59 per share, comfortably covering our $0.45 dividend. And we believe that the outlook for our core earnings is even stronger, following the substantial widening in Agency RMBS yield spreads that hit our book value during the third quarter.
What is interesting about Ellington's third quarter earnings is that not only did they cover the company's $0.45 dividend, they also would have covered the previous $0.55 dividend that it cut earlier in 2015 out of an abundance of caution.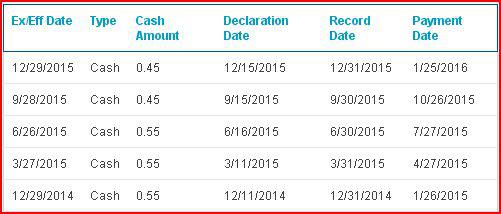 EARN recent dividend history. Source: Nasdaq.com.
After the drop in Ellington's stock price, its $0.45 dividend now gives it an annualized yield of 15.6%. That is a pretty decent yield if it is indeed sustainable.
The company sounded optimistic about its earnings prospects going forward:
Meanwhile, as Mark will discuss later, we're seeing a real lack of balance sheet capacity in the entire Agency RMBS space and that's creating lots of trading opportunities for us. So while this was a top quarter for us, especially on the hedging side, we expect to benefit from wider net interest margins and we believe that we're well-positioned to take advantage of all the dislocations.
As confirmation that the company really is optimistic about its earnings prospects, we have the insider buying mentioned above.
Are Mortgage REITs in Danger?
The main factor driving investors away from mREITs is fear that rising interest rates will eviscerate their earnings power, which is founded on low interest rates. This, in turn, the argument goes, will cause their dividends to evaporate. Since the dividends are the only reason for most investors to own mREITs, that implies that a Federal rate hike cycle will render mREITs essentially valueless.
This tidy argument has some merit to it. The mREITs do benefit from low interest rates in two main ways:
low rates enhance the value of mREITs' rate-sensitive assets, raising their book values;
the mREITs profit from the spread between short- and long-term rates, so the lower the short-term rates, the better.
The argument concludes that the post-crisis era of zero interest rates was a passing phenomenon that made mREITs worth more than they would be otherwise. As that era passes, so will mREITs.
Without getting into an extended discussion about these points, the basic response to this argument is that the situation is not black and white as this reasoning suggests. Low rates do increase mREITs' book value. However, as was recently pointed out in a JPMorgan research note, mREIT stock valuations have become "untethered" from book value anyway. There is no absolute correlation between book value and stock price. The mREIT stock prices instead have become anchored to fears about mREIT earnings power, the second point above.
That relationship, too, is not absolute. The earnings power of mREITs depends upon a number of factors, but primarily upon the spread between long and short rates. If the Fed raises short-term rates, how that will affect mREITs depends more on what long rates do than anything else. If long rates move higher more than short-term rates controlled by the Fed do, then mREITs will have an easier time making money, not a more difficult one. In addition, even if the difference between short- and long-term rates narrows and the yield curve flattens, mREITs can still earn by increasing their leverage.
Furthermore, mREITs are not tied to just earning money by playing the yield spread. They can earn money by diversifying away from a pure mortgage REIT business model, such as into commercial real estate, which mREIT Annaly Capital Management, Inc. (NYSE:NLY) has done. NLY, incidentally, was around long before ZIRP and did quite nicely under "normal" Fed policy. As Mark Twain might say, the death of the mortgage REIT sector has been greatly exaggerated.
The REITs will be reporting their earnings over the next few weeks. Ellington will report its earnings on Wednesday, 10 February after the market close. The next couple of weeks should provide a good indication of how well the sector is handling the current rate environment.
Conclusion
There is a lot fear in the REIT sector, especially in mortgage REITs that are extremely rate-sensitive. Risk-averse investors have been dumping stocks like Ellington, which has sent their stock prices plummeting. However, insider buying, low short interest and Ellington's excellent recent execution make it one mREIT worth considering as we wait for its earnings report.
Disclosure: I/we have no positions in any stocks mentioned, and no plans to initiate any positions within the next 72 hours.
I wrote this article myself, and it expresses my own opinions. I am not receiving compensation for it (other than from Seeking Alpha). I have no business relationship with any company whose stock is mentioned in this article.