Intel (NASDAQ:INTC) finished out 2015 with overall revenue coming in at $55.4 billion or a decline of $0.5 billion or 0.9% below 2014 revenue levels of $55.9 billion. Intel's management expected 2015 revenue to grow mid-single digits in 2015, but as Intel investors are aware the company fell well short. Intel's management gave similar revenue growth prospects for 2016, but is the plan achievable and what needs to happen for growth to resume at Intel?
In short I believe everything needs to go right for Intel to grow revenue mid-single digits in 2016 and I have very little confidence management can pull it off with significant headwinds facing the company and the industries they compete in. Intel has several headwinds that will continue to plague growth rates for years to come. Major headwinds include saturation and a cyclical decline of PC sales coupled with increased competition within data centers.
The chart below depicts Intel's annual revenue since 2008, however since 2011 Intel has failed to deliver any semblance of revenue growth despite through organic methods or acquisitions (McAfee $7.7 billion in 2010). Intel's revenue has grown at a 0.64% CAGR from 2011 through 2015 increasing from $54.0 billion in 2011 to $55.4 billion in 2015.
Image Source Wall Street Forensics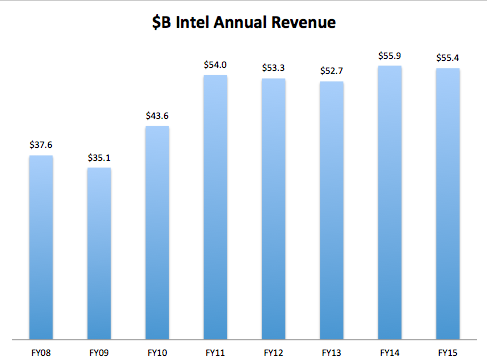 The biggest headwind facing the PC industry and Intel is saturation. Research firms like Gartner and IDC continue to believe that Windows releases will fuel future PC growth. The truth of the matter is PC growth is being driven by unit replacements and the introduction of new versions of Windows is not and will not fuel industry growth. As PCs continue to improve in performance in coming years I would expect the replacement cycle to lengthen, which in turn will continue to threaten PC growth rates.
Another key factor that is impacting PC growth rates that will not go away are competitive threats from tablets and 2-in-1 devices. In addition to tablets the continued adoption of larger phablets (smartphones over five inches) decrease the need for consumers to own a PC.
Intel's revenue generated from PCs represented 58% in 2015, which was down from 62% in 2014 and 63% in 2013. In terms of dollar figures Intel recorded $33.1 billion in PC revenue in 2013, $34.7 in 2014 and $32.2 billion in 2015.
The charts below depict Intel's nominal revenue by business sector as well as the percentage of quarterly revenue coming from each business segment.
Images Source Wall Street Forensics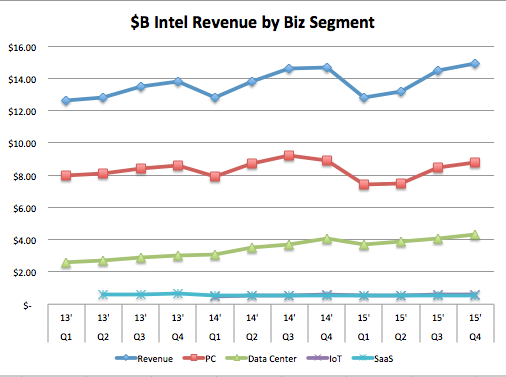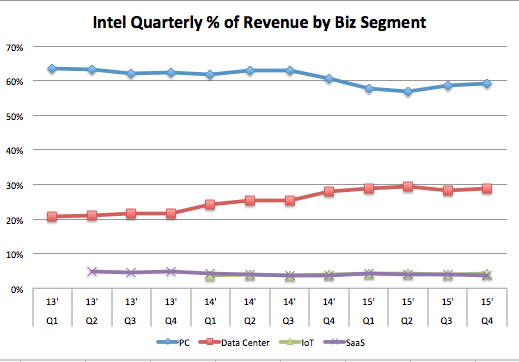 In terms of operating income generated from PCs Intel has seen that metric drop from 68% in 2014 to 58% in 2015. Intel's Data Center Group accounted for 67% of operating income in 2015 up from 58% in 2014. The chart below depicts Intel's percent of operating income by business segment. As you can see DCG and PC have been taking turns as the leader over the past five quarters.
Image Source Wall Street Forensics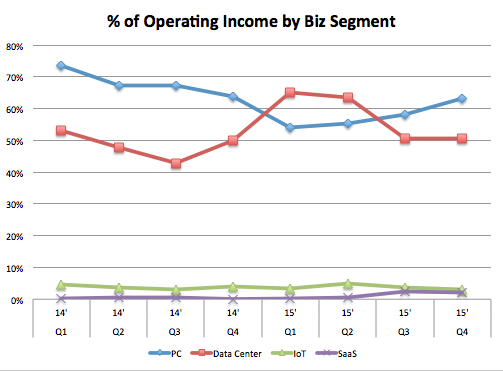 The shift toward increased operating income generated outside of PCs is usually a bullish metric, however the contribution to net income for every $1 of revenue produced from DCG is declining, which means Intel has more pressure to grow the top line just to achieve the same operating income contribution. Intel's top business segments account for greater than 100% of Intel's operating income because the company's "Other" business unit continues to drag on business operations. The unit has contributed negative operating income of 21% in 2014 and negative 20% in 2015 as a percentage of total operating income.
As you can see from the chart below Intel's business strategy continues to be dragged down significantly by the "Other" line of business. Intel's "Other" business segment has chewed up $5.7 billion of operating income in the past two years including $2.7 billion in 2015 alone.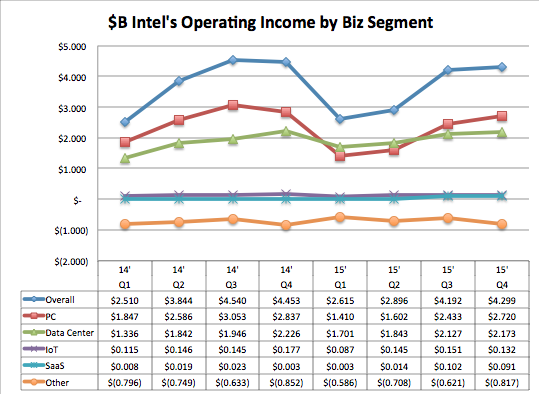 Intel's decline in operating income generated by a $1 of revenue has not only declined for the PC segment over the past two years but has declined within the Data Center Group as well, dropping from 51% in 2014 to 49% in 2015. This metric is particularly troublesome for Intel, and amid continued competition and slowing sector growth rates these metrics will continue to come under pressure. In terms of operating income generated by $1 of revenue from PCs Intel saw this metric decline from 27 cents in 2014 to 25 cents 2015.
The chart below depicts the amount of operating income generated for every $1 of revenue with 50% representing 50 cents. As you can see there is no clear leadership for Intel and the overall business portfolio can't top 30% and continues to fluctuate between 20% and 30% each quarter. As pricing pressure and competition emerge Intel will be even more challenged to maintain these operating metrics going forward.
Image Source WallStreet Forensics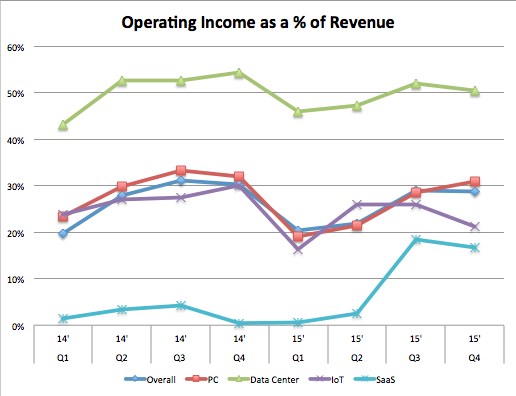 At the moment Intel has no new product or quick fix that can jump start revenue or operating income. If you are looking at IoT and SaaS to deliver organic growth that can revitalize Intel's earnings and revenue growth it is time to think again. These two business units have not grown over the past two years and still represent less than 9% of Intel's total revenue and less than 5% of Intel's overall operating income.
Intel is not selling enough IoT or SaaS and the amount of operating income generated for every $1 in combined revenue lags the PC segment and the Data Center Group by a considerable margin.
Intel's Altera acquisition will be reported in 2016 and investors can expect a contribution to the top line of $1.6 billion. This figure is considerably less than the $1.79 billion of revenue analysts were expecting from Altera as a standalone company prior to the Intel acquisition. If you are an Intel investor and expected Altera to make a difference immediately in 2016 it is time you think again.
I expect Intel to finish 2016 with anemic annual growth of 2% or less with more than a 25% chance of a sequential decline in revenue despite management's 2016 bullish guidance. PC industry shipments will decline significantly greater than 1.3% forecasted by Gartner, which will lead to another annual decline of Intel's PC revenue in 2016.
On the data center front Intel controls nearly all of the demand for server chips that power networks and data centers, which only positions the company to lose - not gain - any market share as new entrants including Qualcomm (NASDAQ:QCOM) look to create pricing pressure against Intel's book of business. According to recent reports Google (NASDAQ:GOOG) (NASDAQ:GOOGL) is looking to replace Intel chips with Qualcomm for its data centers. If Google does indeed move over to Qualcomm chips for data centers it would open the door for other company's to shift their spending to a new supplier as well, which would be a major blow and disruption to Intel's business.

Intel shareholders should be demanding more from the company's management. Intel's leadership needs to do more to increase shareholder value whether it comes down to divesting existing assets or making a significant acquisition to drive revenue and earnings growth over the next 5 to 10 years. If Intel continues on its current trajectory shareholders will continue to see revenue stagnate and decline as well as an eventual decline in profits despite Intel's propensity to buy back shares and increase earnings without being aided by organic growth.
Disclosure: I/we have no positions in any stocks mentioned, and no plans to initiate any positions within the next 72 hours.
I wrote this article myself, and it expresses my own opinions. I am not receiving compensation for it (other than from Seeking Alpha). I have no business relationship with any company whose stock is mentioned in this article.