Following an audit committee review that revealed accounting irregularities, Brixmor Property Group (NYSE:BRX) CEO Michael Carroll, President and CFO Michael Pappagallo, and Chief Accounting Officer Steven Splain have resigned, effective immediately.
According to a Feb. 8 news release, the company received information in late December 2015, "through established compliance processes," that triggered the review.
As a result, the board concluded that certain accounting and financial reporting personnel, in some instances, "were smoothing income items, both up and down, between reporting periods in an effort to achieve consistent quarterly same property net operating income ... growth."
With the executives' departures, the company named Daniel Hurwitz, former CEO of DDR Corp. (NYSE:DDR) and the founder and CEO of Raider Hill Advisors, LLC, to serve as interim CEO, effective immediately. Hurwitz will also be appointed to serve on the company's board. Additionally, the company's board named Michael Cathers to serve as interim chief accounting officer and treasurer, according to a same-day Form 8-K. Cathers previously acted as the company's senior vice president of financial accounting.
Brixmor said it believes the accounting irregularities and review will not impact its financial strength or prospects. It believes the amounts involved are not material to non-GAAP same property NOI or the company's GAAP financial results and does not expect to be required to restate historical financial results. Additionally, the company said this matter is not likely to impact its compliance with the financial covenants in its debt agreements.
However, final determinations on these matters remain subject to the completion of the 2015 audit and the filing of the company's Form 10-K. "The Board is disappointed to have learned of the conduct and lack of appropriate management supervision uncovered as a result of the Audit Committee review," Chairman John Schreiber said in the news release. "Once the facts were known, we moved swiftly to take remedial action."
The company said it expects to meet its previously announced guidance for 2015 FFO attributable to stockholders and non-controlling interests convertible into common stock - in a range of $1.96 to $1.98 per share. BRX's 2015 fourth-quarter and full-year earnings announcement, originally scheduled for Feb. 8, is now expected to be released Feb. 29; its Form 10-K for the year ending Dec. 31, 2015, is expected to be filed within the period prescribed by applicable SEC regulations.
Brixmor said its board of directors and its outside advisers are continuing to assess whether any further remediation is appropriate with respect to the company's internal reporting controls and procedures.
Source: SNL Financial
Will Brixmor Get ARCP'd?
I compiled the following charts to try to get a feel for the "accounting games" playbook:
First, the price of VEREIT (NYSE:VER) starting three months prior to the accounting announcement and Brixmor three months prior to the accounting announcement: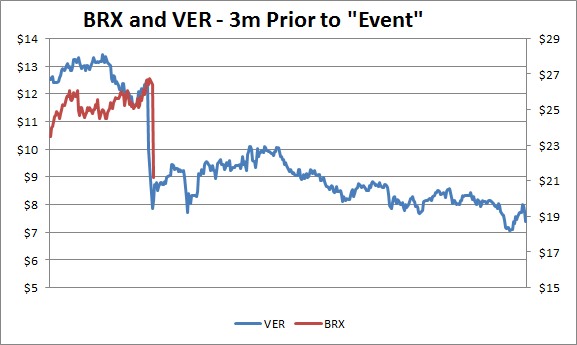 Then, I indexed both to 100 three months prior to the announcement: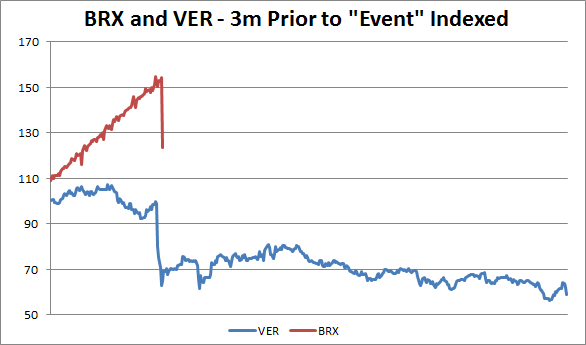 As both charts show, the initial 20% look suffered by VEREIT has been followed by over a year of dead money performance. Note that in both charts, thus far Brixmor is following the same playbook - down 20% (albeit from a higher starting point, which matters little to recent purchasers).
It is, however, important to note the differences.
Brixmor:
Has not been growing by serial acquisitions, and therefore, has easier books to understand and correct if necessary.
Traded at a discount to peers immediately prior to the event, which should help couch some of the downside.
Did not get levered to a single tenant like VER did with Red Lobster.
With that in mind, here are my concerns:
There could be more to come. The company has stated that its forensic accounting experts have finished their review, but I am uncertain.
Why would respected individuals like CEO Michael Carroll, CFO Michael Pappagallo and CAO Steven Splain take a chance on their reputation (and possible civil and criminal action) for such small variances? The company stated on the call that compensation was not tied to these numbers. This makes no sense to me, and we may never know. The bigger question is "Is it systemic within the REIT?"
Did Blackstone know of this during the IPO? The fact that this has occurred the entire time this REIT has been public leads me to suspect that it was happening pre-IPO as well. This is disconcerting as the amount of diligence firms are supposed to do and disclose during the "go public" phase is substantial and significant. Personally, I cannot imagine Blackstone knew or would ever condone this activity. Keep in mind, it owns over 30% of this firm and just took a significant haircut today.
The Bottom Line: There is RISK, and until the company completes a forensic review of the financials, I would maintain caution. Today, Jim Cramer commented on the issues at Brixmor, and he said:
This is a company that has really good properties...and yet when we've seen these kinds of things the stocks just don't bottom. So I'm going to urge people not to bottom fish Brixmor.
I'm not bottom fishing, instead I have decided to nibble on a few shares (purchased at $20.03 this am).
I don't take accounting irregularities lightly, and if it weren't for Daniel Hurwitz (the interim CEO), I would not have hit the BUY button at all. There are plenty of other REITs that don't have the same risks, and while the price seems opportunistic, I would not expect to see shares advancing anytime soon.
In summary, nibbling seems logical, bottom fishing seems foolish. Always remember to protect your principal at ALL costs.
Click to enlarge
Author's Note: I'm a Wall Street writer, and that means that I am not always right with my predictions or recommendations. That also applies to my grammar. Please excuse any typos, and I assure you that I will do my best to correct any errors if they are overlooked.
Finally, this article is free, and my sole purpose for writing it is to assist with my research (I am the editor of a newsletter, Forbes Real Estate Investor), while also providing a forum for second-level thinking. If you have not followed me, please take 5 seconds and click my name above (top of the page).
The only guarantee that I will give you is that I will uncover each and every rock I can in an effort to find satisfactory investments that "upon thorough analysis promises safety of principal and satisfactory return. Operations not meeting these requirements are speculative." (Ben Graham)
Disclaimer: This article is intended to provide information to interested parties. As I have no knowledge of individual investor circumstances, goals, and/or portfolio concentration or diversification, readers are expected to complete their own due diligence before purchasing any stocks mentioned or recommended.
Disclosure: I am/we are long O, DLR, VTR, HTA , STAG, GPT, ROIC, HCN, OHI, LXP, KIM, WPC, DOC, EXR, MYCC, BX, TCO, SKT, UBA, STWD, CONE, BRX, CLDT, HST, APTS, FPI, CORR, NHI, CCP, WSR, CTRE, WPG, KRG, SNR, LADR, HCN, HCP, BRX.
I wrote this article myself, and it expresses my own opinions. I am not receiving compensation for it (other than from Seeking Alpha). I have no business relationship with any company whose stock is mentioned in this article.