What's in the stock price right now?
With GoPro's (NASDAQ:GPRO) stock price reaching a record low following the Q1 warning and the company's enterprise value now standing below $1b ($1.4b market cap, $474m cash), we believe it's worth having a fresh look at the equity story and valuation.
The first step in our view is to try to figure out what's in the stock price right now. To that end, we performed a reverse DCF (9.6% discount rate with a 1.3 beta) that shows that the current stock price factors in 5% revenue growth on average over the next nine years and 10% operating margins.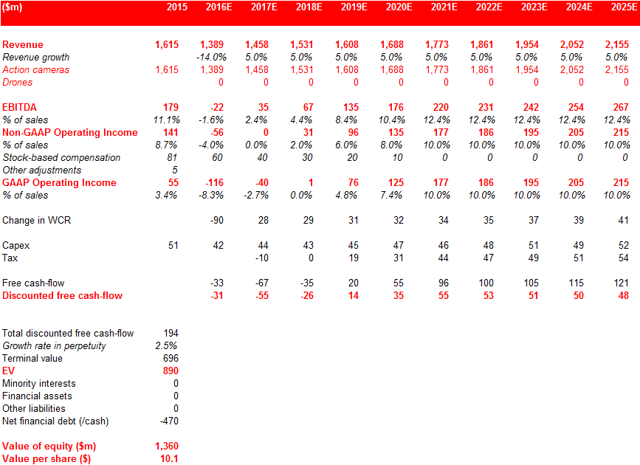 Click to enlargeSource: AtonRâ Partners
In our view, 5% average revenue growth makes sense as it points to 15-20% growth for the action camera segment in the refresh years and 5-10% declines in the non-refresh years. This is consistent with the 2015 performances as quarterly growth swung from +50% in early 2015 to -30% in Q4, or +10% over the year.
The 10% margin assumption is arguably more open to debate. While many companies in the consumer electronics space boast margins well above 10%, others struggle due to strong competition and/or lack of consumer demand (with an immediate impact on pricing and profitability).
Hence, we believe GoPro's stock price does not factor in a worst case yet. In a reasonable bear case, a 7-8% margin assumption would make more sense, hinting at an $8 stock price (or 20% downside).
We consider that if GoPro's operating margin were to go lower than 7-8% for an extended period of time, the company would probably go out of business or be sold the way Nokia (NYSE:NOK) devices were sold to Microsoft (NASDAQ:MSFT).
Trying to figure out the upside potential
It's equally important to try to figure out the upside should the Karma consumer drone launch successfully in H1 2016.
We assumed 600k shipments in 2017 and an estimated $500 ASP, leading to less than $300m in revenue for the new business in its first full year. By 2022, the business could grow to $1b revenue (30% CAGR). For comparison purposes, DJI (Private:DJI), the world's largest consumer drone maker, is expected to have roughly $1b revenue in 2015 and to grow its sales by 50% at least in 2016.
Considering that GoPro is likely to get traction quickly in the drone segment as it is a natural extension of its camera business (same distribution channels), we believe our top line expectations as reasonable. The main question is the profitability of the drone business (DJI does not report its numbers and Parrot (OTCPK:PAOTF) had a 5% margin in drones in Q3).
While we acknowledge that the drone business could be margin dilutive in its early stage due to marketing efforts, we suspect it will be at least in line with action cameras in the near future. In the long run, the growing size of the business could allow GoPro to better leverage its fixed costs and to report margins in the low teens.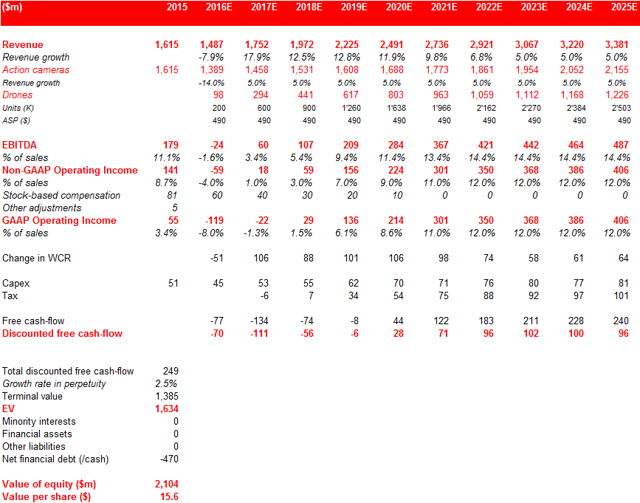 Click to enlargeSource: AtonRâ Partners
This bull case leads to a $15.60 stock price or close to 50% upside, suggesting that the risk/reward on the stock appears positive.
That being said, the stock price in the short term will be mainly driven by the news flow around drones (and, obviously, the macro environment). Notably, a later-than-expected drone launch or large losses in this segment in FY16 could hit sentiment once again.
Disclosure: I am/we are long NOK.
I wrote this article myself, and it expresses my own opinions. I am not receiving compensation for it (other than from Seeking Alpha). I have no business relationship with any company whose stock is mentioned in this article.