Carrizo Oil & Gas (NASDAQ:CRZO) is a mid-cap ($1.6 billion) E&P company with quality acreage positions spanning the best American shale plays: the Marcellus, Utica, Eagle Ford, Permian, and Niobrara. Like every upstream producer, Carrizo has seen its stock price and operations significantly impacted by the current low-price oil and gas environment. So let's take a look and see how Carrizo is managing their portfolio in the era of sub $40/bbl oil and with gas hovering around $2 MMBtu.
The portfolio: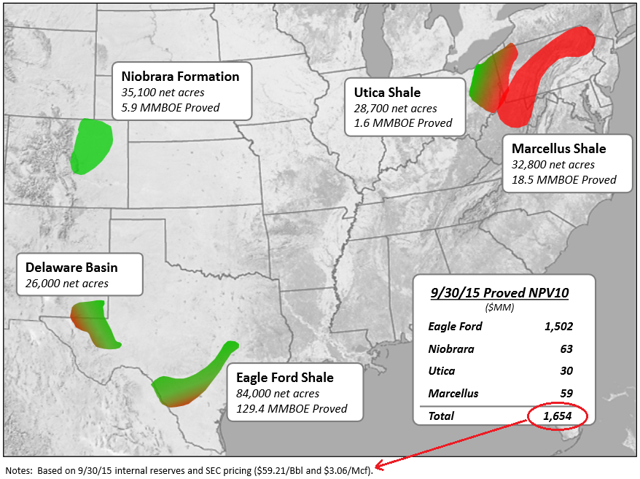 Click to enlarge
Source: January 19th Seaport Global Securities Presentation
As can be seen in the graphic above, CRZO has a nicely diversified portfolio. Note the NPV-10 value shown in the graphic (as of 9/30/15) was calculated using SEC pricing with oil at roughly 2x today's price and natural gas 50% higher. To see what the company's priorities were in 2015, let's take a look at the Q3 EPS report released in November: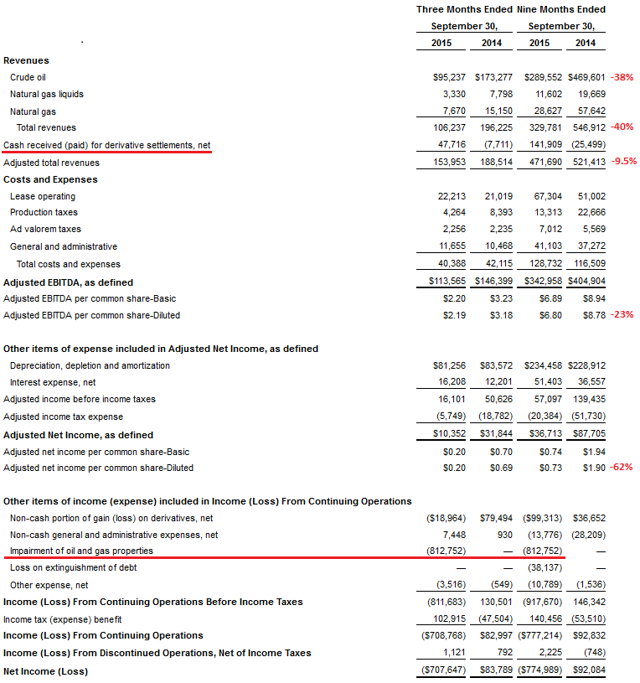 Click to enlarge
For the 9 months YTD, total O&G revenues were down 40% - dominated by a 38% drop in crude oil receipts. However, after accounting for $141 million in derivative gains, adjusted total revenues were down only 9.5%. Not bad considering the swoon in oil and gas prices yoy. Adjusted net income per diluted share was down 62% as total costs and expenses stayed relatively flat and interest expense was higher. Net income attributable to shareholders was negatively impacted by a (large) $812.8 million non-cash impairment on the value of O&G properties, which resulted in a $775 million YTD net loss. All things being equal, without the impairment net income for Q3 would have been a positive ~$105 million - up ~25% yoy. That was largely the result of a hedging strategy that boosted quarterly revenue by $47.7 million.

Click to enlarge
At the end of Q3, Carrizo reported it had 51,945,000 fully diluted shares outstanding as compared to 46,029,000 in the year earlier quarter, an increase of 15%. In 2015, the company had two common share offerings:
That's an addition 10 million shares - without counting the over-allotments extended to the underwriters. The total number of fully diluted shares outstanding today should be, at a minimum: 46.029 + 10.000 = 56.029 million. That's a dilution of 22% yoy. Assuming the additional under-writing options were exercised - representing a combined 1.5 million additional shares - the outstanding share balance would be an estimated 57.529 million shares. That equates to a near 25% dilution as compared with the number of fully diluted common shares the company reported at the end of Q3 2014.
Shares closed last week at $27.32 - significantly below the price achieved by both secondary offerings in 2014.
Production: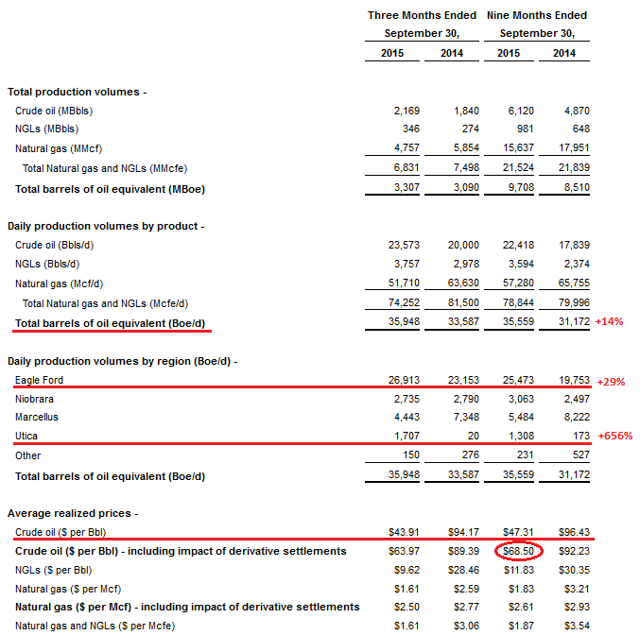 Click to enlarge
Average daily production of oil over the first 9 months of 2015 was 22,416 bpd, which accounted for 63% of total production. Eagle Ford daily production YTD was 25,473 boe/d - or 72% of total production. The company continued to perform very well in the Eagle Ford with average daily production up 29% YTD.
To show how the Utica shale's star is rising in the North East, volumes there increased by 656% while the priority on Marcellus operations have clearly been lowered - Marcellus volumes dropped 33% YTD.
While realized crude oil prices averaged $47.31/bbl over the first 9 months, due to the strong hedge book CRZO was able to achieve $68.50/bbl - a 45% uplift. A similar hedge induced uplift was achieved on natural gas sales as well.
Blackrock
On January 8, 2016, a 13-G filing with the SEC revealed subsidiaries of Blackrock owned 6,556,312 shares of Carrrizo - 11.2% of the company's common shares. Note that ratio implies 58.54 million outstanding shares. That's up from the 51.945 million shares the company reported in the Q3 EPS report which indicates the over-allotment was fully subscribed. Regardless, the point is that there was significant share dilution - approaching 25% - as a result of the two common share offerings in 2015. It is also clear that Blackrock increased its position in January at much lower prices than did investors participating in the two secondary offerings of 2015.
Management
In a November interview on Jim Cramer's Mad Money (available here), Carrizo CEO Chip Johnson indicated he was looking to use about half the proceeds of the share offerings to make acquisitions in the Eagle Ford and Delaware Basin. Johnson also said the company wanted to lock in a significant 2016 hedge book and that the cost was writing calls on 2017, 2018, and 2019 production. As he put it, the company gave up about 10% of future production upside in order to protect 2016 cash flow. A prudent move in my opinion.
That said, the need to make acquisitions in the current environment is questionable. Carrizo doesn't have a lack of quality acreage - that's not the problem. The problem is low oil and gas prices, and buying additional acreage will not address that issue - especially considering shareholders at the beginning of 2014 have seen their shares diluted by an estimated 25%. Note that shares are down roughly 40% since the ever bullish Cramer interview.
The Good News
The good news is that Carrizo has a jewel of an asset base in the Eagle Ford shale. The company estimates that ~80% of its drilling locations can break-even at $39/bbl oil: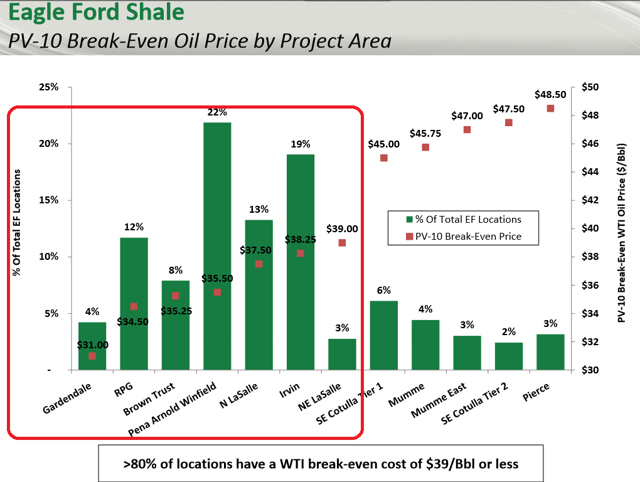 Click to enlarge
With an estimated 941 net un-drilled well locations in the Eagle Ford, representing a net total 2P reserves of 400 million boe, it appears to me that the prudent strategy to address the "lower-for-longer" environment would be to hunker down and focus on the highest quality asset while perhaps dabbling a bit in the company's 26,000 net acres in the Delaware Basin. I predict there will be plenty of time later to acquire additional property.
Meantime, companies like Callon Petroleum (NYSE:CPE), Cimarex (NYSE:XEC), and Concho (NYSE:XCO) are achieving acceptable IRRs even in today's environment by drilling the Lower Spraberry and Wolfcamp A benches. See Callon Petroleum: Showing Investors Why It Deserves the 'Permian Premium'.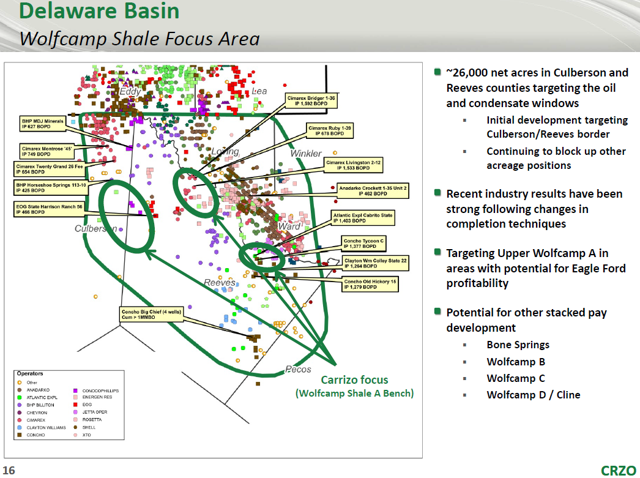 Click to enlarge
In the above graphic, note that both Cimarex and Concho have drilled some highly productive wells surrounding Carrizo's leasehold. For example, Cimarex is using longer laterals (10,000 ft) in Culberson County to achieve a significant uplift in IRRs. In Reeves Country, where Carrizo has a good sized position in the Delaware Basin, Cimarex is having excellent success in the Upper Wolfcamp A bench: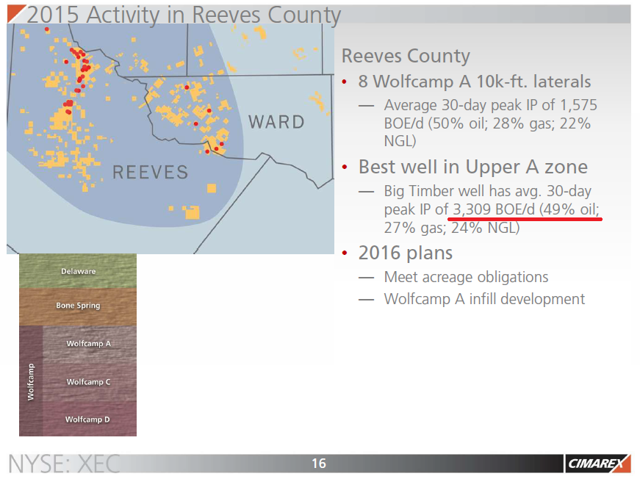 Click to enlarge
Source: Cimarex January Presentation (available here).
At a conference in December (see the Seeking Alpha transcript), Jeff Hayden, VP of Investor Relations, had this to say about Carrizo's testing efforts on its Delaware Basin acreage:
To date, we've now drilled four wells and actually just TDed [ph] our fourth well earlier this week. We've also got two wells on flow back right now. We expect to provide an update to the street on the Delaware Basin activities probably sometime after the New Year.
Risks
Risks for Carrizo - other than the obvious oil and gas price outlook - would be an acquisition requiring yet more shareholder dilution. The hedge book for 2016 is strong - about 60% of 2016 oil volumes are hedged at varying floor prices above $50/bbl. So cash-flow appears to be adequately protected as it was in 2015. The company has good-to-excellent acreage in multiple shale plays with a long multi-year runway of drilling locations. Yet the stock has dropped dramatically due to lower prices (and share dilution....), and the futures strip is showing "lower for long". Now does not appear to be an auspicious time for a significant acquisition.
At the end of Q3, Carrizo reported long-term debt of $1.41 billion and cash, accounts receivable and derivatives worth $171 million. It had an undrawn borrowing base of $685 million and senior unsecured notes as follows:
$600 million of 7.5% due 2020
$650 million of 6.25% due in 2023
At the end of Q3 the corporate credit rating was B1/B+.
Average EPS estimates have following the price of oil and have been coming down over the past 60-days. Currently, the street estimates Carrizo will earn $0.13/share in 2016:

Overall the balance sheet and access to liquidity look solid.
Summary & Conclusion
Carrizo O&G should be reporting Q4 and full-year results in a couple weeks (they announced Q4 2014 on February 24, 2015). Expect continued success in the Eagle Ford and for the company to meet its Q4 production guidance of between 36,167-37,433 boe/d. More interesting would be any update on the Delaware Basin wells - which could provide another play to rival, or potentially beat, the economics of the company's leading Eagle Ford wells. Overall, the company is solid with a well hedged position for full-year 2016. If the company reports some good news on the Delaware Basin wells, and doesn't announce any more dilutive share issuances (which would likely come as a result of any large acquisition), Carrizo appears well positioned for a future rise in oil prices. As implied by Blackrock increasing its stake in January - the shares are certainly more desirable now than they were during the common share issuances back in March and October.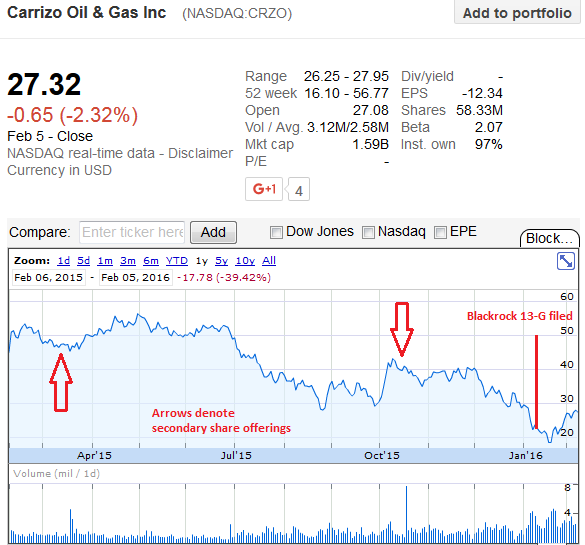 Disclosure: I/we have no positions in any stocks mentioned, and no plans to initiate any positions within the next 72 hours.
I wrote this article myself, and it expresses my own opinions. I am not receiving compensation for it (other than from Seeking Alpha). I have no business relationship with any company whose stock is mentioned in this article.
Additional disclosure: I am an engineer, not a CFA. The information and data presented in this article were obtained from company documents and/or sources believed to be reliable, but have not been independently verified. Therefore, the author cannot guarantee their accuracy. Please do your own research and contact a qualified investment advisor. I am not responsible for investment decisions you make. Thanks for reading and good luck!
Editor's Note: This article covers one or more stocks trading at less than $1 per share and/or with less than a $100 million market cap. Please be aware of the risks associated with these stocks.