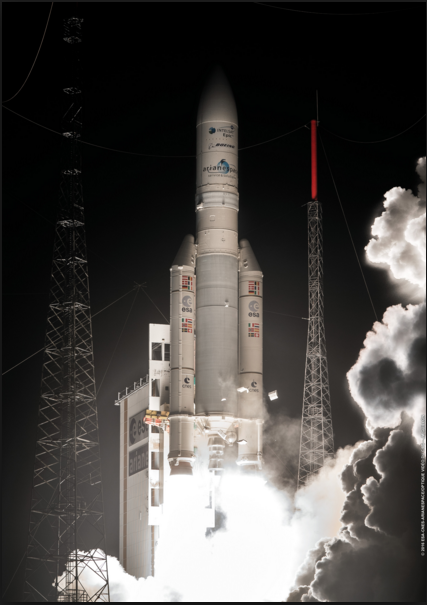 Image source: ArianeSpace.
On January 27, Intelsat SA (NYSE:I) successfully launched its first high-throughput satellite. While there were probably audible shouts of "Epic!" coming from French Guiana at liftoff, Intelsat stock has continued to suffer decline.
YTD Performance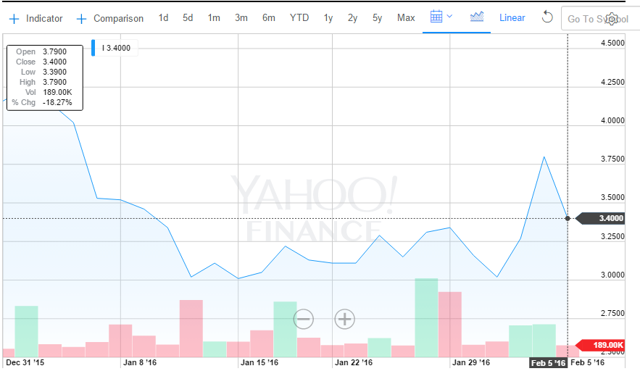 Click to enlargeSource: Yahoo Finance.
One-Year Performance: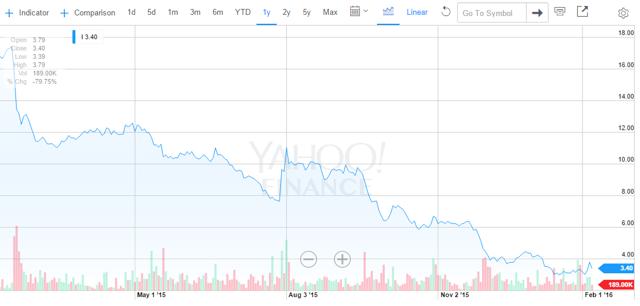 Click to enlargeSource: Yahoo Finance.
Intelsat has had a rough couple of years, with very limited incremental capacity, and cyclical pressure in several end markets. While it has successfully launched its first Epic satellite, it will take at least five to six months to test the satellite before it enters service. After the maintenance period, the IS-29e satellite should help to grow the company's revenue by around $40M to $50M, not even close to enough to turn around the overall revenue decline. Analysts project continued revenue decline until at least 2017, after a series of Epic satellites have been launched.
The biggest problem for Intelsat is in its capital structure. The horrendous stock performance has been a reflection of the ongoing weakness of the high-yield market. With leverage around 8x, a high-fixed-cost structure and declining revenue, investors are questioning the long-term viability of the company's capital structure. This is especially true considering the current challenging operating environment and likely refinancing needs.
Intelsat, like other industry players, is facing replacement issues with its aging existing fleet, and needs a lot of capital to replace these capacities. The company has given multi-year capex guidance of $675M to $750M for 2015, $725M to $800M for 2016, and $725M to $825M for 2017. While Intelsat has been generating predictable EBITDA, it has bonds retiring as early as 2018. If the company is not able to refinance these bonds, its capex will have to be reduced to meet the principal payment, a move that would jeopardize the entire operation.
Despite $9.5 billion in backlogs and nice visibility of future revenue, the high-yield market has closed itself to Intelsat. Currently, debts with the earliest maturity are trading at 40 cents to the dollar; the market is pricing in a capital restructuring. Even if it is able to refinance, it is unlikely Intelsat will be able to roll into its new debt at terms remotely resembling the current structure. The challenge remains: How will management be able to balance financials while continuing to move forward with operating objectives?
Further, aside from its financing struggles, the company is also facing operating headwinds from multiple end markets, ranging from U.S. government uncertainty to future capacity needs to continued to displacement of satellite with fiber. Intelsat has been attempting to grow and diversify into new end markets, including maritime, aeronautical, and machine-to-machine, but these strides are pale in comparison to the larger business declines.
Your takeaway:
Despite the successful launch of its first Epic satellite, headwinds in the satellite industry and the meltdown in the high-yield market continue to put downward pressure on Intelsat, and shareholders are likely to continue suffering. I recommend investors sell their common shares and avoid the company until a better capital structure is achieved.
Disclosure: I/we have no positions in any stocks mentioned, and no plans to initiate any positions within the next 72 hours.
I wrote this article myself, and it expresses my own opinions. I am not receiving compensation for it (other than from Seeking Alpha). I have no business relationship with any company whose stock is mentioned in this article.