By Karyl Patredis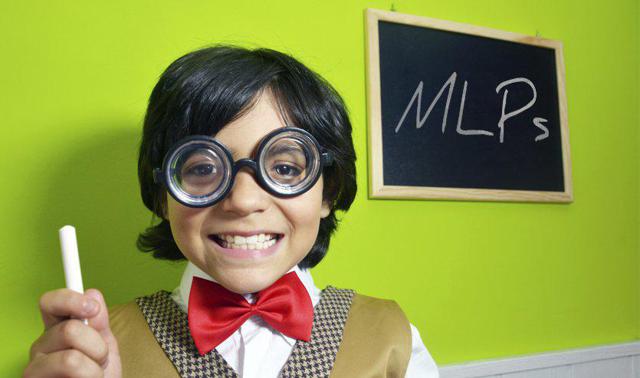 Click to enlarge
Middle school was generally an unflattering time for most of us. Acne, braces, bad hair styles, and ridiculous clothing choices riddle the pages of our mother's photo albums [1]. Luckily, it was just a rough patch.
It's no secret that MLPs are in middle school right now. Investor concerns are at an all-time high and the Alerian inbox is stuffed fuller than a locker with a geek inside of emails worried about what 2016 will bring. While the idea that many MLP contracts have minimum volume commitments or are take-or-pay has helped MLP investors sleep at night for quite some time, concern over what could happen to "X" MLP if one of its largest upstream [2] clients declares bankruptcy has come to the forefront in recent days.
Sadly, it's a brutal time for upstream companies. Not only do they have acne and braces, they're wearing Tommy Hilfiger polo shirts tucked into wind-pants with Dexters. With oil hovering around $30 a barrel, profits look much different than they did in 2014 when a barrel of oil was fetching over $100. This difficult environment has forced several upstream companies to file chapter 11 bankruptcy.
The term "chapter 11" is thrown around all the time, and to me, it's always been synonymous with disaster. However, after learning a little more about it, it's probably more correct to associate chapter 11 with the word restart. Chapter 11 is designed to protect the ongoing operations of the company and to maximize the value to the creditors. The goal in filing chapter 11 is to reorganize debt and to begin functioning as a healthy business again. For many upstream companies, a good relationship with their midstream provider is critical to reaching that goal, especially since many MLPs have a monopolistic footprint in their primary region of operation. Let's look at MPLX LP (NYSE:MPLX) for example. Three quarters of the growing production from rich-gas areas in the Marcellus and Utica is processed and fractionated by the company [3].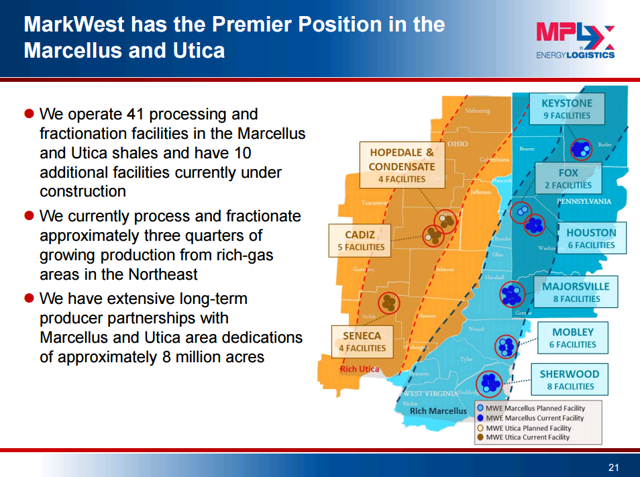 Click to enlarge
Because of monopolistic footprints such as these, midstream companies (and their contracts) may be considered critical vendors in bankruptcy court. If there are no other reasonable takeaway, storage, or gathering services in the area, midstream contracts and related business relationships will be of vital importance to avoid stranding production. Some analysts have noted that the closer an MLP's operations are to the wellhead, the safer the contracts.
Understanding the types of contracts an MLP can hold is also important. Minimum volume commitment contracts dictate that an upstream company must pay a certain amount, regardless of throughput. In court, these contracts could face renegotiation to bring commitments more in line with current production. Take-or-pay contracts may also see adjustments. These contracts require upstream companies to pay for service even if they're not using them [4]. It is possible that take-or-pay agreements could be re-written to allow upstream companies to pay lower rates reflecting a more realistic picture of what they may actually "take". Finally, it's unlikely that above market contracts will stand as overpaying in this environment is difficult to justify in bankruptcy court. It could be reasonable, however, to assume agreements with rates similar to recently signed competitive contracts will not face renegotiation.
In a bankruptcy proceeding, upstream companies may be allowed to choose which contracts to follow through with, but there is no guarantee that the individual provisions within each can be adjusted. This means that renegotiation is not necessarily automatic. It may be wise, however, for a midstream company to renegotiate certain rates to assure profitability to both companies.
Note the amount of hedging words such as "could," "may," and "no guarantee" I've used. I am not a bankruptcy attorney, but this is the feedback I've gathered from industry research. Additionally, it's important to understand that contracts are private and confidential. Unfortunately, this means that investors cannot easily determine the types of contracts individual MLPs hold. They can, however, look at 10-Ks to better comprehend an MLPs exposure and customer diversity.
The main idea here is that it's smart for everyone to play nice and work together to survive this difficult time. Just like in middle school, your fellow frizzy-haired brace-faces can make all the difference. If we can all just hold it together for a little longer, we'll soon be on to better days.
Footnotes:
[1] For some of our younger readers, photo albums are books with printed pictures. That's right. Before moms had Facebook and Instagram, they'd physically print pictures of their children out, organize them into a book, and leave them on the coffee table hoping guests would flip through them.
[2] In Alerian's new Energy MLP Classification Standard (EMCSSM) upstream names are categorized as Production & Mining | Hydrocarbon.
[3] Recall, MPLX LP completed its merger with MarkWest Energy Partners on December 4, 2015.
[4] Think of this like your gym contract. You sign up for a 6-month membership on January 1, and you have to pay whether you go or not.
Disclosure: © Alerian 2014. All rights reserved. This material is reproduced with the prior consent of Alerian. It is provided as general information only and should not be taken as investment advice. Employees of Alerian are prohibited from owning individual MLPs. For more information on Alerian and to see our full disclaimer, visit http://www.alerian.com/disclaimers.
Karyl Patredis is the Logistics Coordinator at Alerian, which equips investors to make informed decisions about Master Limited Partnerships (MLPs) and energy infrastructure. Ms. Patredis leads the firm's ongoing efforts toward greater organizational efficiency. She also oversees Alerian's feedback process for creative output. Ms. Patredis graduated with a Master of Science in Accounting and a Master of Business Administration from the University of Dallas, as well as a Bachelor of Arts in Communication and a minor in Psychology from Texas A&M University.