Chevron Corporation (NYSE:CVX) is in deep trouble because of the last few quarters' prolonged oil and gas price slump. The company's business model is directly linked to movement in commodity prices. Many investors view this volatility in prices as a buying opportunity, when dealing with strong companies with a healthy portfolio. However, in my opinion, when a stock price dips, it is important to base your decision to buy primarily on a company's upside potential.
Different analysts adopt different methods for predicting a company's future potential. In my view, valuations are important, but I prefer to consider business fundamentals when I predict any company's upside or downside potential. The company's future business fundamentals and its ability to sustain both revenue base and earnings are key to growth, in my estimation.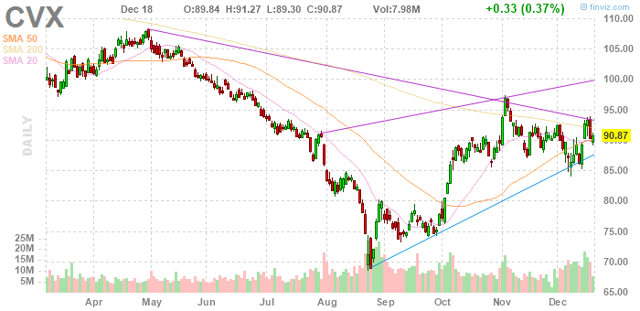 In the past twelve months, Chevron's stock has experienced significant pressure, amid falling oil prices and their impact on the company's performance. In the past twelve months alone, its share price dipped by more than 24%. Since the start of this year, Chevron's stock dipped again as oil prices reached a level never before seen in the last decade. At present, its stock is trading at around $89 per share. This is better than its 52-week low of $70 per share, but is still lower than its 52-week high of $113.
Now the question arises, does the current share price present a buying opportunity? Yes, for long-term patient investors. However, in the short-to-medium term, the company's stock is likely to remain under pressure and its dividend growth will remain questionable.
Recently, Chevron generated a major loss of $0.31 per share in the final quarter of fiscal 2015, compared to earnings of $1.84 per share in the same quarter of last year. Chevron blamed low commodity prices for the biggest loss in its history, as the average sale price of oil was $35/bbl, relative to $66/bbl a year ago. The results are not much different for fiscal 2015. The company generated full-year earnings of only $4.6 billion or $2.45 per share, relative to $19.2 billion or $10.14 per share from last year.
Upstream operations, which account for the majority of its revenue and earnings, are impacted the most by these low prices. Losses from upstream operations stood at around $1.95B in the final quarter of 2015. For the full year, its earnings from upstream business stood near $4.6 billion, about $14.7B lower than in 2014. In addition, earnings from its downstream operations declined by half, to $496M in the final quarter. However, the company's full-year downstream earnings remained strong at around $3.1B compared to $2.6B in the last year.
The question here is what's next for the company in the first quarter of this year? I believe it is likely to post even worse results in the first quarter of this year, amid low commodity prices. Since the start of the year, oil prices have been trading near $30 per barrel. Unfortunately, CVX needs to see oil prices of at least $50 per barrel to break even, financially. Oil prices are expected to remain low this year, around $37 per barrel, according to the IEA. Iran will add significantly to the already oversupplied market, now that the ban on its exports has been lifted.
Chevron's dividends are also threatened because the company is lacking cash generating potential. Its capital spending was reduced significantly in 2015, and I expect similar reductions again in 2016. Unfortunately, its operating cash flows are still not covering its capital needs and supporting its dividend payments. Therefore, the company is selling assets to support its operations. In Q4, the company generated operating cash flow of $4.6 billion, when its cash capital expenditures stood around $7.4 billion. Thus, the company is left with negative free cash flows, while its dividend payments account for $2B.
In Conclusion
The company is supporting its capital investments and dividends by selling assets and borrowing the rest. In 2015, the company borrowed about $11 billion and generated an additional $5.7 billion from asset sales. Credit Suisse analysts say that Chevron might be able to support its dividends, despite the collapse in oil prices, by selling assets and lowering capital. I share their opinion regarding the company's dividends, but dividend growth is out of the question. Oil prices are likely to stay lower for longer, which will continue to put pressure on Chevron's share price and its financials. Therefore, recovery in the short term is not possible, but long-term investors can ultimately gain profits by picking this stock at current prices.
Disclosure: I/we have no positions in any stocks mentioned, and no plans to initiate any positions within the next 72 hours.
I wrote this article myself, and it expresses my own opinions. I am not receiving compensation for it (other than from Seeking Alpha). I have no business relationship with any company whose stock is mentioned in this article.