Low P/E Ratios:
The lowly Price/Earnings ratio gets a bum rap. It's usually one of the first ratios that new investors learn, and because of this it is often labeled as simplistic, a ratio geared toward the novice investor. It doesn't take long for new stock-pickers to quickly move past the ratio and embrace more complex valuation metrics that grizzled finance veterans deem "more meaningful." Price/Sales, Price/Earnings Growth, Price/Cash Flow, Price/Book, EV/EBIT all seem a little more sophisticated, and perhaps a better predictor of future returns. There's a certain sense of satisfaction that comes from calculating an EV/EBITDA ratio, with all its nuances, straight from a newly printed 10-K, that simply dividing price by earnings per share can never match.
Sometimes, however, simple works. There are many academic studies that demonstrate an investor would have outperformed the market by purchasing stocks with low P/E ratios. (I recommend value firm Tweedy Browne's booklet: What Works in Investing, for an overview of several good studies.) This dynamic has been shown to exist, not only in the U.S., but in foreign markets as well.
The Leuthold Group, the respected financial research firm known for its contrarian, quant work, recently released a study that showed from 1991-2015 the industry with the lowest median P/E at year-end outperformed the market over the next year. This low P/E group had a total return of 15% per year, over the study's 25-year period, versus a yearly return of 9.8% for the S&P 500. That's impressive outperformance by a system that appears very simple to follow.
At the end of 2015, financials were crowned the "winner" of the cheapest sector award as measured by median P/E. The group had a median P/E of 16.3 versus the S&P's 20.6. That was before the financials collapsed another 12.6% during the first five weeks of 2016. A purchase of the Financial Select Sector SPDR ETF (NYSEARCA:XLF) seems to be the easy way to gain exposure to this inexpensive group after the sector's drop. But I also wanted to run a screen that has the potential to find individual names that may outperform as well.
The first screen I ran included only companies in the financial sector with a positive P/E ratio at or below 10 and that had CEO buying of at least $500,000 over the last four months. I'm a sucker for insider purchases so I decided to use this variable to highlight stocks with management conviction. As with any screen, this is just a starting point for further analysis, additional due diligence is always necessary.
I'm a small-cap guy, it's what I do… however, I decided to leave market cap out of the first screen as I thought it would be helpful for other investors on Seeking Alpha. The results: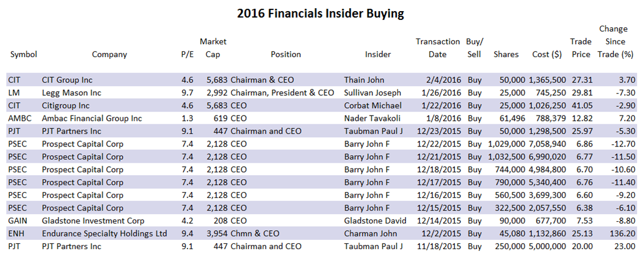 Next, I ran the same screen but only included companies with a market cap below $2 billion. I also lowered the threshold for CEO purchases to $100,000. Some of the names repeat, but a handful of new ones appear. The results:

Financials Insider Buying:
Either financial CEOs think their companies are cheap or they just may have stumbled across the Leuthold study, as the CEO Buy/Sell ratio is at its second highest reading of the last 10 years, exceeded only by the first quarter of 2009 when their timing proved exceptional. Cheap stocks plus CEO conviction is not a bad place to invest.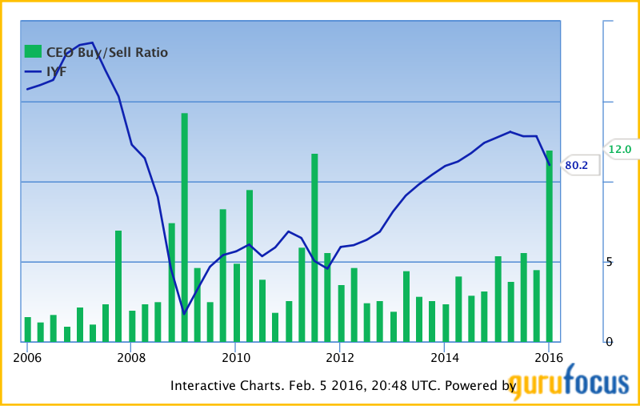 Best of Small-Cap Seeking Alpha:
These are the articles that caught my eye recently on Seeking Alpha.
David Einhorn's a big investor plus undervalued assets. What's not to like?
Long-Short Value
Green Brick Partners: Uniquely Structured Land Developer With Significant Embedded Value
Looking for a defensive name for your portfolio to offset all of your hyper-cyclical positions? SuperValu (NYSE:SVU) may be just the ticket.
Hawkinvest
Supervalu Below $5: This Stock Is Ridiculously Undervalued
Trading at just 4.7x ttm EV/EBITDA with several potential catalyst, Aaron's could be a steal.
Alpha Gen Capital
Why We Like Aaron's At These Prices

Thank you very much for reading. If you enjoyed the article and believe in my approach to finding compelling small-cap value ideas, please consider the Tuzz Report, which is my premium service where I refine these ideas and present actionable, detailed analysis.
Ideas that were featured graphically, but not in text: CIT Group Inc. (NYSE:CIT), Legg Mason Inc. (NYSE:LM), Ambac Financial Group, Inc. (NASDAQ:AMBC), PJT Partners Inc. (NYSE:PJT), Prospect Capital Corporation (NASDAQ:PSEC), Gladstone Investment Corporation (NASDAQ:GAIN), Endurance Specialty Holdings Ltd. (NYSE:ENH), Monroe Capital Corporation (NASDAQ:MRCC), Entegra Financial Corp. (NASDAQ:ENFC) and Harvest Capital Credit Corporation (NASDAQ:HCAP).
Additional disclosure: This list is just a starting point for further analysis. Please do your own due diligence before investing.
Disclosure: I/we have no positions in any stocks mentioned, and no plans to initiate any positions within the next 72 hours.
I wrote this article myself, and it expresses my own opinions. I am not receiving compensation for it (other than from Seeking Alpha). I have no business relationship with any company whose stock is mentioned in this article.
Editor's Note: This article covers one or more stocks trading at less than $1 per share and/or with less than a $100 million market cap. Please be aware of the risks associated with these stocks.