The principle was on display once again on Sunday night. The Denver Broncos boasted the best defense in the NFL this past year and statistically one of the best defenses over the past several decades. And despite the fact that they ran up against the flashy and high powered Carolina Panthers in Super Bowl 50, the Broncos soundly drubbed their competition to come away with the Lombardi trophy. Defense wins championships in the NFL, and the same principles hold true when managing your investment portfolio over time.
Reflecting back over the past few years highlights this point. Consider two market ETFs, the PowerShares S&P 500 High Beta (NYSEARCA:SPHB) and the PowerShares S&P 500 Low Volatility. The SPHB carries the flashier, higher octane stocks found in the biotech, technology, energy and retail sectors. In short, this is the offense side of a stock strategy. And from the start of the Fed's QE3 stimulus program up until recently, an emphasis on offense was racking up a lot of points for investor portfolios. On the flip side, the SPLV is focused on the more determined and consistently pounding stocks found in the consumer staples, utilities, pharmaceutical and telecom sectors. Put simply, this is the defensive side of the stock market ball. And once the market found itself in a tough game and up against adversity, it has been the defense that has risen to the top to shine.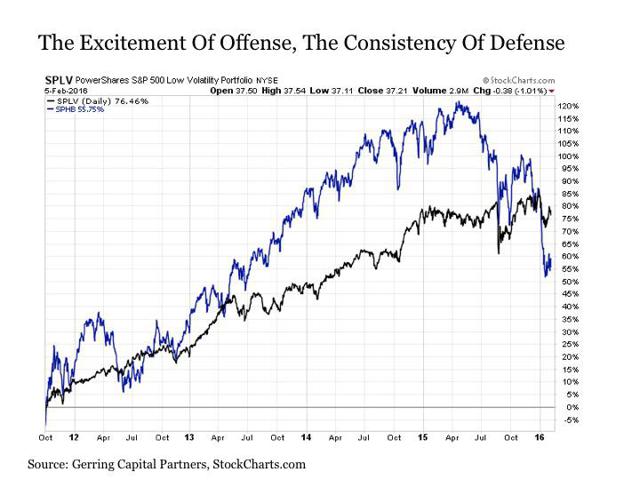 Click to enlarge
These principles of defensive consistency have proven true not only during the short-term but over time. To highlight this point, let's consider the performance of various offensive and defensive stock market segments since the start of the new millennium more than a decade and a half ago.
We see that over time defense wins championships. Over the past 16-plus years, the traditionally defensive sectors of utilities (NYSEARCA:XLU), consumer staples (NYSEARCA:XLP) and health care (NYSEARCA:XLV) with cumulative returns of +150%, +183%, and 148%, respectively, have meaningfully outperformed the broader market as measured by the S&P 500 Index at around +70%. What is also notable is that each of these segments have generated this outperformance with relatively less price volatility as well.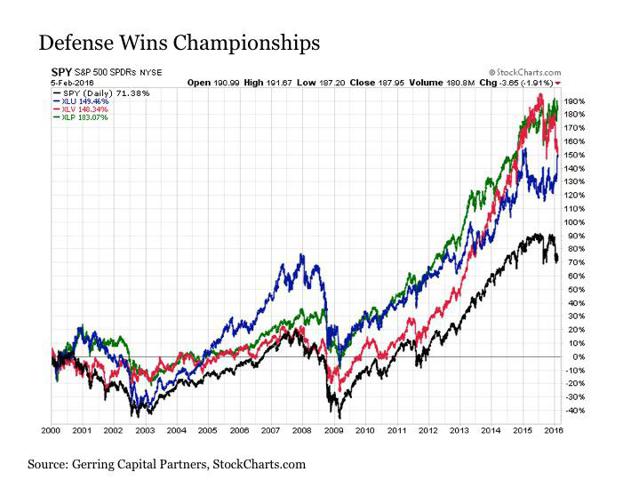 Click to enlarge
Of course, offense also plays an important role in a stock portfolio strategy. And among the more offensive sectors that have performed best such as industrials (NYSEARCA:XLI) and consumer discretionary (NYSEARCA:XLY) have done so over time through a strong ground game of more consistent results that track the fluctuations of the larger economy. These two segments have posted solid cumulative returns of +159% and +109% since the start of 2000.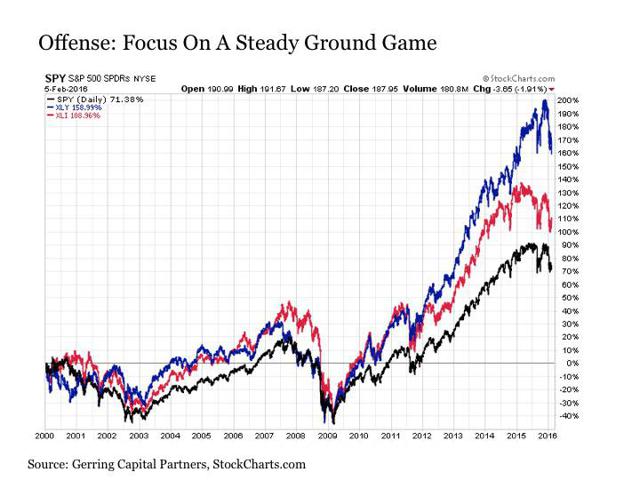 Click to enlarge
This is not to say that a heavy emphasis on defense and a strong ground game on offense does not come without its risks. For some, higher risk players can often be embedded in what is an otherwise smash mouth approach. We have seen this play out in both health care with biotechnology (NASDAQ:IBB) and consumer discretionary with online retail, both of which have seen some tremendous gains followed by staggering declines in recent months.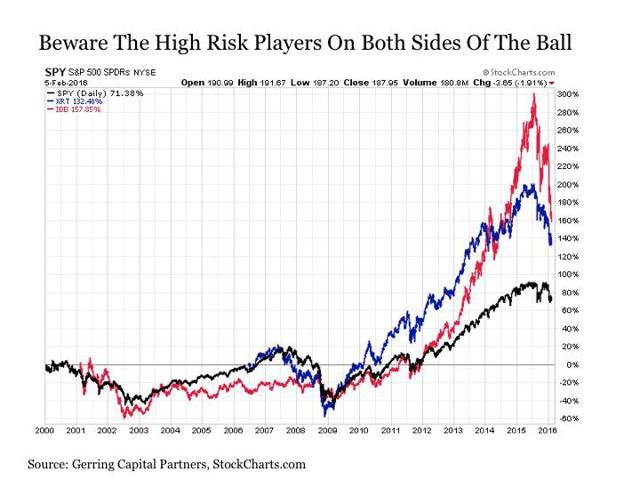 Click to enlarge
The flashy, big play style offense certainly has its allure, particularly during periods when it is rising in a seemingly unstoppable fashion. Such was the case for the technology sector back in the late 1990s, for financials during the middle of the last decade and more recently energy, which until the summer of 2014 had been by far the best performer on the S&P 500 Index since the turn of the millennium. But just as it did during the financial crisis several years ago, the high flying offense in the oil sector has since come crashing down to earth. And it has seen the on-again, off-again materials sector that has been known to have its flashy moments over time taken down with it. As a result, energy (NYSEARCA:XLE) has had a extremely volatile ride to a +145% return since the start of 2000, while materials (NYSEARCA:XLB) are up a more subdued +93%.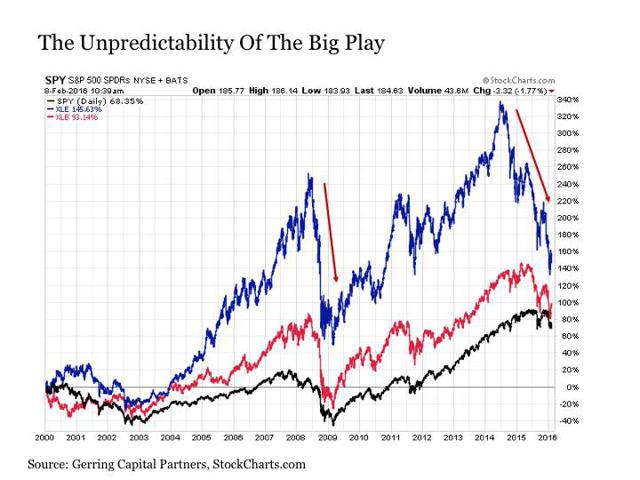 Click to enlarge
This is not to say that some high-quality, consistent players cannot be found within both the energy and materials sectors. But it is important to identify the distinction between the two and position accordingly for your investment needs.
And just like teams in any major sports league, prolonged periods of high flying success are often followed by extended rebuilding phases. Such has been the case for the technology sector, which is still lower by -15% since the turn of the millennium more than 16 years ago now, and financials, which at one time were the market leaders along with utilities and materials heading into the financial crisis nearly a decade ago and have since been laggards with a cumulative return of +9% that lags the inflation rate over this decade and a half time period.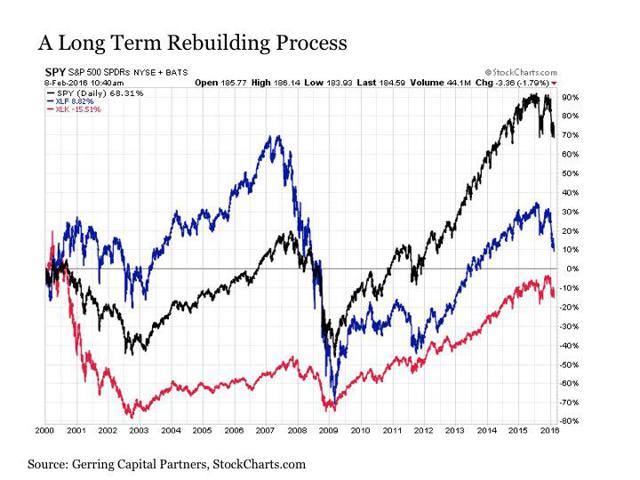 Click to enlarge
Bottom Line
Just like it has been repeatedly proven in the NFL, defense wins championships when it comes to stock investing over time. It is certainly true that high octane offenses are fun to watch and can rack up wins for a period of time. But eventually, their weaknesses are revealed and their flaws are exploited. For those investors that are seeking consistent wins over time, a primary focus on defense complemented by a disciplined offensive strategy provides the best path to winning championships for your investment portfolio over time.
Disclosure: This article is for information purposes only. There are risks involved with investing including loss of principal. Gerring Capital Partners makes no explicit or implicit guarantee with respect to performance or the outcome of any investment or projections made. There is no guarantee that the goals of the strategies discussed by Gerring Capital Partners will be met.
Disclosure: I/we have no positions in any stocks mentioned, and no plans to initiate any positions within the next 72 hours.
I wrote this article myself, and it expresses my own opinions. I am not receiving compensation for it (other than from Seeking Alpha). I have no business relationship with any company whose stock is mentioned in this article.