Ventas (NYSE:VTR) is the second largest US-based healthcare REIT, behind Welltower (NYSE:HCN). As of the third quarter 2015, it owned a portfolio of 1,288 properties, consisting of senior housing communities, skilled nursing facilities, medical office buildings, acute care and specialty hospitals, as well as loans. It has properties all across the US, Canada, and the UK, although 90% of its revenue comes from its US assets.
At first glance, Ventas seems like an amazing company - and by many measures that's true. Throughout its history, it has consistently grown dividends and boasts an average annual growth rate of 9% for the last 10 years. While it might have a bad quarter from time to time (which company doesn't?), on an annual basis it has unfailingly grown revenue and funds from operations (FFO).
Ventas has several key strengths. First, it has a reasonably strong balance sheet (for a REIT) and sits on $56 million in cash. More importantly, it has a BBB+ investment-grade bond rating, which allows Ventas to cheaply access capital at an average rate of 3.5%, according to a company investor presentation. That same presentation states that Ventas gets a risk adjusted return of 6-10% on its various projects and investments. A combination of access to low cost capital and strong comparative returns are a good thing.
Additionally, Ventas has a strong management team. While it is prudent to be skeptical of CEOs, Debra Cafaro is outstanding. She has won award, after award, for her leadership. When she joined the firm in 2001, she turned the then $200 million, financially distressed REIT, into a S&P 500 firm. Additionally, she is credited with foreseeing the 2008 financial crisis and insisting the REIT build cash reserves in preparation. As a result, not only did Ventas survive the downturn, it managed to maintain its dividend.
Another strength of Ventas is its diversified portfolio of tenants: roughly 50% of its business is in senior housing, another 20% in medical office buildings (MOBs), and the remainder is split between the skilled nursing facilities it retained after the CCP sell-off, acute and specialty hospitals, and loans.
CCP Spin-off
Ventas successfully managed a number of large, complex billion-dollar acquisitions, including HCT in 2015. Recently, it spun off 355 skilled nursing facilities as Capital Care Properties (NYSE:CCP). CCP tenants are mainly paid through Medicare while the tenants that Ventas kept are generally paid via private insurance. In the past few years, there has been a lot of uncertainty, largely caused by the current political environment around Medicare reimbursement rates. By splitting up, Ventas eliminated a source of risk, while creating a higher-yield security with a different risk profile. While the long-term impact remains to be seen, the transaction appears to have been a success.
The Senior Housing Problem
Long term, an aging population will be a good for Ventas. The senior population is growing 7 times faster than the adult population, bringing an increase in demand for the entire healthcare sector. That being said, there is a real concern about a possible oversupply of senior housing in the short and medium term.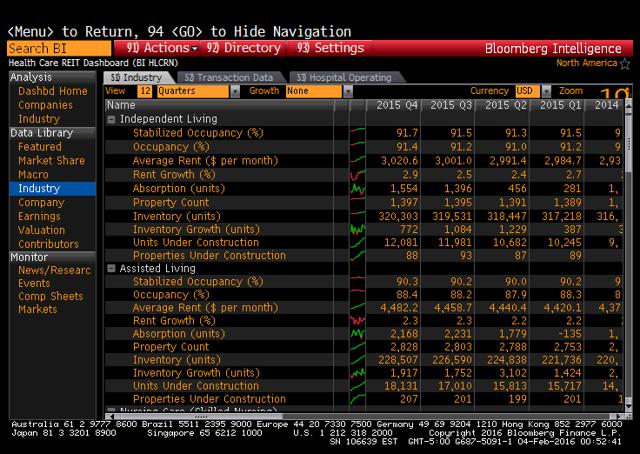 1 Source: Bloomberg
As the chart shows, there is substantial inventory of senior housing. Continued construction will only add to the surplus and negatively impact prices - bad news for Ventas.
Hospitals
Given the challenges facing the senior housing sector and the reimbursement problems around skilled nursing facilities, management has looked toward hospitals for expansion.
According to research by Revista, hospital transactions made up about $1.6 billion in the 12 months ending June 30, 2015. That is only about 13% of all real estate healthcare transactions. However, as insurance companies merge, hospitals will consolidate to improve their negotiating position - sales of their real estate to REITs will provide a source of capital to fund the M&A activity.
Additionally, as the chart below shows, hospitals, on a national level, have been experiencing strong revenue growth. They have a lower risk profile because they receive their income from a diversified set of payers.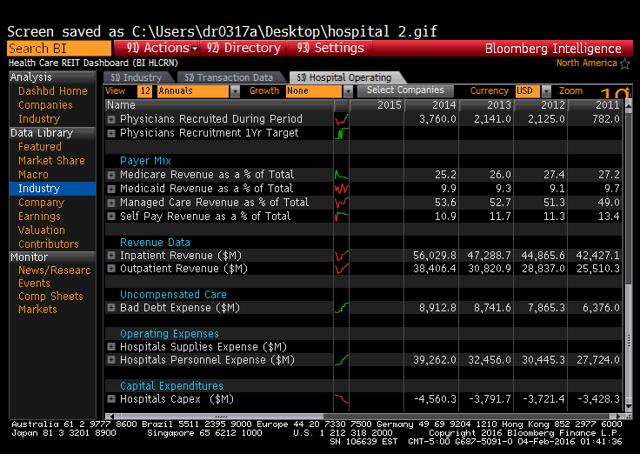 2 Source: Bloomberg
Fortunately, Ventas has been capitalizing on opportunities presented by hospitals, recently acquiring Ardent for $1.4 billion. Management plans to continue such acquisitions.
Growth, Dividends and Valuation
According to management guidance, FFO will increase by roughly 7-8%. This has been the company's average growth rate for the last 10 years. However, an 8% annual return lags behind its peer group, which averages 9.5%. The Street has set a target price of $58, a 3.5% increase from $56, where it currently trades.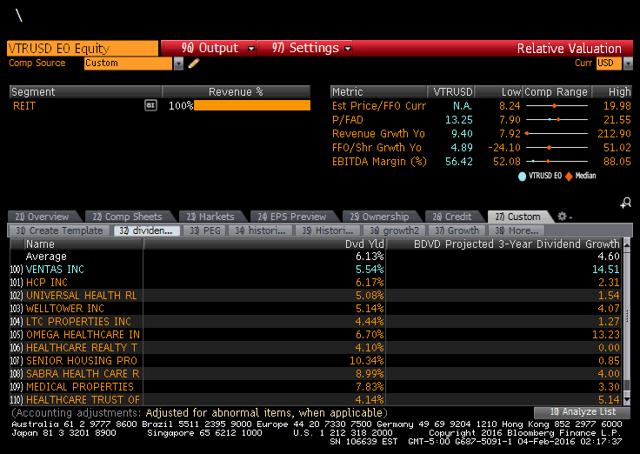 3 Source: Bloomberg
On the dividend front, Ventas is good, but not great. It is above the 4.3% average yield of the FTSE NAREIT All REITs benchmark, but below the US healthcare REIT average of 6.13%. Welltower and HCP (NYSE:HCP), which have similar market caps, yield higher dividends. However, Ventas compensates by having a much higher projected dividend growth rate.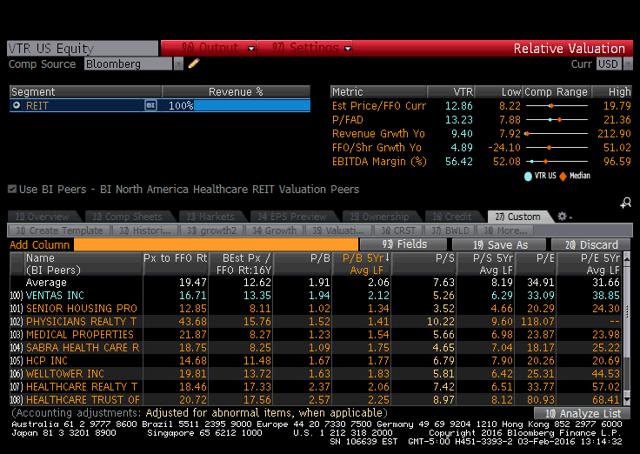 4 Source: Bloomberg
From a valuation standpoint, Ventas is again decidedly average when compared to its peers. It has a slightly better price/FFO rate, but is slightly more expensive on a book-value basis. Historically, it is trading below its average valuations, though not by a lot. While not unreasonable, these multiples aren't compelling enough to urge investors to jump in.
Conclusion
With Ventas, it is risk vs. return. It is a solid REIT that will be around for years to come and continue to reward patient, long-term investors.
That being said, there is no compelling reason to buy now. For investors who want higher total return and are willing to stomach more risk, there are better investments, as Ventas has a limited upside. Furthermore, as the recent sell-off showed, a solid business is no protection from the whims of the market, and with the cloud of uncertainty hanging over the healthcare sector, there is no assurance of capital preservation. In short, if you are looking to make a large return, there are better places to put your money. If you are looking to preserve capital in a volatile market, there are better investments. Therefore, Ventas is a solid hold. If you own the company, don't get out, you will do well long term. But there is certainly no reason to get in now.
Disclosure: I/we have no positions in any stocks mentioned, and no plans to initiate any positions within the next 72 hours.
I wrote this article myself, and it expresses my own opinions. I am not receiving compensation for it (other than from Seeking Alpha). I have no business relationship with any company whose stock is mentioned in this article.