Mortgage real estate investment trusts continue to have a difficult standing with income investors. One reason why investors are passing over mortgage REITs relates to their sub-par investment performance in 2015. But high-yield, pure-play mortgage REITs were not the only income vehicles that saw their valuations fall off a cliff over the last year as a Fed rate hike became more likely.
Other mortgage investment companies like PennyMac Mortgage Investment Trust (NYSE:PMT), which just released dismal fourth-quarter earnings, New Residential Investment Corp. (NYSE:NRZ), and hybrid mortgage REITs like Two Harbors Investment Corp. (NYSE:TWO) have gotten the boot from investors' portfolios.
The sell-off in (hybrid) mortgage REITs and mortgage investment companies has made a few of them quite appealing from a reward-to-risk ratio and valuation point of view.
One company that I feel stands out besides New Residential Investment Corporation is Two Harbors Investment. In the interest of disclosure, I own a significant portion of New Residential Investment in my $100,000 high yield income portfolio, and I have added to my NRZ position at the end of last year.
Two Harbors is a hybrid mortgage REIT that is "focused on investing, financing and managing residential mortgage-backed securities (RMBs) and related investments." Besides investing in agency securities that carry a lot of interest rate risk, Two Harbors has moved into other mortgage areas, including commercial real estate and mortgage servicing rights, or MSRs.
Mortgage servicing rights are unique assets because their values tend to go up when interest rates increase. Put differently, mortgage investment companies with MSR portfolios are a bet on rising interest rates, and therefore, make Two Harbors a promising bet on income growth now that the Fed has kicked off the interest rate cycle in December.
Steep book value discount
Two Harbors Investment reported fourth-quarter results which, frankly, weren't that great. Core earnings were $72.1 million, or $0.20/share, compared to $83.1 million, or $0.23/share, in the fourth quarter of last year. Importantly, Two Harbors Investment's core earnings did not cover the REIT's $0.26/share dividend.
That said, there are reasons to buy a small speculative income position in this hybrid mortgage REIT, because the company is pulling in a large and growing amount of servicing income from its MSR portfolio: Two Harbors' servicing income, net of amortization, climbed from $10.8 million in Q3-15 to $16.8 million in Q4-15. The company' MSR portfolio was valued at $493.7 million at the end of December.
Its accounting book value at the end of the December quarter was $10.11/share. But the mortgage REIT's stock just sells for $7.52 at the time of writing, implying a relatively large ~26% discount to Two Harbors' ABV.
Two Harbors Investment also uses the opportunity and aggressively repurchases stock in the open market... and it does so well below ABV. In the last quarter, the company bought back 12.3 million shares for an average transaction price of $8.37/share, AND the mortgage REIT's Board of Directors just authorized an additional $50 million stock buyback.
Two Harbors' fourth-quarter buybacks added $0.06/share to the REIT's book value.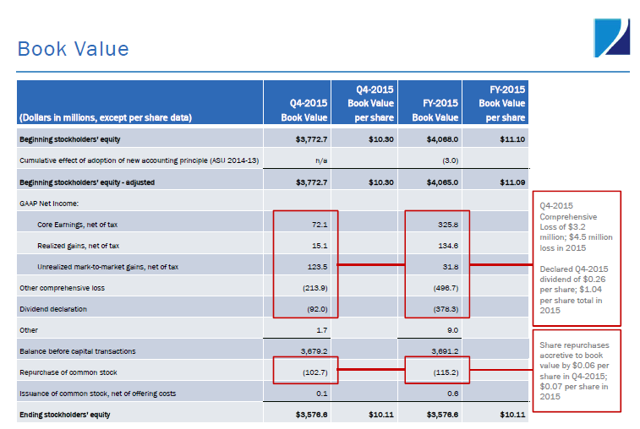 Click to enlarge
Source: Two Harbors
Two Harbors deserves the benefit of the doubt
The company has outperformed the benchmark Pine River Mortgage REIT Index by a wide margin since 2009.
Since its MSR portfolio will likely produce more servicing income over the next couple of years, there is a good chance that Two Harbors will continue to do well.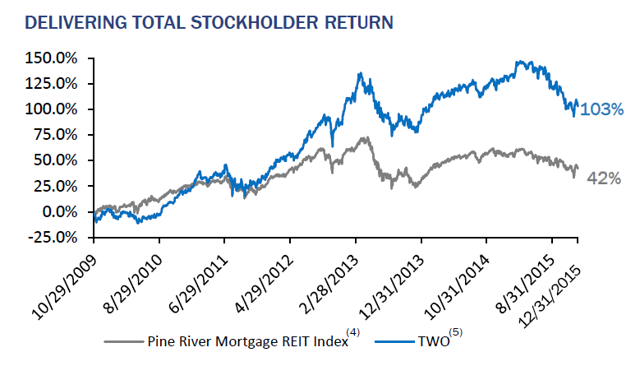 Click to enlarge
Source: Two Harbors
Your Takeaway
Two Harbors has not been a winning investment last year, with a negative price return of ~26% that exceeded investors' dividend income from the stock. That said, though, the stock trades at too large a discount to ABV, and the company is in a good position to grow its servicing income from its MSR portfolio as interest rates move up. Further, the company is an aggressive buyer of its stock in the open market. Two Harbors is a high-risk income stock and deserves the benefit of the doubt in light of its past outperformance.
Disclosure: I am/we are long NRZ.
I wrote this article myself, and it expresses my own opinions. I am not receiving compensation for it (other than from Seeking Alpha). I have no business relationship with any company whose stock is mentioned in this article.