Exelon Outperforms by Wide Margin
In December, we published our top five highest conviction dividend stocks for 2016. One of our top picks, Exelon Corp. (NYSE: EXC), has already exceeded our high expectations with impressive outperformance only five weeks into the new year. Exelon's stock has surged 18.5% year-to-date compared to -8.0% for the S&P 500. Exelon's substantial outperformance in 2016 has been driven by stronger than expected fourth quarter results, a new shareholder friendly dividend policy, and an expected closing of the Pepco Holdings (NYSE: POM) acquisition.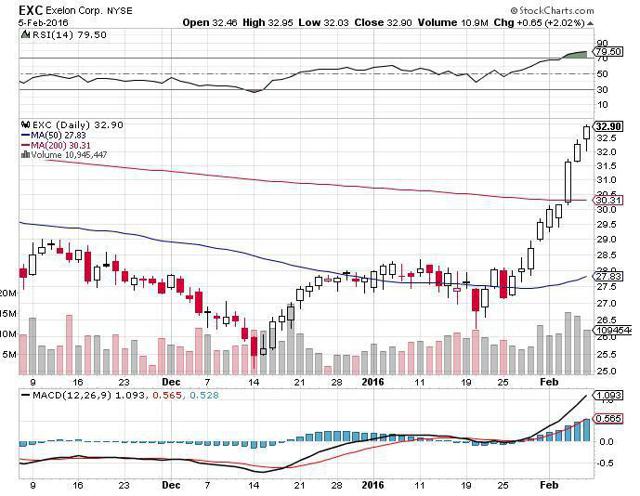 Click to enlarge
(Source: Stockcharts.com)
While dividend and retirement investors are pleased with these recent results, we believe the stock's run-up is a great opportunity to take some profits from this position and look for upside in other electric utility stocks such as Southern Company (NYSE: SO) or AES Corporation (NYSE: AES). Before we look closer at other options available for dividend and retirement investors within the electric utility industry, Exelon shareholders should understand what is driving the stock up to near 52-week highs and whether the momentum is sustainable.
Fourth Quarter Results
If you take away the fact that Exelon slightly missed EPS and revenue expectations, the fourth quarter on its own looks pretty solid. Management has faced recent challenges with increased nuclear generation outages at ExGen and outages due to inclement weather at PECO and BGE. Despite these challenges, we are pleased that Exelon was able to report higher earnings at its ComEd subsidiary and report higher distribution and transmission revenue and higher earnings at BGE.
ComEd, which delivers electricity to over 3.8 million customers in northern Illinois through its transmission and distribution system, increased its net income by an impressive 19.2% in the fourth quarter from $73 million to $87 million. This performance was a result of higher electric distribution and transmission formula rate earnings following increased capital investment and favorable distribution ROE at ComEd. We believe ComEd's continual ability to produce favorable outcomes in its formula rate filing is exceptional. With ComEd filing for a rate reduction in 2016, we believe management will be under more pressure to reduce operating expenses and drive further operational improvements. Without measured success in this area, we believe there is a substantial risk that ComEd's earnings in 2016 will have limited upside and we would not be surprised if earnings were flat or slightly below 2015 levels.
Another bright spot in the fourth quarter was the operating performance at BGE, which delivers electricity and natural gas to 1.9 million customers in central Maryland. We were pleased to see operating earnings increase by 42% from $52 million in 2014 to $74 million in the fourth quarter. We believe further earnings growth is likely as BGE experiences continued robust increases in distribution revenue and transmission revenue. Furthermore, the company recently received approval from the Maryland Public Service Commission for the recovery of energy efficiency and gas infrastructure capital investments in excess of $200 million. We believe BGE will continue to outperform in 2016, however, this may be offset by challenges elsewhere at Exelon. For these reasons, we believe the temporary boost the fourth quarter results provided for shareholders may not endure in the face of headwinds throughout 2016.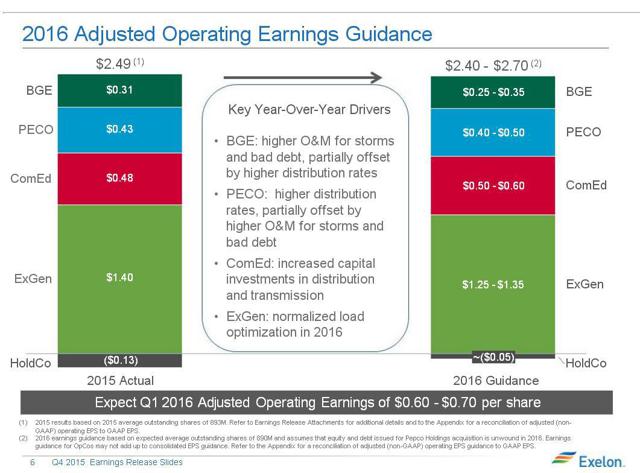 Click to enlarge
(Source: Exelon Investor Presentation, January 2016)
Pepco Holdings Acquisition and New Dividend Policy
Exelon's proposed acquisition of Pepco Holdings is in the final stages of regulatory approval and we expect a final decision by the D.C. Public Service Commission regarding the settlement with the Mayor of D.C. in the next 30 days. There are indications that the settlement reached in October provides clear and tangible economic benefits to D.C. and the commission may be compelled to approve the settlement. We believe the $72.8 million in direct benefits that the settlement provides in the form of "bill credits, low-income assistance, renewable energy, and energy efficiency programs" for D.C. will be too lucrative for the Commission to reject. In our view, D.C. is in substantial need of energy investment and this transaction is the most logical and effective way to meet its energy needs for the future.
With that being said, we believe Exelon's stock price reflects the likely completion of the transaction in the near future and we don't expect the approval of the transaction to act as a positive catalyst for the stock in 2016. We believe the transaction will close by the end of the first quarter and management will focus on the lengthy integration process and the implementation of cost-saving initiatives throughout 2016. In our view, these actions will not generate meaningful momentum for the stock until 2017. In the event that the Commission rejects the settlement in the next few weeks, a scenario which we think is unlikely, Exelon management appears to have a contingency plan in place which would result in Exelon abandoning the transaction, authorizing a share buyback and paying down debt.
Last week the Board of Directors also provided more clarity with respect to its capital allocation policy and more specifically its dividend policy for the next three years. Exelon announced a first quarter dividend of $.31 per share for 2016 which is in line with the quarterly dividend from 2015. In fact, the company's dividend has remained stagnant since early 2013. Given the increased earning power of Exelon's existing utility assets over this time, we believe the dividend policy is far too conservative. In fact, we were initially attracted to this opportunity because of Exelon's capacity and financial flexibility to substantially increase its dividend and in our December analysis of Exelon we stated, "We believe management will focus its capital allocation policy on returning excess cash to shareholders in the form of an increased dividend. We believe that the Board will increase its dividend in 2016 for the first time in three years."
Exelon announced last week that beginning with the June 2016 dividend, the Board will increase its dividend 2.5% each year for the next three years. Admittedly this increase was below our expectation of a 13% increase to $0.35 per share per quarter. However, we believe it is a small step in the right direction. Following the aforementioned integration of Pepco Holdings and the implementation of cost saving initiatives we believe the Board will increase the dividend at a higher rate in three years. We believe a 7-10% increase in 2018 is a conservative estimate.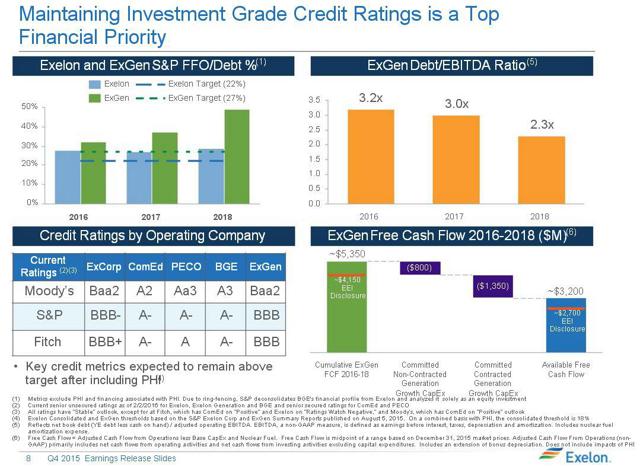 Click to enlarge
(Source: Exelon Investor Presentation, January 2016)
Valuation
In our view, the clarity of the company's capital allocation strategy and the likely completion of the Pepco Holdings acquisition combined with decent fourth quarter results have driven Exelon's stock close to its 52-week high. However, we are concerned that the current valuation will limit the upside for investors through the remainder of 2016. As such, shareholders may want to consider other investment opportunities in the electric utility industry.

Click to enlarge
We currently have a one-year price target for Exelon of $33.54 per share, which implies upside of only 1.9% from the stock's current price. Our estimate is based upon EPS of $2.58 in 2016. This projection is above the mid-point of management's recent guidance for EPS of $2.40 - $2.70 in 2016. We believe management will be able to grow earnings by 2.7% the following year and by 4.5% in 2018. Given our assumptions for earnings, dividends and multiples, we expect there to be limited upside for shareholders of Exelon at the current price.
Another option for dividend and retirement investors to consider is Southern Company. Southern Company currently yields 4.5% compared to Exelon's 3.8% dividend yield. Furthermore, we believe the company will increase its dividend for the 15th consecutive year in 2016. For long-term investors, we expect the completion of the AGL Resources (NYSE: GAS) acquisition will drive earnings growth over the next several years. For these reasons, we included Southern Company as one of our top dividend stocks for 2016 and we believe it represents an attractive opportunity compared to Exelon at their respective valuations.
Disclosure: I am/we are long POM, GAS.
I wrote this article myself, and it expresses my own opinions. I am not receiving compensation for it (other than from Seeking Alpha). I have no business relationship with any company whose stock is mentioned in this article.