In December I wrote a piece demonstrating how a hypothetical couple, Ted and Mary, could arrange their portfolio to retire at 60 with a million bucks and have a good chance at protecting their portfolio while still using it to generate income. The hypothetical example was fairly thorough and it brought up a great deal of conversation. Since January opened up with absolutely brutal returns for most of the market and there was only a partial recovery since then, I thought it might be nice to take a moment to look back at the portfolio I suggested and see how it performed.
The Holdings
I used both individual companies and ETFs to create the portfolio. The idea was to focus the portfolio on established dividend champions that had proven their ability to maintain and grow dividends. As Benjamin Graham would suggest, the casual investor is better off buying the highest quality companies and overpaying than getting a bargain on a poor quality stock. When the market pulled back substantially, it is interesting to note the substantial difference between the performance of this portfolio and the performance of the rest of the market.
I used the following companies as dividend growth champions with each one given a weighting of about 2.17% of the equity portion of the portfolio.
| | |
| --- | --- |
| American States Water | (NYSE:AWR) |
| Dover Corp. | (NYSE:DOV) |
| Northwest Natural Gas | (NYSE:NWN) |
| Parker-Hannifin Corp. | (NYSE:PH) |
| Genuine Parts Co. | (NYSE:GPC) |
| Procter & Gamble Co. | (NYSE:PG) |
| Emerson Electric | (NYSE:EMR) |
| 3M Company | (NYSE:MMM) |
| Vectren Corp. | (NYSE:VVC) |
| Cincinnati Financial | (NASDAQ:CINF) |
| Coca-Cola Company | (NYSE:KO) |
| Johnson & Johnson | (NYSE:JNJ) |
| Lowe's Companies | (NYSE:LOW) |
| Lancaster Colony Corp. | (NASDAQ:LANC) |
| Colgate-Palmolive Co. | (NYSE:CL) |
| Nordson Corp. | (NASDAQ:NDSN) |
| Farmers & Merchants Bancorp | |
| Hormel Foods Corp. | (NYSE:HRL) |
| Tootsie Roll Industries | (NYSE:TR) |
| ABM Industries Inc. | (NYSE:ABM) |
| Altria Group Inc. | (NYSE:MO) |
| Universal Corp. | (NYSE:UVV) |
| Philip Morris International | (NYSE:PM) |
I used heavier weights ranging from 5% to 15% for the following investments:
| | | |
| --- | --- | --- |
| 5% | Realty Income Corporation | (NYSE:O) |
| 5% | National Retail Properties | (NYSE:NNN) |
| 5% | Vanguard Dividend Appreciation ETF | (NYSEARCA:VIG) |
| 5% | Vanguard High Dividend Yield ETF | (NYSEARCA:VYM) |
| 5% | iShares Select Dividend ETF | (NYSEARCA:DVY) |
| 10% | iShares Core High Dividend ETF | (NYSEARCA:HDV) |
| 15% | iShares U.S. Preferred Stock ETF | (NYSEARCA:PFF) |
The combination of these investments dramatically beat the S&P 500 so far in 2016. While the market sold off and provided a partial rally, the S&P 500 as measured by (NYSEARCA:SPY) was still down 7.8%. For comparison, I created a chart that demonstrates the weighted return of each holding. I want to emphasize that these are weighted returns, so the return on an investment weighted at 2.17% will be multiplied by 2.17%. This gives us a feeling for how much the equity portion of the portfolio increased or decreased due solely to the investment in that one security.

Click to enlarge
The total return across the entire portfolio is -.41%. Compared to the S&P 500 being down by 7.8%, the result is excellent. However it gets even better if investors remember the other portion of the portfolio. Ted and Mary were going to invest a total of $459,000 in this portfolio. They would hold $50,000 in cash and they would invest the rest in a mix of bank CDs and treasury strips so that we could line up the cash flows with their projected expenses.
Of course, we won't have any quoted values for a bank CD so I pulled the fluctuation in treasury rates for several maturities, estimated the missing ones, and ball parked the gain or loss across each position.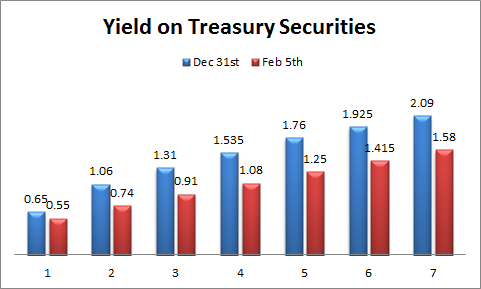 When we look at the massive adjustment in yields on treasury securities, we can ball park the following fluctuation in fair value: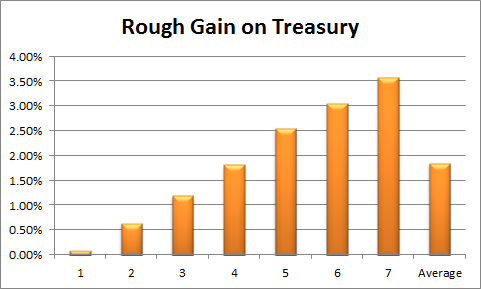 Since the portfolio had roughly equal allocations to each of these durations, we can simply use the average change and apply it to this part of the portfolio. The average change was a gain of 1.85%.
The total allocation is demonstrated below: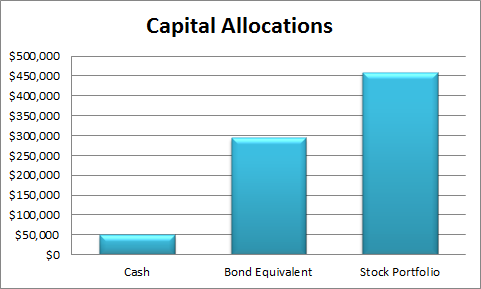 These values won't add up to a million bucks because Ted and Mary were going to need a place to live. In the original article I incorporated the cost of them spending cash to buy a nice house. Retiring on a million bucks and living in a card board box wouldn't be a reasonable lifestyle choice.
Applying the -.41% to the stock portfolio and the gain of 1.85% to the bond portfolio generates the following changes in fair value: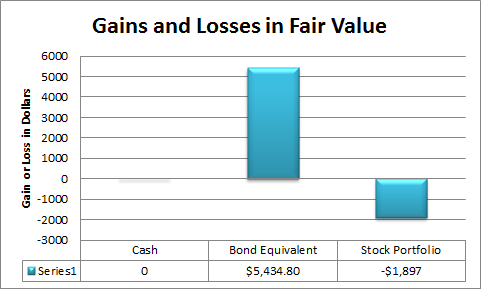 All in all the fair value of the positions increased by a few thousand dollars despite the market being down by almost 8%. This portfolio was designed to withstand precisely the type of event we saw in January. Of course, I'm not suggesting that Ted and Mary would simply be able to liquidate bank CDs and gain the same increase that was present for treasuries, but I believe it is the most reasonable approximation of fair value.
For investors that missed the original piece, I used bank CDs rather than treasuries for the appropriate maturity because the bank CDs were offering a higher yield. Since the I assumed Ted and Mary would arrange the accounts to qualify for FDIC insurance (Federal Deposit Insurance Corporation), I felt comfortable using treasuries as the comparable rate.
Holding Some of These
I'm holding some of these stocks in my portfolio as well. Specifically I'm holding allocations to Altria Group, Phillip Morris International and National Retail Properties. These three all substantially outperformed any relevant benchmark. Altria Group beat the S&P 500, Phillip Morris International beat most international ETFs, and National Retail Properties smashed the domestic equity REIT indexes.
If you want to, you can see my entire portfolio.
Conclusion
The hypothetical couple of Ted and Mary are looking great in retirement. Their portfolio held up exceptionally well through a terrible start to the year. By putting an emphasis on the higher quality companies that have demonstrated their consistency the couple was able to avoid taking the kind of enormous losses that were present for so many investments.
The portfolio didn't just beat the market because of a few stars. It won because very few of the investments showed substantial losses. The largest losers in the portfolio were LOW, which was down 13% and LANC which was down 16%. The only other investment that was down more than 7.8% was NDSN which was down 8.2%. In a portfolio with a total of 30 individual equity allocations there were 27 allocations that outperformed the S&P 500 during the decline to start the year.
If investors are curious about how to prepare for even more dire circumstances, check how to invest for a zombie apocalypse.
Disclosure: I am/we are long PM, MO, NNN.
I wrote this article myself, and it expresses my own opinions. I am not receiving compensation for it (other than from Seeking Alpha). I have no business relationship with any company whose stock is mentioned in this article.
Additional disclosure: Information in this article represents the opinion of the analyst. All statements are represented as opinions, rather than facts, and should not be construed as advice to buy or sell a security. Ratings of "outperform" and "underperform" reflect the analyst's estimation of a divergence between the market value for a security and the price that would be appropriate given the potential for risks and returns relative to other securities. The analyst does not know your particular objectives for returns or constraints upon investing. All investors are encouraged to do their own research before making any investment decision. Information is regularly obtained from Yahoo Finance, Google Finance, and SEC Database. If Yahoo, Google, or the SEC database contained faulty or old information it could be incorporated into my analysis.
Editor's Note: This article discusses one or more securities that do not trade on a major U.S. exchange. Please be aware of the risks associated with these stocks.