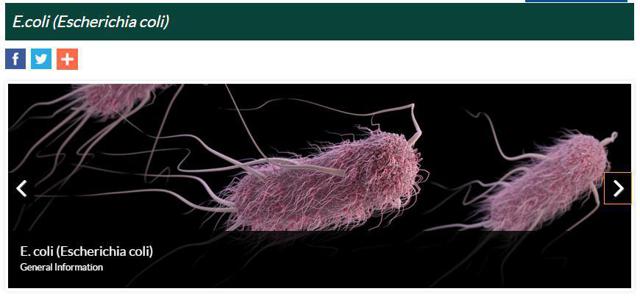 (Source: CDC)
E.coli outbreak is not a unique case in the United States. As a matter of fact, E.coli outbreak related to Chipotle (NYSE:CMG) only made up less than 0.04% of the 250,000 cases of E.coli reported in the United States annually.
"These incidents are entirely unrelated. The CDC reports that there are more than 250,000 cases of E. coli annually, more than 20 million cases of norovirus annually, and approximately 48 million incidents of foodborne illness every year. While no one can ever eliminate all of the risk associated with food, since this incident began, we have begun implementing an enhanced food safety plan that will eliminate or mitigate risk to a level near zero." - Chipotle Food Safety Update & FAQ, December 21, 2015.
E.coli outbreaks have been occurring in the United States every single year for more than a decade now. The Center for Disease Control and Prevention has a list of selected E.coli outbreak investigations dating back to 2006 on their website. At the end of 2015, two outbreaks caught people's attention:
Costco (NASDAQ:COST) Rotisserie chicken salad - The most recent report was on November 3, 2015, when the FDA and CDC received multiple reports spanning different states of the Shiga toxin-producing Escherichia coli O157:H7 infections. 19 people were infected.
Chipotle Mexican Grill Restaurants - Reported case of initial outbreak with 55 people infected. Most recent illness reported to CDC on December 1st, 2015.
The list on these outbreaks goes on and on. The difference, however, is in the E.coli strain. In the selected E.coli outbreak investigations published on the CDC website, every year since 2006, there has been one or more reports of an outbreak of the shiga toxin-producing Escherichia coli O157:H7 infection. These outbreaks seem to be so prevalent that they do not even seem to attract any substantial headlines like the Chipotle outbreak even though they infect a lot more people and happen more frequently.
The last reported case of a similar strain as in the Chipotle outbreak was on April 3rd, 2012. The outbreak was connected to people eating raw clover sprouts at several different locations of Jimmy John's restaurants. A total of 29 people were infected with the strain of shiga toxin producing Escherichia coli O26 from 11 states. The headline risk persisted for a while but like all headlines, it lost its momentum. However, there is chance that every time an E.coli outbreak is announced, Chipotle's stock price will be facing short-term headwinds.
Chipotle is one of the potential sources of E.coli but not the only one. When you look at the timeline from the Center for Disease Control and Prevention ("CDC") between getting infected and when the symptoms start to manifest, there are other potential sources of infection that could have taken place.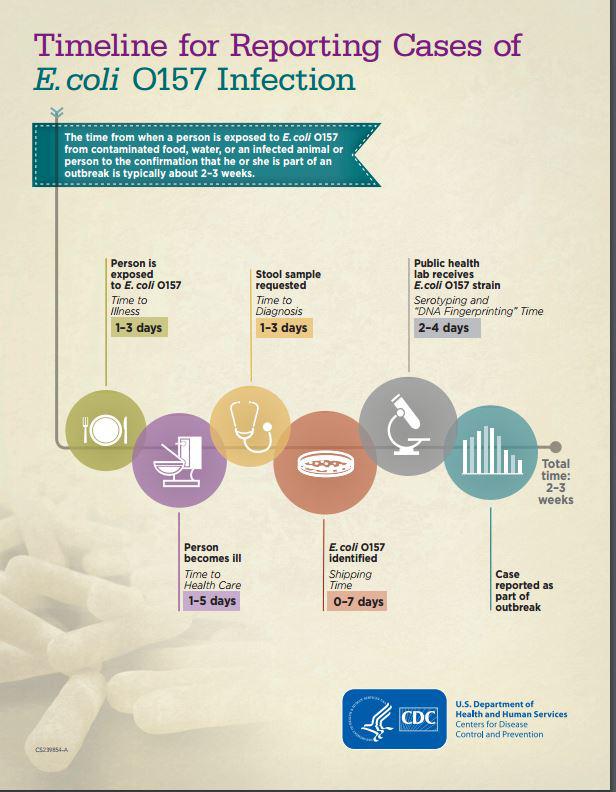 Source: CDC - E.coli Homepage
When you consider the fact that E.coli outbreak happens every year and that Chipotle-related cases were an insignificant part of the total number of E.coli outbreaks, you start to wonder whether or not the stock decline was overdone. Chipotle stock price declined by 46% in less than three months from $750.42/share on October 13, 2015 to as low as $404.26/share on January 12, 2016.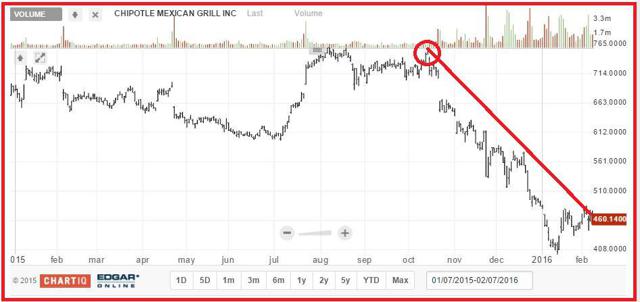 (Source: Nasdaq with author's drawings)
Since then, Chipotle went on a damage control spree. On December 10, 2015, CEO, Chairman, and Co-Founder Steve Ells apologized on NBC's Today Show to all of those who were affected by the incidents. Chipotle also partnered with a preeminent food safety testing and consulting company IEH Laboratories and Consulting Group to implement a set of industry-leading practices. In addition, the company claimed to have performed more than 2,500 tests, but none confirmed the presence of E.coli.
Chipotle serves more than 1 million customers a day in its 2010 restaurants. Because of the volume of its business and the complexity of its supply chain, eliminating the E.coli risk completely is almost impossible, but the company has developed measures to mitigate risks to a level near zero.
One of the biggest skepticism of Chipotle was its rich valuations. The company's P/E ratio has since dropped by ~41% from its 5-year average. It now trades at ~8% below the industry average.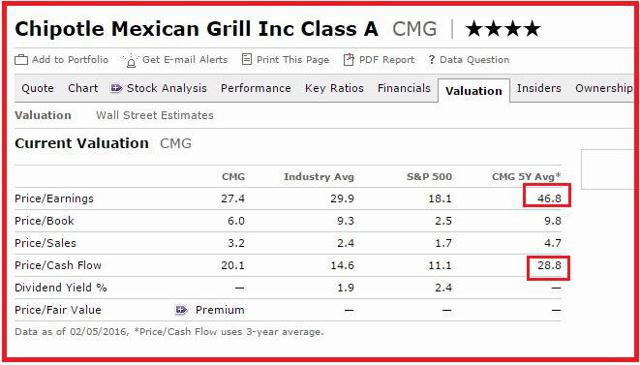 (Source: Morningstar with authors drawings)
The only difference Chipotle has with its industry is that it still has the momentum of a growth company. The company has been able to grow revenues in double digits in the last five years with an average growth rate of 22%. It has also been able to grow net income and EBITDA by an average of 26% and 23% in the last five years respectively.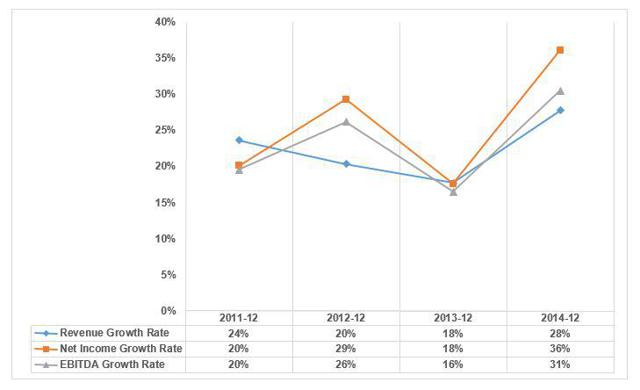 (Source: Authors analysis with data from Morningstar)
Chipotle's revenues for the full-year 2015 was $4.5 billion. That was an increase of 9.6% from the prior year. The company alluded the sales growth to new stores. We think that if the company was able to drive top line growth despite a turbulent year, it will be able to do the same as the E.coli headline risks start to lessen.
The company will continue to add value in 2016. Its 2016 outlook includes 220-235 new restaurant openings. This will be on top of the 229 stores opened in 2015. By the end of 2016, Chipotle will have a total of 2,230-2,245 restaurants. We think these new stores will drive top line growth and make the valuations richer. It is still a debt-free company with $663.20 million in cash and with trailing twelve-month ROA and ROE of 18.49% and 22.97% respectively. We believe that with giant debt-ridden restaurants chains like McDonald's (NYSE:MCD) and Yum! brands (NYSE:YUM), Chipotle's debt-free capital structure is a strong financial indicator of the company's ability to generate cash moving forward.
We think the tailwinds from the E.coli outbreak will persist for a while. However, because the expectation bar of Chipotle's top and bottom line performance has been set very low, we see real potential for the company to outperform.
Disclosure: I/we have no positions in any stocks mentioned, and no plans to initiate any positions within the next 72 hours.
I wrote this article myself, and it expresses my own opinions. I am not receiving compensation for it (other than from Seeking Alpha). I have no business relationship with any company whose stock is mentioned in this article.