Automotive electronic equipment and related products have been seeing a boom to the excitement of shareholders in this arena, in which many stocks are trading close to or at 52-week highs. GPS giant Garmin (NASDAQ:GRMN) released their latest report on Wednesday citing a 9% increase in quarter over quarter revenues and beating consensus estimates by $0.31. VOXX International (NASDAQ:VOXX), which fosters mobile entertainment connectivity, such as in-auto Sony (NYSE:SNE) Playstation and Sirius XM (NASDAQ:SIRI) technology, announced in its January 9th report a 28.9% quarter over quarter rise in revenues and beat consensus estimates by $0.07. Each of these options offers a solid play as technology in these fields continues to become more ubiquitous in the market.
Another option in this field, Cobra Electronics (NASDAQ:COBR), will be releasing earnings Friday, February 23. This report, coming on the heels of other recent impressive reports in its industry, may spread some attention to this smaller cap stock which has successfully garnered more market share in its own right. Cobra's main stake in the market has been its radar detection devices and CB radios, but has expanded its offerings to include GPS, wireless products such as Bluetooth and marine products since its inception in 1961. COBR will be showcasing its JoyRide technology for Android (NASDAQ:GOOG) smart phones during the Mobile World Congress 2012 conference in Spain this March.
Click to enlarge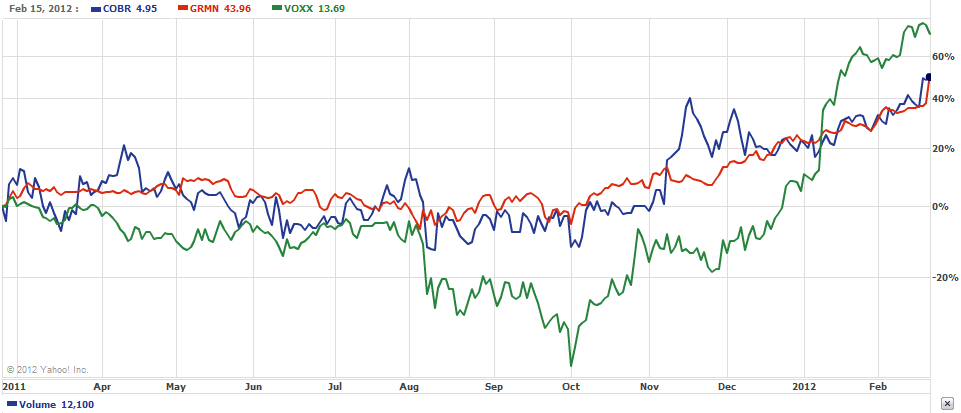 Financially, Cobra has already had an impressive 2012, with revenues through three quarters growing by 13.3%. The company's EPS comparison of $0.16 versus a loss of $0.14 going into its historically best quarter of the year indicates a potential uptick in stock interest supported by financials. It will be interesting to see if earnings do for Cobra Electronics what related reports have for the company's peers. If the company can show the same earnings and revenue momentum with its earnings as predicted, this smaller company may be poised to bring investors serious benefit.
Disclosure: I have no positions in any stocks mentioned, and no plans to initiate any positions within the next 72 hours.