By Jeffrey Knight, CFA, Global Head of Investment Solutions and Asset Allocation
We believe diversified portfolios will fare better in 2016 than in 2015
Investment strategy is all about decisions and outcomes
Even for investors who are skeptical of the efficient market hypothesis, there is no denying that investing is difficult. We make decisions under tremendous uncertainty, not only about what real world events will transpire but indeed about how market prices will react to these events. We investors must make decisions in the presence of this uncertainty, knowing that not all decisions will pay off. Sometimes good decisions are met with bad outcomes, and sometimes bad decisions are met with good outcomes. We can only control our decisions and expect that good decisions will pay off, on average, over the long run.
Diversification is a good decision
Diversification offers one of the best opportunities in all of investing. By combining dissimilar investments in our portfolios, we earn the weighted average of the returns of these investments. However, we do not retain the weighted average volatility (risk) of these investments. Because we can usually expect some of our investments to pay off even while others struggle, we generally see that diversification reduces some of the ups and downs of investing at the overall portfolio level. For this reason, diversified portfolios, over time, offer more return per unit of risk than concentrated ones.
Diversified portfolios struggled in 2015, but 2016 should be better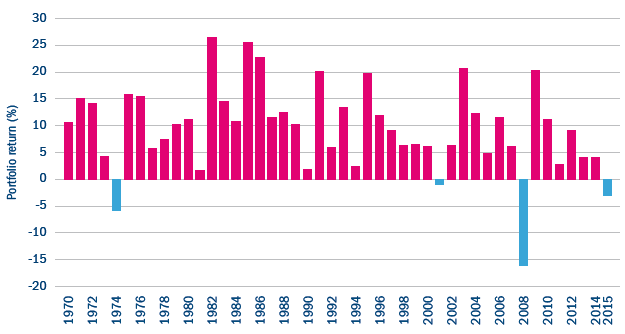 Source: Columbia Threadneedle Investments, 12/15
Equal weighted average of 10 major markets, 1970-2015: U.S. stocks represented by S&P 500 Index, international stocks represented by MSCI EAFE Index, U.S. government bonds represented by Barclays U.S. Treasury Index, international government bonds represented by Citigroup World Non-U.S. Government Bond Index, high yield represented by Barclays High Yield Index, investment grade represented by Barclays U.S. Corporate Bond Index, securitized represented by Barclays U.S. Mortgage-Backed Securities Index, TIPS represented by Barclays Global Inflation-Linked Index, commodities represented by Dow Jones-UBS Commodity Index and REITs represented by FTSE/NAREIT Index. If a particular index did not have a sufficient track record back to 1970, a representative index of similar risk/return characteristics was used.
Spreading investment portfolios across numerous asset classes has a great track record
A simple, diversified portfolio strategy produces a positive return in the vast majority of years (see chart). Notice that since 1970, a diversified approach produces a positive return in most years, and that these returns can be quite meaningful much of the time. In fact, the example portfolio would have produced an average return of 9.8% through 2014, with only three down years over that span.
Yet 2015 delivered very bad outcomes for diversified investors
Glancing at the chart, we can easily see that, in context, 2015 was a horrible year for diversified investors. In fact, with the exception of the great financial crisis of 2008, 2015 delivered the worst outcome to diversified investors since 1974. This simple observation was nearly absent from most market commentary in 2015. But let's be clear, 2015 was a historically awful year for diversified portfolios.
2016 should be better. It seems a fairly safe presumption that diversified portfolios will fare better in 2016 than in 2015
Historically, after each of the prior three negative years, the following year delivered firmly positive returns. More to the point, however, we note that many of the asset classes reflected in this chart experienced a meaningful reset of their forward-looking risk premia (in other words, their expected returns). High-yield bonds, for example, offered yields 277 basis points higher than in the middle of 2014.* Commodities too must have a somewhat more limited downside with oil at $40 per barrel than with oil at $100 per barrel.
Diversification almost always works. For investors frustrated by performance in 2015, we confidently recommend that you stay diversified with a keen eye to how your risks are allocated.
* The high-yield option-adjusted spread (OAS), a measurement of the spread of a fixed-income security rate and the risk-free rate of return, had a low of 3.23 on June 23, 2014 vs. 6.00 on December 7, 2015.
Disclosures
The Barclays Global Inflation-Linked Index includes securities that offer the potential for protection against inflation as their cash flows are linked to an underlying inflation index. Securities have to be issued by an investment-grade rated sovereign in its local currency. The list of eligible currencies is the same set of currencies eligible for inclusion in the Global Aggregate Index. The index represents a standalone multi-currency index exposed to the real yield curve for each relevant currency.
The Barclays High Yield Index covers the universe of fixed rate, non-investment grade debt. Pay-in-kind (PIK) bonds, Eurobonds and debt issues from countries designated as emerging markets (e.g., Argentina, Brazil, Venezuela, etc.) are excluded, but Canadian and global bonds (SEC registered) of issuers in non-EMG countries are included. Original issue zeroes, step-up coupon structures and 144-As are also included.
The Barclays U.S. Corporate Bond Index measures the investment-grade, fixed-rate, taxable corporate bond market.
The Barclays U.S. Mortgage-Backed Securities Index includes 15- and 30-year fixed-rate securities backed by mortgage pools of Government National Mortgage Association (GNMA), Federal Home Loan Mortgage Corporation (FHLMC) and Federal National Mortgage Association (FNMA).
The Barclays U.S. Treasury Index is an unmanaged index of public obligations of the U.S. Treasury with a remaining maturity of one year or more.
The Citigroup World Non-U.S. Government Bond Index is composed of bonds from several major world government bond markets outside the United States with maturities of at least one year. The bonds represented by this index involve investment risks, including default and loss of principal.
The Dow Jones UBS Commodity Index is based on 12 commodities derived from pricing on contracts that trade on exchanges that call for a cash commodity to be delivered or received at a specific future date, place and price. Due to market fluctuation, the commodities represented by this index may experience loss of invested principal, as they are subject to investment risk.
The FTSE National Association of Real Estate Investment Trusts (NAREIT) Index is an index that reflects the performance of all publicly traded equity real estate investment trusts (REITs).
The MSCI EAFE Index, an unmanaged index, is compiled from a composite of securities markets of Europe, Australasia and the Far East.
The S&P 500 Index tracks the performance of 500 widely held, large-capitalization U.S. stocks. Index returns assume the reinvestment of all distributions unless otherwise indicated.
It is not possible to invest directly in an index.
Asset allocation and/or diversification does not assure a profit or protect against loss.
Investing involves risk including the risk of loss of principal.
Disclaimer
The views expressed in this material are the views of the author through the date of publication and are subject to change without notice at any time based upon market and other factors. All information has been obtained from sources believed to be reliable, but its accuracy is not guaranteed. There is no representation or warranty as to the current accuracy, reliability or completeness of, nor liability for, decisions based on such information and it should not be relied on as such. This information may contain certain statements that may be deemed forward-looking statements. Please note that any such statements are not guarantees of any future performance and actual results or developments may differ materially from those discussed. There is no guarantee that investment objectives will be achieved or that any particular investment will be profitable. Past performance does not guarantee future results. This information is not intended to provide investment advice and does not account for individual investor circumstances. Investment decisions should always be made based on an investor's specific financial needs, objectives, goals, time horizon and risk tolerance. Please see our social media guidelines.