It has been a strange start to the year for The Cheesecake Factory Incorporated (NASDAQ:CAKE). We picked it out at the end of 2015 as good pick as it was hovering just above its 52-week low. Since then it had risen as much as 6% despite all the market woes at the time, only to get chopped down in the last few days leaving us almost back where we started.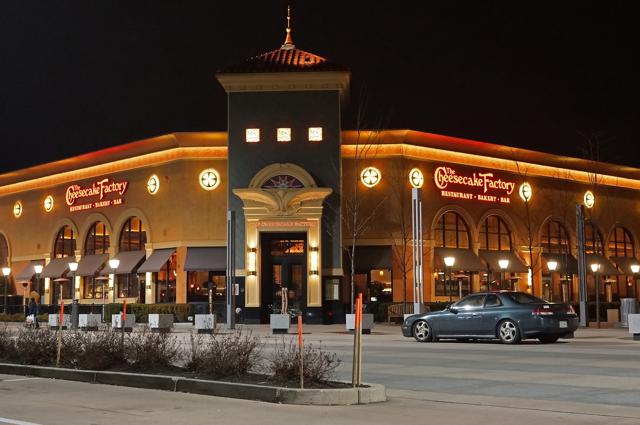 Our view was that this was profit taking. Considering the way the shares have ignored all previous market volatility, we just don't see it as being part of a broad market sell-off. With earnings around a week away, we feel investors may have jumped ship content with the 6% gain they had made so far this year. After all, some restaurant stocks have had a troubled year. As you can see on the chart below, things were looking pretty rosy for investors until late last week.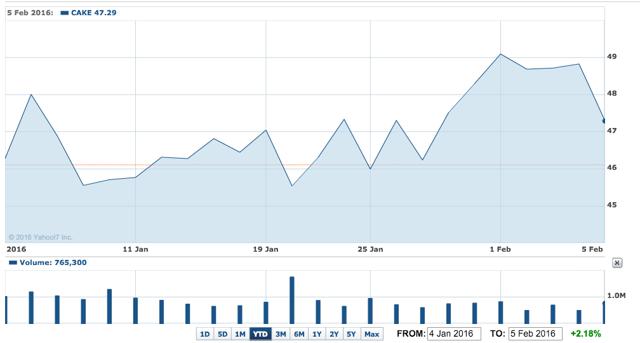 Source: Yahoo Finance
But we're sticking with the Cheesecake Factory, because we see the company beating analyst expectations of earnings per share of $2.36, and anticipate earnings coming in at $2.38 per share. We are also quite confident that an earnings beat would send the share price higher.
We feel they will be able to achieve this through a combination of price increases and the increase in disposable income levels helping increase traffic. Other competitors have been increasing their prices so we don't feel there is any danger of the company doing the same and alienating their customers. Asides from this, the company has been growing its store network at home and overseas which should be a great help.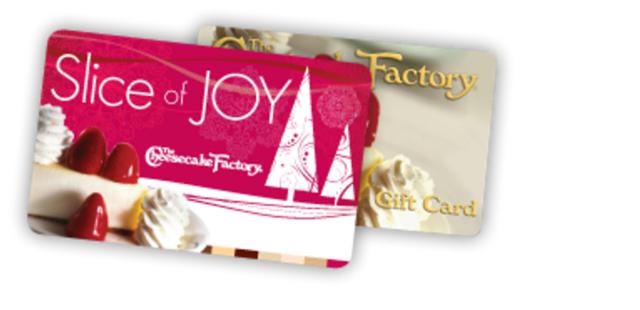 Also, in the run up to holiday season the company released exclusive gift card promotions. The Slice of Joy gift card offer provided an incentive to gift card purchasers during the holiday season. The way it worked was that for every $25 in gift cards purchased, customers would be rewarded with a Slice of Joy card which gave them a complimentary slice of cheesecake between January 1 and March 31, 2016. Gift cards are one of the most popular gifts, so we expect to see some positive impact on revenue with this offer, as well as being a great tool to getting customers back in store after the holiday season.
Management advised on the last earnings call that each international location has been contributing 1.5 cents to the overall earnings per share. We are really optimistic on the company's international future. If it does expand its operations significantly and maintain this level, or even drop down to the target rate of 1 cent per share earnings contribution per international store, then there is a bright future ahead for the company and its shareholders. We are expecting management to report 11 international stores in operation when it reports earnings next week. Previously they have mentioned an intention to open up a further 5 stores in fiscal 2016, but we would be quite happy to see even more expansion. As the company has zero debt and strong levels of free cash flow we feel it could cope with expanding further domestically.
As we have discussed before, over the last ten years The Cheesecake Factory shares have traded on average price to earnings ratio of 20, as shown in the chart below.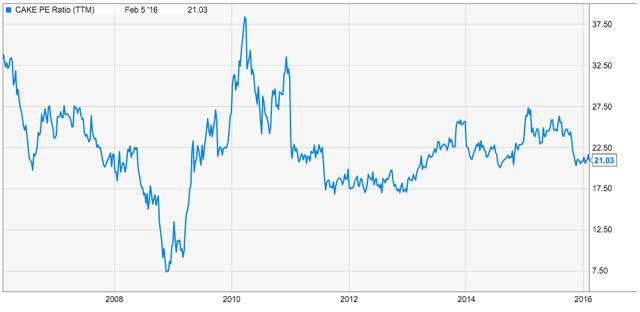 Source: Ycharts
It is trading at a slightly higher price to earnings ratio of 21 at present, but we feel this is expected ahead of earnings. If the company reports earnings in line with our expectation of $2.38 per shares, then that would make the shares fairly valued right now.
But of course we must then begin to look further ahead to the new fiscal year. We still see earnings per share growing to $2.63 per share in fiscal 2016, thanks in part to the price increases, an expanded store network domestically and internationally, and continued high levels of disposable income. This remains in line with analyst expectations, and would equate to a price target of $52.60, or upside of 11.2%. This view is supported by Stephens which recently upgraded the stock to overweight with a price target of $58.
We are looking forward to what we hope to be a good earnings release next week, with positive guidance for the year ahead. We feel the Cheesecake Factory is an under-followed gem with a lot of growth potential.
Disclosure: I am/we are long CAKE.
I wrote this article myself, and it expresses my own opinions. I am not receiving compensation for it (other than from Seeking Alpha). I have no business relationship with any company whose stock is mentioned in this article.