Though 2016 got off to a forgettable start for copper miner Freeport-McMoRan (NYSE:FCX), the stock has made an impressive comeback since the company released its results in the last week of January. In fact, in the last two weeks, Freeport shares have shot up over 44%, as the company boosted investor enthusiasm by posting a loss of just $0.02 per share in the fourth quarter even though analysts were expecting a loss of $0.13 a share.
This turnaround in stock price performance after a forgetful performance in January should continue moving forward, as the company is set to benefit from a number of factors. Let's take a look.
An improving end-market scenario
A key reason behind the turnaround in Freeport's fortunes on the stock market is the recent rally in copper prices. After starting 2016 on a weak note and falling precipitously in the first half of January, copper prices have made an impressive comeback over the past few weeks, as shown in the chart below: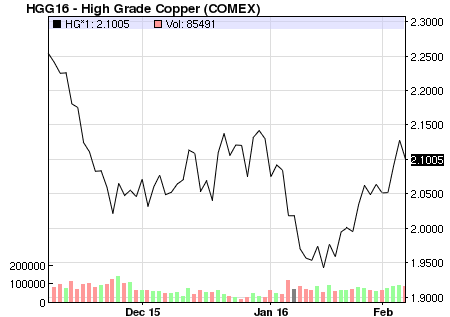 (Source: Nasdaq)
This sharp improvement in copper pricing is driven by the fact that the market will move into a deficit this year on the back of an improvement in demand from China. For instance, in the first 10 months of 2015, bonded copper stocks in China dropped to the tune of 160,000 tons due to an increase of 1.5% in usage, while the decline was more modest at 63,000 tons in the year-ago period. Now, some investors might seem surprised at the fact as to why China's copper consumption has increased at a time when the country's economy is slowing.
In fact, in 2015, copper imports into the country remained almost unchanged as compared to the preceding year, with imports in December rising to almost two-year highs of 530,000 tons, according to the latest data available. Even in 2016 and the years that follow, I believe that demand for copper from China, which accounts for 45% of global consumption, will remain strong due to a few simple reasons.
First, in absolute terms, the growing size of China's economy will provide a tailwind for copper consumption. In 2016, it is estimated that mainland China's GDP will grow by $800 billion, while by 2020, the country will be adding $1 trillion to its economy. Thus, while growth might slow down on a relative basis, it cannot be denied that even a slowdown in growth will lead to a sizable expansion in the GDP.
Now, copper prices have moved in tandem with China's GDP growth in the past few years, as shown in the chart below: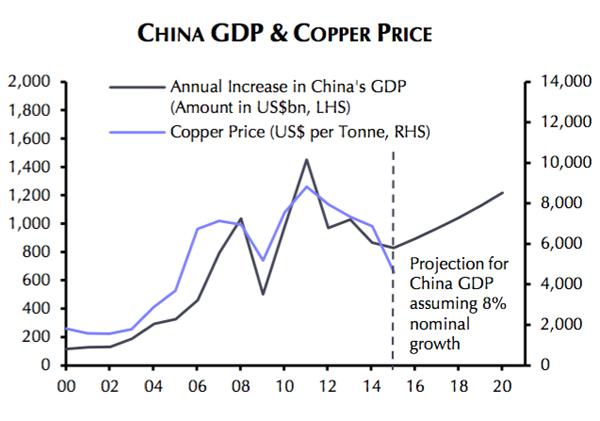 (Source: Capital Economics)
As shown above, Capital Economics forecasts that even if China grows at a real rate of 6% (translating into 8% nominal growth rate, including 2% inflation), copper prices will continue getting better. By the end of the year, it is anticipated that copper prices will continue rising and finish 2016 at $2.72 per pound.
This does not look unachievable given the fact that China's growing GDP will encourage an increase in the urbanization rate. For example, China plans on achieving a 65% urbanization rate by the year 2050. This translates into growth of nearly 20 percentage points in the urban population, indicating that there will be 300 residents who will move from villages to cities.
As a result, demand for copper in the country will continue growing, as the metal is used extensively in infrastructure, ranging from buildings to internet and telecommunications networks. China's construction segment itself accounts for a fourth of global copper demand, indicating that the use of the metal will increase as more buildings and roads are built. In fact, this year, Freeport believes that its copper sales will increase to the tune of 24.3% as compared to 2015. What's more, I believe the company will enjoy a better pricing scenario this year, along with better demand on the back of supply cuts in the end market. Let's take a look.
Lower copper supply will be a tailwind for Freeport
Apart from better demand, a reduction in copper production will result in improved copper pricing. For instance, this year, Chinese copper smelters have agreed upon cutting down capacity by at least 350,000 tons in order to provide stability to prices. This effectively means that China will need to import more copper this year as production declines, which is expected to lead to a deficit in the end market.
In fact, copper inventories have already started declining, which is why a deficit of 130,000 tons by the year-end cannot be ruled out. This deficit has been forecast by International Copper Study Group, which was earlier expecting a surplus of 230,000 tons this year. More importantly, for 2015, ICSG has reduced its copper surplus forecast to 41,000 tons from 360,000 tons. Thus, on the back of an improving demand situation and lower supply, which will create a deficit in the market, the price of copper should improve as the year progresses.
Now, an improvement in copper prices will have a sizable impact on Freeport's EBITDA profile. This is shown in the chart below: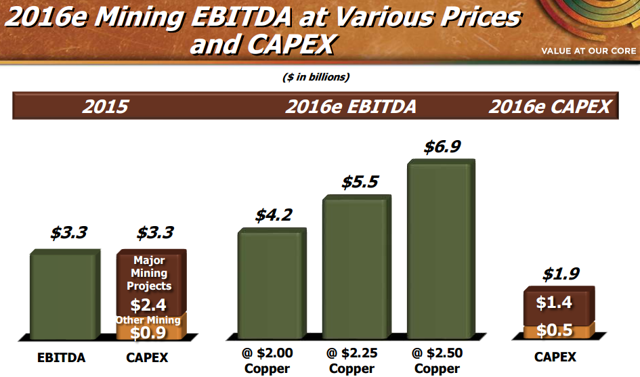 Click to enlarge
(Source: Freeport-McMoRan investor presentation)
Thus, the company is well on track to generate a strong EBITDA performance from the copper segment this year. It won't be surprising if it exceeds the forecasted $6.9 billion in EBITDA that's expected at a price of $2.50 per pound of copper, as the transition in the market from a surplus to a deficit will push prices higher.
Conclusion
Freeport-McMoRan has made impressive progress on the stock market in the past couple of weeks as the conditions in the copper market have started improving. Going forward, this trend will continue on the back of stronger demand and lower supply, while the company's focus on reducing costs will enhance its EBITDA performance. So, I think that it will be a good idea to remain invested in Freeport-McMoRan, as the stock looks well placed to deliver more upside.
Disclosure: I/we have no positions in any stocks mentioned, and no plans to initiate any positions within the next 72 hours.
I wrote this article myself, and it expresses my own opinions. I am not receiving compensation for it (other than from Seeking Alpha). I have no business relationship with any company whose stock is mentioned in this article.