By Kristina Hooper, Steve Malin and Greg Meier
Precipitous Slip in Services Sector
Weakening growth in the services sector is
increasingly reflected in slower total job gains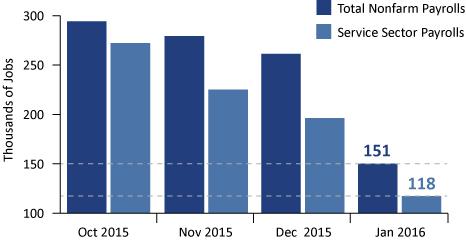 *Services sector industries include retail and wholesale trade, transportation and warehousing, information, financial services, professional and business services, education and health services, leisure and hospitality and other services.
Source: US Labor Department; Allianz Global Investors. Data as of 1/31/16.
1. The economy is slowing in areas of previous strength.
The previously robust service sector created just 118,000 jobs in January, which was the sector's worst job growth in nearly a year and in sync with a significant downtick in January's ISM Non-Manufacturing Index (although it should be noted that the ISM Non-Manufacturing Index is not entirely reflective of services, as it also includes construction).
In particular, we've seen vulnerability developing in the retail space, as evidenced by the December retail sales report. Despite job growth in the retail sector, we may be seeing signs of retail weakness in other areas of this jobs report. The more than 20,000 jobs that were lost in the transportation and warehousing industries may speak to lackluster retail results in a world in which much retail shopping is done online.
2. Increase in wage growth has implications.
Despite slower job creation, the January report showed a solid increase in average hourly earnings. However, there are reasons to suspect this was due to employer difficulty in finding enough qualified workers. Consider that there has been a substantial drop in the unemployment rate in just the past year - from 5.7% in January 2015 to 4.9% in January 2016. How much lower can this rate fall before we bump up against structural unemployment?
3. Profit margins could come under pressure.
The increase in wage growth and rising unit labor costs in general could mean increased pressure on corporate profit margins for the remainder of 2016. There are some signs this may already be happening given some high-profile store closings and job layoffs announced by major retailers recently.
4. Manufacturing shows very surprising strength.
With the jobs report showing an increase of 29,000 manufacturing jobs in January, could we be seeing the start of a small resurgence in the manufacturing sector despite the strong dollar? Maybe. The diffusion index for the manufacturing sector in Friday's employment situation report, which includes 79 industries, jumped from 55.1 in December to 63.9 in January, suggesting hiring was broad-based. However, the gains contradict a deterioration in employment indicated in January's ISM Manufacturing Index.
If the numbers in Friday's jobs report are accurate with regard to manufacturing, it could be that some multinational companies may be "onshoring" - bringing production back to the US from abroad. The reasons are varied but could include geopolitical instability outside the US, the countering of capital flow restrictions to avoid offshore taxes, and low energy prices.
Implications for Fed Policy
The latest jobs report is another symptom of widespread weakening in the US economy in particular, and the global economy at large. We see low and fragile growth in the months ahead for an economy that will continue to rely on support from the Fed.
We believe the Fed when they say that their decision on hiking rates will be data dependent. Right now the data suggests that the Fed will not hike rates in the next few months - but that could change. We'll have to follow the situation closely.