A slew of mandatory downgrades of shopping center REIT Brixmor Property Group (NYSE: BRX) greeted investors early Monday morning.
That is never a good thing to hear if you are a shareholder. Seeking Alpha's Rubicon Associates wrote up the details in a Monday morning update.
Jim Cramer suggested investors shouldn't "bottom fish" Brixmor shares on the news.
Brixmor was a $7.89 billion market cap neighborhood shopping center REIT prior to the announcement of the resignations of the CEO, CFO and CAO for accounting irregularities.
Notably, the slight-of-hand regarding the reported results appears to involve "smoothing" of NOI (net operating income), a non-GAAP metric. According to the Brixmor announcement, the company does not expect to have to restate any quarterly GAAP results.
At the close of trading today, Brixmor's market cap was dented by $1.6 billion when the dust settled. However, if you already own Brixmor shares, a knee-jerk reaction to sell shares at a ~20% lower valuation than the previous close may not be the smartest option.
Tale Of The Tape - Brixmor Shareholders Suffer
Brixmor shares gapped down on the open, and traded as low as $19.91 intraday, prior to closing out the brutal day at $20.68 per share.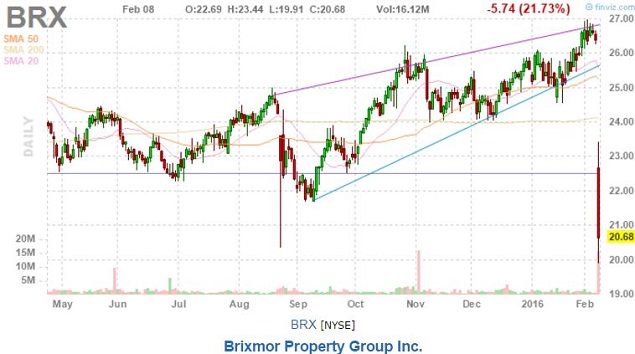 During the past 52-weeks, Brixmor had previously traded in a range of $20.39 to $27.74 per share.
The Big Picture
The Blackstone Group (NYSE: BX) sponsored the Brixmor IPO in September 2013, and remains the largest shareholder, with 122 million shares as of Sept 30, 2015. Blackstone had methodically sold its Brixmor stake down from 79% at the time of the IPO, but retained shares to participate in the upside. The current Blackstone holdings of over 30 percent of BRX shares still equates to plenty of skin in the game.
The Brixmor board appointed former DDR Corp. CEO Daniel Hurwitz as interim-CEO. Hurwitz founded Raider Hill Advisors, LLC after a five-year stint as the DDR CEO, where he presided over a transformation of DDR into a leading power center REIT.
Back on Jan. 28, 2015 Blackstone announced that its "retail real estate advisory portfolio companies" in the U.S. had entered into partnership with Raider Hill Advisors. At the time, Nadeem Meghji, a Senior Managing Director in Blackstone's Real Estate Group said,
"We are significant investors in shopping centers both in the U.S. and internationally, and will take advantage of Dan's extensive experience and track record as the CEO of DDR."
It didn't take long for Blackstone to make a move. In April 2015, Blackstone announced that it was purchasing publicly traded shopping center REIT Excel Trust (NYSE:EXL) for $1 billion in cash, or about a 15% premium.
Blackstone clearly has the ability to pull the strings and possesses all of the resources necessary to right the Brixmor ship, and quickly get it back on course.
Bottom Line
Given the strong reputation of The Blackstone Group, and over $330 billion of total AUM, I find it unlikely that Blackstone was aware or condoned any of this "creative accounting." However, this situation certainly underscores how the pressure-cooker of Wall Street's short-term focus on quarterly earnings.
The full-year estimate of $1.96 to $1.98 for 2015 FFO which was reiterated by the company it its announcement. The current Brixmor $0.98 annual distribution per share is well covered at just below 50 percent of FFO.
On February 8, Moody's affirmed Brixmor's Baa3 rating, but moved BRX from stable to negative outlook. If there are no material issues disclosed, no delay in the release of audited financial statements, and no material changes in balance sheet ratios and debt covenant metrics, there will be no downgrade.
Investor Takeaway
Back in September 2015, I wrote an SA focus article: "Shopping Center REIT Brixmor: Embedded Portfolio Growth, Attractively Priced." The article covers the shopping center industry fundamentals and takes a close look at the Brixmor business plan. Looking back, my conclusions in that article actually seem to hold up fairly well, even in the face of the C-Suite resignations of Feb. 8, 2016.
If you already own BRX shares, I would consider averaging down at these low levels, based upon the embedded growth in the portfolio and the extremely well-covered dividend. If you liked the shares at $27.00, you should love them at $21.00. I still like Brixmor long-term. Blackstone still owns a large stake, and the company has an experienced CEO aboard to navigate any choppy waters ahead.
However, the current yield for Brixmor shares is only 4.64%, even after this huge sell-off. I don't see a compelling reason for investors who are not already shareholders to initiate a position prior to FY 2015 GAAP earnings -- now scheduled for Monday February 29, 2016.
There are plenty of attractively priced REITs to consider, especially after today's sell-off.
Disclosure: I/we have no positions in any stocks mentioned, but may initiate a long position in BRX, BX over the next 72 hours.
I wrote this article myself, and it expresses my own opinions. I am not receiving compensation for it (other than from Seeking Alpha). I have no business relationship with any company whose stock is mentioned in this article.