"Am I In A One-Sided Trade?"
That has got to hit the conscientious trader's mind often, especially if he's trend following. One knows how trades that get too one-sided, with all the market playing the same side, are prone to brutally quick reversals, inevitably catching some of the traders off-guard and inflicting severe pain on them.
An example could be seen last year, when silver first went parabolic in March and April, and then, starting with a 14% plunge on a quiet Sunday afternoon, went on to lose more than 30% in just 5 days.
click to enlarge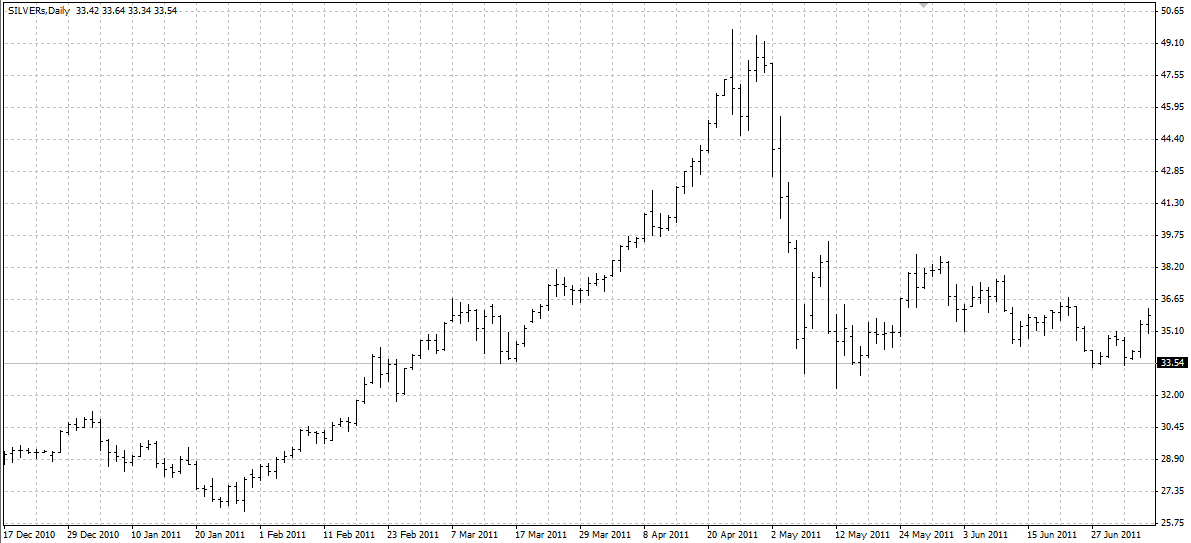 Trying to avoid this fate thus requires a trader to try and find data that somehow gives him a representation of the market's positioning.
How to gauge other traders' positioning
Here, he can either find indirect data regarding sentiment - which is expected to reflect other traders' positioning, even if it doesn't measure it directly. There are many sources for sentiment data, some free, like the sentiment enquiry over at AAII (American Association of Individual Investors), some paid, like the Daily Sentiment Index.
Or sometimes, in some markets, the trader can actually find hard data indicating directly how other traders are positioned. This is for instance possible with the futures and options markets, by consulting the "commitment of traders" report, published weekly by the CFTC (U.S Commodity Futures Trading Commission). This report will tell the trader how others have been placing their bets. It divides the market into reportable positions (commercials, swap dealers, managed money - speculators, other) and non-reportable positions (small traders) and aggregates the size of the positions taken on the long and short side, as well as the percentage of players taking one or the other side).
Obviously, in the rather complex markets of today, this is hardly a complete picture of the market. For instance, in some commodities there are large ETFs taking significant positions in the physicals themselves, such as the SPDR Gold Trust (GLD), the ishares Gold Trust (IAU) or the iShares Silver Trust (SLV). Also in forex you have a sea of traders going at it through CFDs and brokers that don't take (reportable) positions in derivatives.
So, if you want to have an idea of how the market is positioned in any given trade you're taking, you might need to so some more digging. For instance, say you want to know how the retail traders are positioning themselves in forex or precious metals … there's a very useful statistics page provided by Oanda that can help you there: Open position ratios. And what do we notice?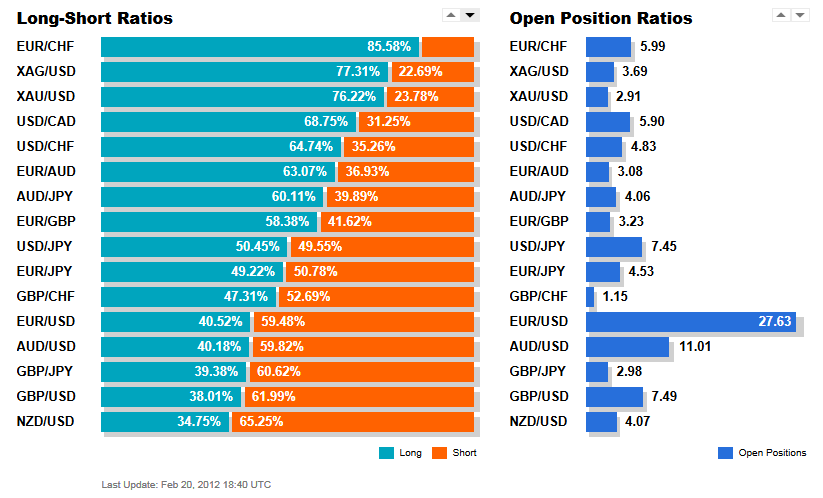 From this screen, one can see that retail, as represented by Oanda's customer base, was quite heavily long precious metals (gold and silver), and quite short - but not as extreme - on NZD/USD (BNZ). Also, they were holding an extreme long position on EUR/CHF (FXF), clearly supported by the thought that the Swiss Central Bank had their backs.
Present examples of one-sided trades
Given the COT (Commitment of Traders) on gold and silver - heavily long, though not as much as it once was; the ETF holdings of GLD, IAU and SLV - on which I once wrote an article titled "Are Gold And Silver Being Unwittingly 'Cornered'?", and whose physical positions are just slightly lower today at SLV, and actually higher at GLD and IAU; and the retail positioning as seen in the Oanda chart above, we can safely say that both gold and silver are quite one-sided trades where mostly the entire market is heavily long.
These two assets are thus vulnerable to possibly fast, sharp, corrections. This in spite of the central banks' actions that do the outmost to dilute currency and promote ownership of alternatives like said assets.
Disclosure: I have no positions in any stocks mentioned, and no plans to initiate any positions within the next 72 hours.