Last week, I gave a presentation discussing the current market environment and the economy. As I was preparing the slide presentation, I noted some concerning similarities with a presentation that I gave in 2007. At that time, I was regularly discussing the potential onset of an economic recession, and then, like now, I was dismissed as being a"perma-bear." The real estate market was still booming as cheap credit was made available to everyone, the vast majority of the media saw no recession in sight, and the Federal Reserve continued to tout a "Goldilocks" economy. Yet, a year later, it was quite evident.
Currently, there is a plethora of commentary strongly suggesting that the U.S. economy is nowhere near recession. That may very well be the case; however, by the time the data is revised to reveal the recession, it will be far too late for investors to do anything about it. The market, a coincident indicator of economic recessions historically, may already be revealing future economic data revisions will eventually disclose.
With the economy now more than 6 years into an expansion - which is long by historical standards - the question for you to answer by looking at the charts below is:
"Are we closer to an economic recession or a continued expansion?"
How you answer that question should have a significant impact on your investment outlook, as financial markets tend to lose roughly 30%, on average, during recessionary periods. However, with margin debt at record levels, earnings deteriorating and junk bond yields rising, this is hardly a normal market environment within which we are currently invested.
Leading Economic Indicators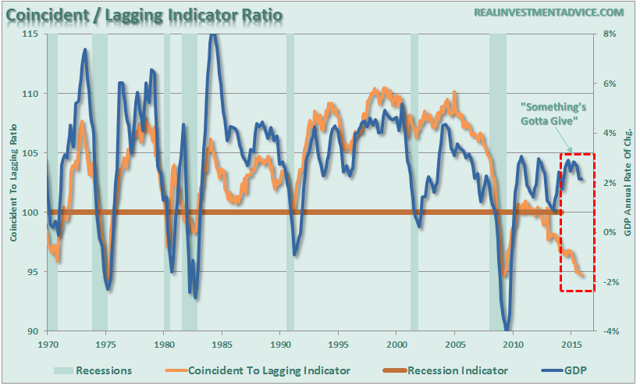 Click to enlarge
Durable Goods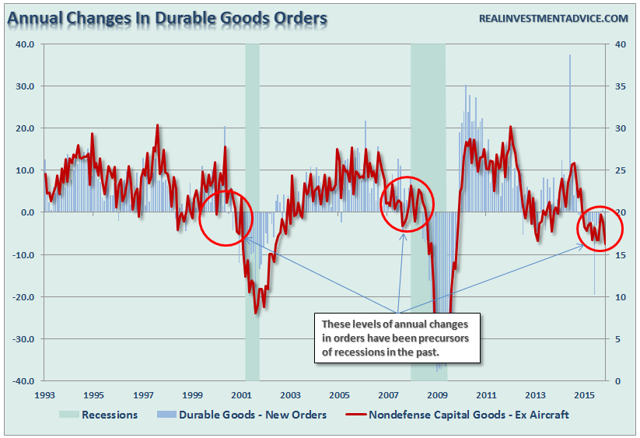 Click to enlarge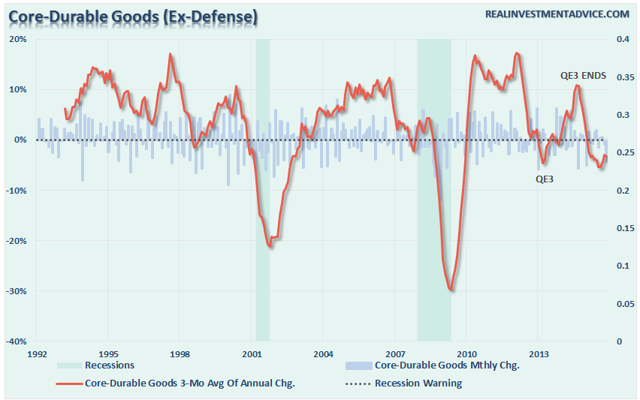 Click to enlarge
Investment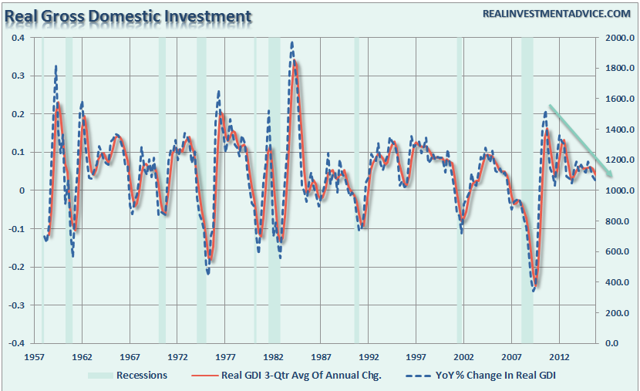 Click to enlarge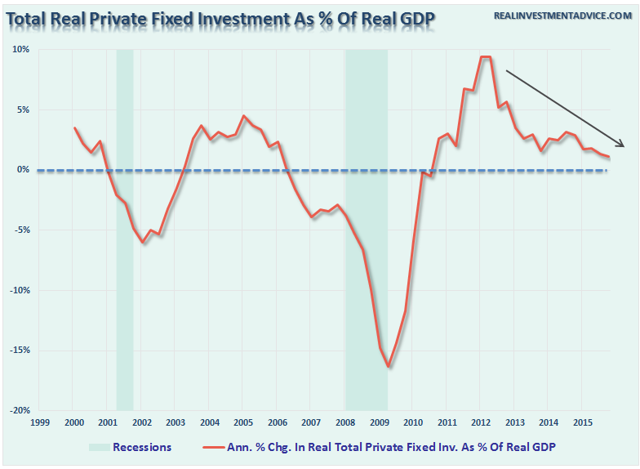 Click to enlarge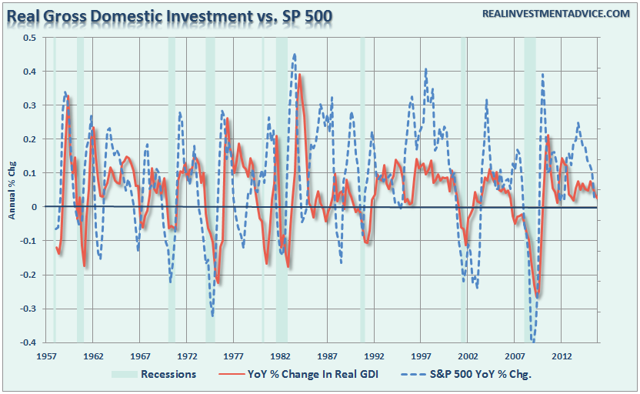 Click to enlarge
ISM Composite Index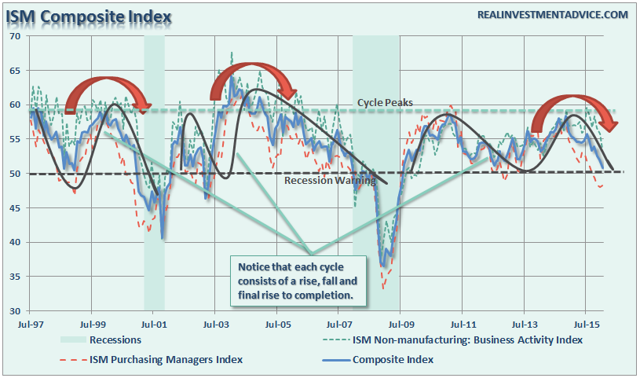 Click to enlarge
Employment and Industrial Production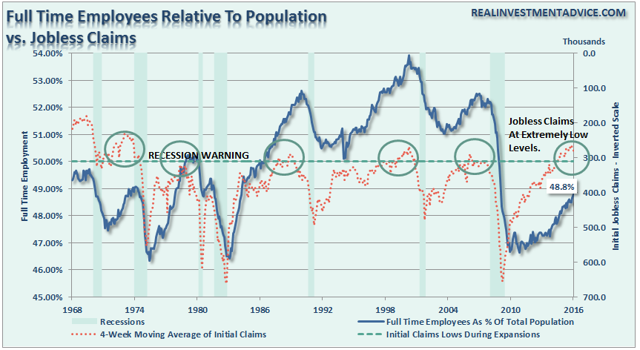 Click to enlarge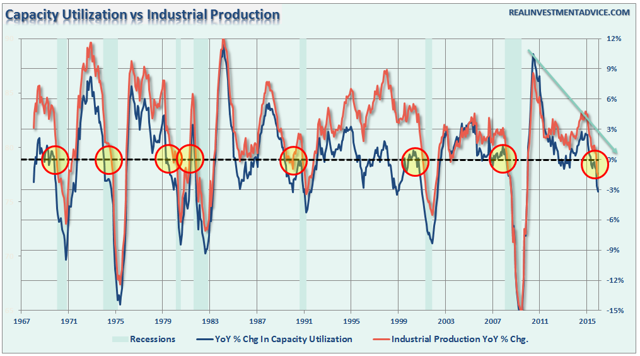 Click to enlarge
Retail Sales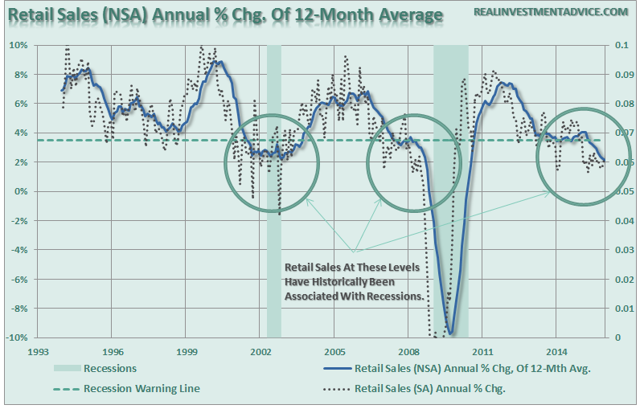 Click to enlarge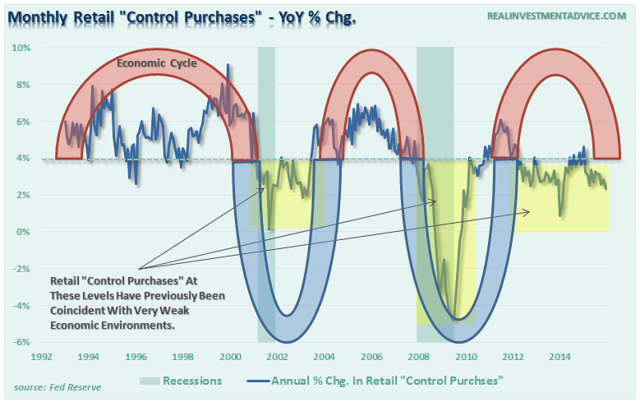 Click to enlarge
PCE and Imports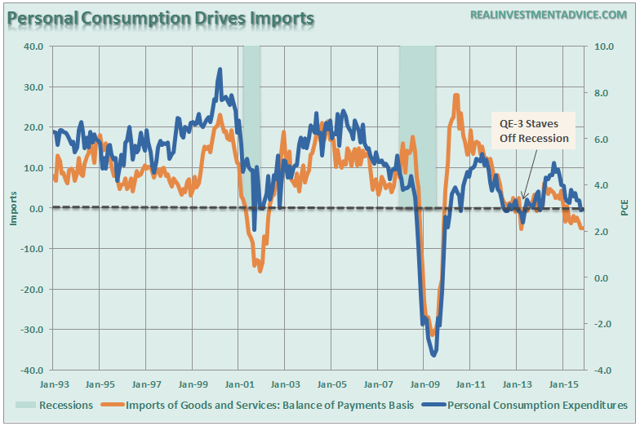 Click to enlarge
Corporate Profits As % Of GDP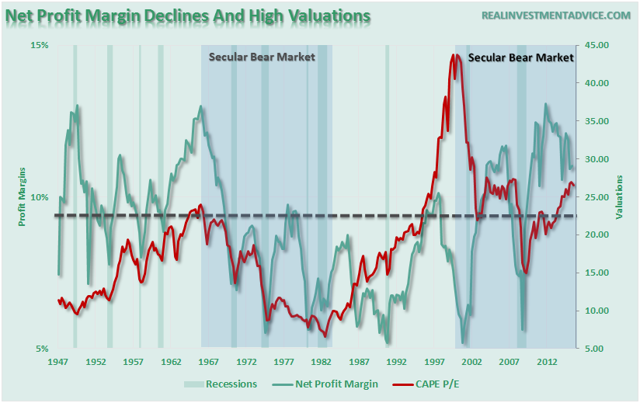 Click to enlarge
The Broad View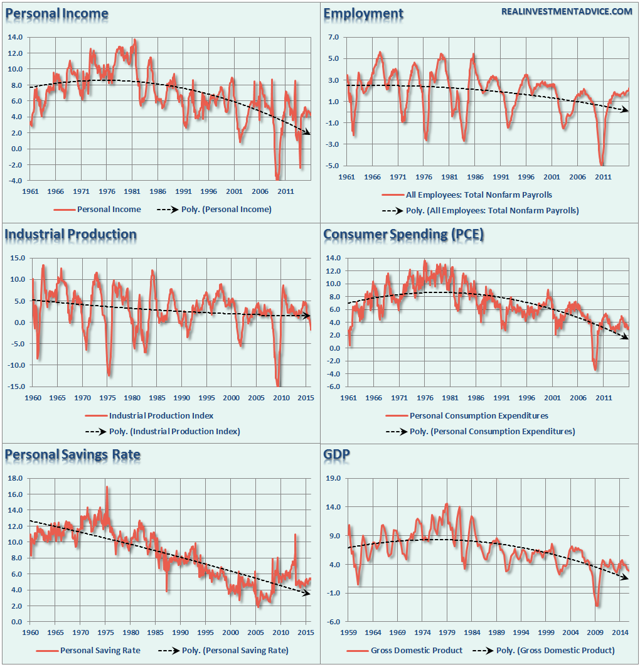 Click to enlarge
If you are expecting an economic recovery and a continuation of the bull market, then the economic data must begin to improve markedly in the months ahead. The problem has been that each bounce in the economic data has failed within the context of a declining trend. This is not a good thing, and is why we continue to witness an erosion in the growth rates of corporate earnings and profitability. Eventually, that erosion, combined with excessive valuations will weigh on the financial markets.
For the Federal Reserve, these charts make the case that continued monetary interventions are not healing the economy, but rather, just keeping it afloat by dragging forward future consumption. The problem now is the Fed has opted, by tightening monetary policy, to not "refill the punch bowl." Eventually, when the drinks run out, the party comes to an end.
With the Fed hiking interest rates and talking a tough game of continued economic strength, the risk of a "policy error" has risen markedly in recent months. The markets, falling inflation indicators, and plunging interest rates are all suggesting the same.
Disclosure: I/we have no positions in any stocks mentioned, and no plans to initiate any positions within the next 72 hours.
I wrote this article myself, and it expresses my own opinions. I am not receiving compensation for it. I have no business relationship with any company whose stock is mentioned in this article.