Honeywell (NYSE:HON) is a really interesting story in this horrible, volatile market we've had in the past few months. It continues to chug along, not moving higher, but not getting killed either, as it continues to produce steady, stable results. Last time I visited HON the stock was trading for $97 and I posited at the time that its long term buy status was intact. The company's very reasonable earnings multiple along with its diversification and sales and margin momentum coincide to form a very favorable environment for earnings growth. That's why I liked HON in the past but is all of that still true?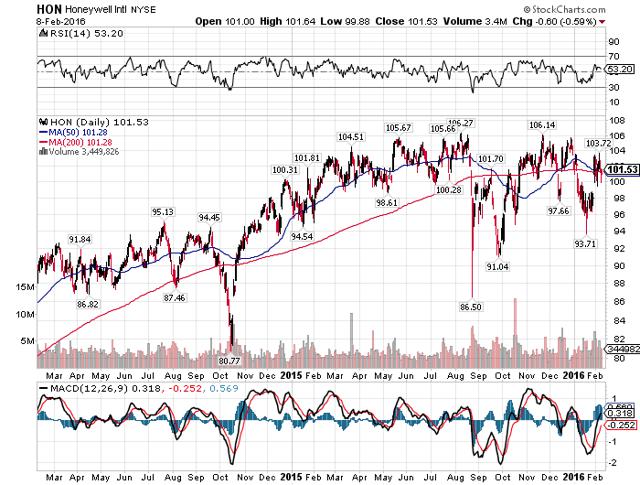 Click to enlarge
HON's Q4 earnings report was about as expected; strong margin expansion but overall sales underwhelmed. HON's sales overall fell 3% but that is really just the tip of the iceberg with this company. My bullishness in the past has not been due to rapid sales growth forecasts - as those don't exist for HON - but rather its tremendous level of margin expansion that allows HON to make a lot more money on each dollar of revenue as time goes on. HON's margin expansion story is one of the best in the entire market and it continues to show just how good it is at wringing profits from each dollar of revenue.
Segment margin flew higher again in Q4, rising 290bps to 18.8% from 15.9% in the year ago quarter. In addition, minus a pension adjustment the company's operating margin was 18%, up from just 14.5% last year. That is an incredible level of margin growth and that is why HON is a buy; even with flat revenue, margin growth like that allows for outsized profit growth and that is all that matters. HON's cost saving initiatives are paying huge dividends (literally and figuratively) and management went so far as to guide for even more expansion in 2016. That is very bullish for 2016 and beyond as HON's operating margins continue to rise and I don't think current forecasts include this.
The company's Aerospace business continues to be the star of the show as it was the only segment to post a sales gain and its margins expanded 450bps to 21.5%. Excluding Q4 2014 OEM incentives the gain in margins was a much more modest 50bps but the point stands that Aerospace is HON's pride and joy at the moment. The stories are similar for the other major segments minus the part about sales growing; the sales environment for multinationals is certainly hostile right now but HON's sales declines were very manageable. Again, it's key to focus on margin expansion, not trivial losses on the top line.
HON does buy back some stock and while the amount isn't earth-shattering, it is a respectable 1.7% of the float over the last year. That level of share count reduction will roughly offset the lower sales HON is seeing although that pressure on sales is expected to abate in 2016.
Given the buyback and the company's expected sales growth of 4% or 5%, the analyst community's estimate of just 8% EPS growth in 2016 is quite achievable. Analysts are right in the middle of both sales and EPS guidance ranges HON provided so no gold stars go out for creativity but I think HON can achieve those numbers.
For it to hit 8% EPS growth this year it can get perhaps 1.5% to 2% from buybacks, 4% to 5% from top line growth and more than the balance from margin expansion. Using the lower ends of those ranges we get 5.5% of EPS expansion from the buyback and revenue, leaving just 2.5% needed from margin expansion. Considering the company's operating margins expanded by 18.5% in 2015, that seems like a very reasonable task. With the company's cost saving initiatives still very much in full swing, I think HON's guidance is light and that it set itself up to beat. We aren't likely going to see $7 in EPS or anything like that but I certainly would not be surprised to see $6.75 or $6.80 based upon middle-of-the-road revenue growth but higher margin expansion. That leaves us with some upside potential for 2016 in HON because it is cheap even if it just hits consensus.
HON is trading for just 15.4 times this year's earnings and 13.8 times next year's earnings and given that it is slated to grow its EPS at high single digits for the foreseeable future, that's cheap. Its margin expansion alone would justify that level of valuation so if HON can produce even minimal gains on the top line, it should be in good shape.
While they aren't exactly the same business, GE is a good comparison to HON and it is trading for 18.7 times this year's estimates despite the fact that it has so many variables surrounding its Capital exit and transformation of its business. HON is stable and steady and you know what you're going to get and what you get is cost discipline leading to tremendous margin growth.
HON has held up during the recent market turmoil very well and that is no accident; this is a true blue chip industrial stock that you can buy for your kids and sleep at night. With HON's FCF continuing to grow and dividends and buybacks a priority, HON is a great buy at less than 14 times next year's earnings.
Disclosure: I am/we are long HON.
I wrote this article myself, and it expresses my own opinions. I am not receiving compensation for it (other than from Seeking Alpha). I have no business relationship with any company whose stock is mentioned in this article.