Back in October of last year - before the stock market imploded - I wrote a piece on regional bank KeyCorp (NYSE:KEY) wherein I posited that at $13, it was cheap enough to buy and at the time, I put a price target of $17 on the stock. Since that time, of course, we've seen nothing but carnage in the financial space and KEY has certainly not been an exception. Shares are now under $11 and despite some bright spots in the Q4 report, shares are languishing at multi-year lows. With what I perceive as a premium franchise in banking selling so cheaply, is it time to double down or should we get out while we still can?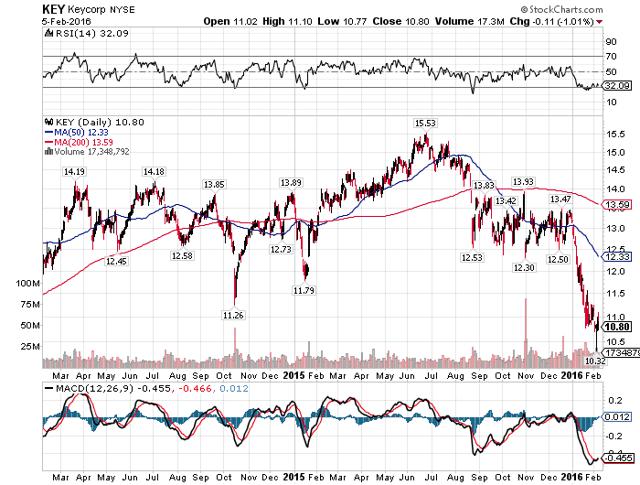 Click to enlarge
Last year I was drawn to KEY's ability to produce fee income growth and leading the charge is the company's newly-integrated Pac Crest acquisition. The company's fee growth was absolutely stellar in 2015 as the target company brought with it a high mix of fee income into KEY's revenue stream, diversifying it away from rates more so than its competitors. With that acquisition now being anniversaried, it will admittedly be more difficult for KEY to grow further from here.
KEY is a rare financial that posted a solid gain in revenue during Q4 with that number rising about 2%. While I realize the irony of calling a 2% rise in revenue "solid", the fact is that the environment for banks is so hostile right now that 2% growth in revenue is top tier. The company's loans were up 5% Y/Y as it continues to concentrate on high quality commercial loans as its strategy for growing its book. This is the same strategy it pursued last year with strong success so I'm happy to see that is still the focus of book growth.
Unfortunately, net interest margin was flat against Q3 and down against last year's Q4 but the damage was minimal. In fact, the company's higher balances of earning assets more than offset the small decline in yield on the portfolio. The company's loan book is once again performing quite nicely and despite the fact that NIM isn't rising, the fact that it is stable is good enough in this environment. Remember that rates haven't yet risen so we aren't going to see NIMs fly higher anytime soon for any bank.
Noninterest income was basically flat in Q4 as the low-hanging fruit has certainly been picked already in that space. The company's higher mix of fee revenue is great for a terrible rate environment but weakness in the trust and investment services business derailed growth in Q4. Fee revenue is paramount to the bull case so I'll be anxiously awaiting Q1 results to see any progress that has been made.
The company's expenses did rise 5% during the quarter but almost all of the increase was due to one-time, non-recurring charges. Merger-related costs as well as a pension charge and other benefit expenses made up the lion's share of the increase in costs so while I was initially shocked at the 5% rise, upon further inspection, it's really not that bad. That statement comes with the caveat that KEY gets its costs down in 2016 because if it doesn't, it could derail earnings growth in a significant way.
KEY's funding base is tremendous so the fact that its portfolio's yield is somewhat underwhelming isn't a deal-breaker for the bulls. The company's total cost of deposits is just 15bps so if/when rates do rise and KEY sees some of that flow into net interest income, its nearly-free deposit base should shine as it allows for rapid NIM expansion. We're obviously not there yet but it is a free call option on additional upside to KEY's earnings should rates actually rise at some point.
At 7.7 times forward earnings, KEY is dirt cheap. Many banks are trading for depressed multiples but there aren't many regionals trading for such a low valuation. KEY is being thrown out with every other bank despite the fact that it has all the positives I just mentioned. The company's diverse fee income stream means that it is nowhere near as reliant upon rates moving higher as other large banks and considering the sheer panic that is occurring in banks due to the turmoil in interest rates of late, that is an enormous positive. In fact, the idea that KEY should trade in tandem with other more rate-sensitive banks makes no sense at all; and therein lies the opportunity.
KEY's current price has it at just 94% of tangible book value, something that has become very common for large banks but less so for regionals. Again, there is a disconnect between KEY's value and its stock price and the price heading below tangible book is a sign of panic, not a truly distressed situation. KEY is trading like we are entering another financial crisis but there is simply no evidence that is happening. Being able to buy this well managed bank for under 8 times forward earnings and less than tangible book value is simply too good to pass up. I still think we'll see KEY head towards $17 over the next year; the upside potential is just more substantial now.
I'll add that the First Niagara (NASDAQ:FNFG) acquisition is a long term positive but will be difficult for shareholders to endure in the short term. Regulators will be all over this one due to the size of the deal as the combined entity would be the 13th largest in the country. That said, I also worry about dilution as KEY is paying 0.68 shares plus $2.30 in cash for each share of FNFG and by my math, that means KEY is going to have to pay FNFG shareholders with about 245 million shares of KEY. With an existing share count of ~845 million, that's a lot of dilution, nearly 30% of the current base. But, KEY reckons it can eliminate about 40% of FNFG's current expense base, putting $400 million annually into operating income once the entities are fully combined, probably sometime in mid- to late 2017 by my estimation. That's a pretty compelling argument as the combined entity would have a significantly lower efficiency ratio and its return on capital would increase as well. We are still early on but the FNFG acquisition - while not exactly cheap - is a good buy long term for KEY. The implementation is going to be messy and expensive but when it's done, it will be a strong addition to KEY's balance sheet. And with the stock trading under tangible book with the FNFG kicker, it's just too good to ignore.
Disclosure: I am/we are long KEY.
I wrote this article myself, and it expresses my own opinions. I am not receiving compensation for it (other than from Seeking Alpha). I have no business relationship with any company whose stock is mentioned in this article.