Recently, we have seen the price of Copper bounce off its seven year low. As the price at this point was around $2.00, it could be seen as an important inflection point. Price invariably bleeds over the edges with institutions looking to take out stops, so to see the price at $1.90 is not too much of a concern at this juncture. Could this mean we have seen the bottom for this important base metal?
The following chart reveals some interesting insights as to the near term price.
There are four aspects to this chart that give us bull signals. The first being the price bouncing off the bottom of the channel on the long term downtrend. Second, there is the 200 day MA which indicates the case for a bounce. Third, there is an important Key Resistance Level at 2.137, this is where the price hit several times back in December but could not break through. Additionally, last week I noticed there was definite pressure building up just below this level. Fourth, we have the COTs. The Large Specs are fully short, while the Commercials are fully long. This fourth point being very significant, as when commercial buyers are so strong, they are rarely wrong.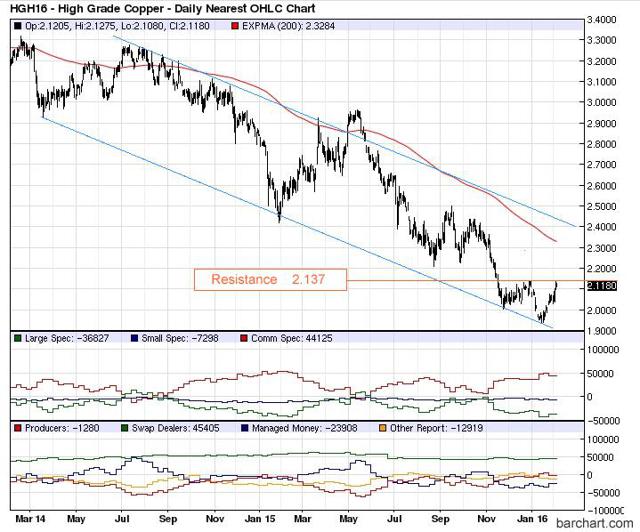 Looking at the 200 day MA around May last year, the price blasted through it. The backdrop of poor Chinese data didn't quell the surge, as traders were buoyed up with the promise of Chinese stimulus. The rally was caused initially by the Chinese new year holiday at the start of February, this is traditionally a time when Chinese traders close off their books, which at that time meant massive short covering. This ultimately failed with the bears returning to take control in June.
Could we see a similar rally this time around? Apart from the Chinese stimulus which will no doubt be in effect after the holiday, there are other factors which suggest we could have the makings of another significant rally up to 2.500, or 2.600, where the price will hit resistance above the 200 day MA. For instance, the USD has weakened recently. This chart shows in percentage terms that a small incremental change in the dollar index can have a significant effect on the copper price.
(click to enlarge) Copper is red line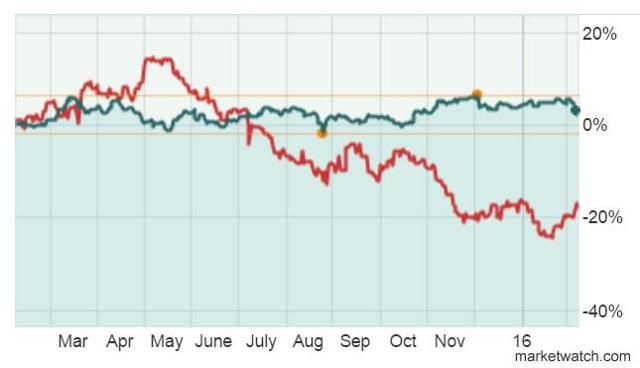 The supply demand side
With regard to the fundamental outlook, one important fact that cannot be overlooked is copper stock levels, especially at the LME.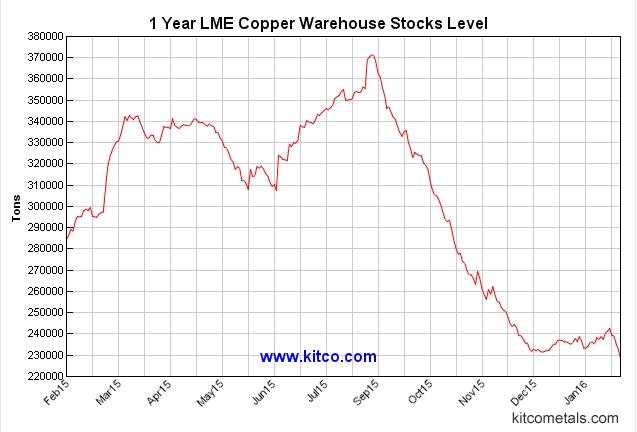 The warehouse story tells us of declining stocks, is this because of more demand, or too little supply? We know of mines that are curtailing production. Glencore (OTCPK:GLNCY) for one has closed mines, even if temporarily so as to re-open at a later date with cheaper production costs. I should imagine the re-opening of the mine will wait until a more robust environment. BHP Billiton (NYSE:BHP) has also announced that it wants to refurbish some of it's mines in order to lower costs.
Supply side shock
Reuters ran a story last September, where they compared the 2003 price lift that was instigated by Codelco, who stockpiled 200,000 tonnes to the shortage that may be created due to recent mine shuttering. This is the reason why the red metal has not dropped to the same extent as other metals. The supply demand difference is tight, and traders know that a small disruption could easily force a price spike.
Value in copper even with banking sector concerns?
Traders looking at the supply/demand picture see a very tight fit. Could this be enough to stem a sell off, and even suggest an uplift in this backdrop of bearishness? One major effect would be the oil price. If ailing oil companies start defaulting en mass, then this is going to hurt banks - obviously. We could see bank's writing off millions, which would send panic through all sectors. Although panic will reverberate through most investments, the Oil price will no doubt benefit from Oil company closures. This in turn will help keep the Copper price buoyant.
It could be argued that Copper would indeed be higher if not for negative sentiment attributed towards the oil market. Recently, there seems to be improving oil sentiment, with a small increase in the oil price acting positively towards Copper.
(click to enlarge) Oil and Copper is red line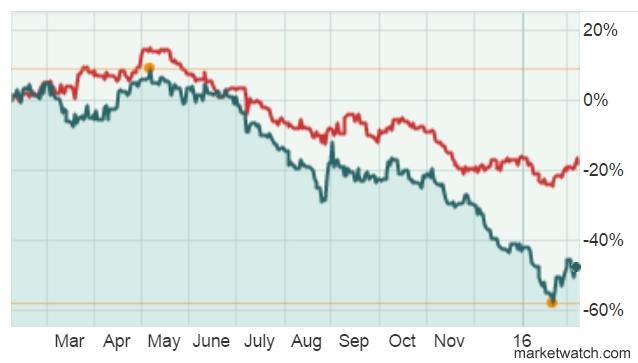 Conclusion
These various indicators suggest that Copper could indeed be looked on favorably. Once the resistance levels are taken out, then I can see 2.500 as a near term target. After that, we will have to see how Macro sentiment is looking. If there is a bull rally, we will see gains for major miners such as Freeport-McMoRan (NYSE:FCX), Kaz Minerals (NYSE:KAZ), BHP, Rio Tinto (NYSE:RIO) plus the outlook for various ETFs (JJC (NYSEARCA:JJC), CPER (NYSEARCA:CPER), CUPM (NYSEARCA:CUPM)) will be favourable. If the levels cannot be broken at the next attempt a pullback may develop, whereupon the prospects will have to be re-evaluated.
Disclosure: I am/we are long RIO.
I wrote this article myself, and it expresses my own opinions. I am not receiving compensation for it (other than from Seeking Alpha). I have no business relationship with any company whose stock is mentioned in this article.
Editor's Note: This article covers one or more stocks trading at less than $1 per share and/or with less than a $100 million market cap. Please be aware of the risks associated with these stocks.