Infinity Pharmaceuticals (NASDAQ:INFI) has seen its share price hit hard by the current negative sentiment on Big Pharma. The price decline has not been caused by any developments specifically concerning the company itself. This is often a sign of potential in a stock. The company's commercial and development tie-up with Big Pharma giant AbbVie (NYSE:ABBV) means that it has the money to bring product to market if approvals are forthcoming. This is a luxury very few small pharmaceutical companies enjoy.
Big Pharma Today.
Pharmaceutical companies have seen their share prices hammered recently over political and social developments. This began really with Hillary Clinton's comments about stopping such companies allegedly over-charging for drugs if she were to become President. Her rival for the Democratic Party nomination Bernie Saunders effectively agrees. Much of this has been inspired by the high pricing of the hepatitis treatments offered by Gilead Sciences (NASDAQ:GILD).
Hostility towards Big Pharma, never far from the surface anyway, has been kindled further by some of the outrageous behaviour of Martin Shkreli. This was seen most recently in his appearance before a Congressional hearing. His company, Turing Pharmaceutical, had acquired the rights to "Darapin", a drug used in the treatment of AIDS patients suffering from toxoplasmosis. They had immediately raised the price of the only drug effective in treating this condition from US$13.50 per pill to US$750 per pill.
Given the parlous state of the Republican Party it is more than likely that the Democrats will win the Presidency again this year. However Big Pharma has plenty of friends in the Republican Party through its well-financed lobbying activities and it is doubtful whether effective anti-Big Pharma legislation could ever get through Congress. So I think the political risk to the sector has been over-stated, or at least already priced into stocks.
in general macro terms, North America is facing the fact of an ageing population which will need more drugs. Additionally there will be extended coverage under Obamacare.
Infinity Pharma Drug Pipe-line.
The company is focused on developing small molecule drugs in treatment of malignant cancers. The main drug behind Infinity is "Duvelisib" for various oncology treatments. Politically, anti-cancer drugs are not a bad place to be right now, with President Obama's call to marshal resources against cancer in his State of the Union message.
The drug works as an oral dual inhibitor of phosphoinositide-3-kinase delta and gamma. In layman's terms these are two proteins that support the growth of malignant blood cells.
2016 will be the key year for Infinity and for "Duvelisib" for both USA and EU testing.
Exact details of the company's drugs pipe-line can be seen here. Its Phase III testing for the treatment of relapsed/refractory chronic lymphocytic leukemia (CLL) is due this year, probably in the fourth quarter. Additionally Phase II results are expected in the 3rd quarter for treatment of refractory indolent non-Hodgkin lymphoma (NHL). Commercial launch of the drug is planned for 2017 on the assumption that approvals are met. Marketing applications are expected to be made to the FDA (U.S. Food & Drug Administration) and EMA (European Medicines Agency) in the 4th quarter.
Infinity & AbbVie.
Investing in small pharmaceutical companies is often like throwing darts at a dart-board blindfold. Will the drugs get approval? Will the company run out of money before approval comes anyway? As such, investors can often get burnt by constant share dilution as the small company desperately tries to raise money in a race against time.
This year also sees the first joint study with an AbbVie drug. "Duvelisib" is being combined with AbbVie's "Venetoclax" in a phase 1b/2 with relapsed or refractory CLL, and NHL. Additionally there are a series of broad clinical developments the two companies are co-operating on.
As was pointed out in a recent article on "Seeking Alpha", AbbVie can also be seen as a Buy with its good profitability, dividend pay-out and on the back of a share price decline caused by the general market weakness and the specific weakness of Big Pharma.
Its Q4 earnings however were not well received by the market as the company's revenues fell short of analyst expectation despite a beat on earnings. Most concerning to investors however is their product pipe-line.
The company is reliant for about 55% of its sales on one drug, "Humira", for the treatment of arthritis. There have been legal hearings concerning when patents will run out but it could be in the USA this year and in Europe in 2018. This is a situation somewhat comparable to Gilead and what some see as that company's over-reliance on "Sovaldi". International sales are expected to decline following European approval of a cheaper alternative, "Enbrel".
AbbVie's hepatitis C drug, "Vielira Pak", like "Humira" saw increased sales but a less good outlook. This is especially so given that the FDA has just approved the drug "Zepatier" from rival Merck & Co (NYSE:MRK)
AbbVie have a blood cancer drug in conjunction with Johnson & Johnson (NYSE:JNJ), "Imbruvica". This also saw increased sales but below the forecasts of analysts. It is quite likely that AstraZeneca (NYSE:AZN) will have a strong competitor approved by the FDA this year.
AbbVie's co-operation with Infinity can be seen as a drive to strengthening their position further in blood cancer drugs. It can also be seen as an attempt to get more products in the pipeline as patents expire, something all drugs companies worry about constantly.
Infinity Financials.
Q4 2015 and full-year results are expected to be announced in late February. The company ended 2015 with US$245 million in cash and investments. It has forecast this will be US$45 million to US$65 million at end 2016 with revenues of US$225 million to US$245 million during 2016. They expect US$200 million in regulatory milestones in the 4th quarter with payment by AbbVie in the first quarter of 2017.
The share price is at US$5.83 at the time of writing, close to the low point in a 52 week range of US$5.55 to US$16.98. The graph below provides a representation of the share price decline.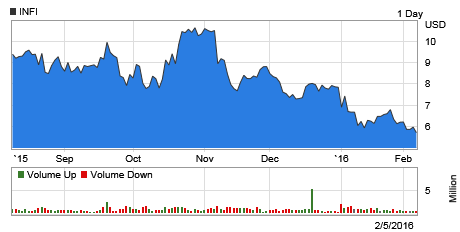 Market capitalization is at US$289 million and enterprise value is US$146 million. Market capitalization can be defined as the multiple of a stock's current share price and the number of shares outstanding. For a possible buyer of the company using the market capitalization figure would only take into account the cost of the acquisition of all outstanding stock. The enterprise value can be defined as market capitalization less cash on hand plus debt balances. So a possible buyer of the company can see what are the debt obligations of the company, giving a truer picture of the value of the company and how much the suitor would need to pay to acquire the company. The lower the ratio of enterprise value to the sales multiple, the more undervalued a company may be considered to be. Although there are some other quite complex factors which may be taken into account, the ratio exhibited by Infinity at least suggests the company is indeed under-valued.
Conclusion.
Analyst opinion (for what it is worth) is favourable. Three have a Buy recommendation, four have an Outperform recommendation and one has a Hold recommendation. Furthermore, these calls were made when the share price was higher than it is today. So they were wrong then on a short-term basis, but the lower price now might make them a better call today. I can see no good reason for the sharp share price decline apart from the general market conditions outside the company's control. Clinical stage biotechs were particularly badly hit by the market in January.
There is still much talk of consolidation in the pharmaceutical industry and Infinity must be seen as a potential take-over target, particularly by AbbVie. This should be a further positive factor for the shares, as is the support of AbbVie in general. Other Big Pharma companies, especially Gilead, are also looking to beef up their oncology portfolios and could see companies such as Infinity as tempting targets.
However, ultimately the approval process for "Duvelisib" is what will decide whether this is a good potential investment or not. This will be clear by late this year.
Disclosure: I am/we are long INFI.
I wrote this article myself, and it expresses my own opinions. I am not receiving compensation for it (other than from Seeking Alpha). I have no business relationship with any company whose stock is mentioned in this article.