Hershey (NYSE:HSY) is a consumer name that I've been very bearish on in the past. I've argued before that HSY's fundamentals simply don't live up to its valuation and while I appreciate that HSY is in a relatively low risk business, the point stands that there is only so much one can pay for the right to own it. HSY has been working diligently on expanding its margins despite a weak revenue environment but as it has been largely immune from the recent market sell-off, it is still quite expensive. After Q4 earnings the stock has reacted very favorably and it seems as though HSY may be on a decent footing to head higher. But is that the right move here?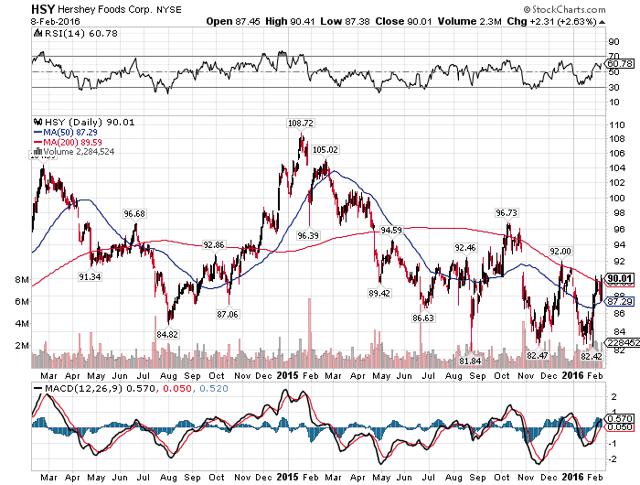 My angst on HSY has not been because its model is broken but rather that the combination of weak traffic and a very expensive valuation spell trouble for the stock despite the fact that it is experiencing such strong pricing power.
The tough revenue environment continued in Q4 as the company's top line deteriorated by 5%. Forex and net acquisitions combined for a 1.5% headwind in Q4's revenue number but even if we exclude these, HSY was still at a 3.5% loss of revenue. The company's strong pricing that took place earlier in 2015 was a much smaller benefit in Q4, providing just a 1% tailwind for revenue. Meanwhile, weak volume in China and the US caused HSY's overall volume to plummet 4.5% during Q4.
This is exactly what I warned about last year; strong pricing can only get you so far regardless of what you're selling and it seems we've hit that point for HSY. Masking weak volume with higher prices can work for a while but eventually, volume needs to catch up and the fact is that the situation is getting worse for HSY, not better. A 4.5% loss of volume is a disaster and it is exactly why I recommended shorting the stock last year; companies with volume losses like this are not stocks one should buy at nosebleed valuations.
On the bright side, HSY's margin expansion efforts continued as gross margins rose 80bps to 45% on an adjusted basis. The company's higher prices as well as supply chain initiatives are to thank and this is something that HSY has been doing well for a while. In fact, I believe this margin expansion is the only reason the stock isn't trading in the $70s; investors love margin expansion and you can certainly count me in that group but volume is important too.
It is interesting that analysts have their respective consensus estimates below HSY's guidance for 2016 by small margins. It seems as though I'm not the only one that doubts HSY's ability to hit the goals it has set. The problem for bulls is that the stock is so expensive you really need HSY to beat its own guidance, not just come close to hitting it. The stock is trading for 20.7 times this year's earnings, a seriously expensive multiple when you consider that EPS growth is likely to be around the 5% mark. That's cause for a massive sell-off in this market for most stocks but for some reason, bulls are clinging to this one.
You can argue that the dividend is the key but HSY is only yielding 2.6% and while that yield is fine, there are so many other better options in this market. The recent sell-off has created bargains everywhere and that certainly includes dividend paying stocks. For the combination of the terrible valuation and a so-so yield, I simply don't see the appeal of HSY.
Guidance for 2016 was stronger than I was expecting given that 2015 was so weak; I think HSY will have a hard time translating pricing gains from 2015 into 2016. That will certainly keep a lid on revenue generation because volume continues to be dreadful and there is absolutely no reason to think that is going to change anytime soon. HSY has given us no reason to be bullish and yet, investors are still clamoring for the chance to pay 20+ times current earnings for a stock with weak fundamentals and low EPS growth. I respect HSY's margin expansion efforts but they are not enough to justify the multiple and considering that pricing was a big piece of margin expansion in 2015, it seems that train may be running out of steam as well.
Hershey did initiate a new $500 million repurchase authorization, good for another ~2.5% of the float at current prices and while that's a welcome tailwind for earnings, it isn't big enough to change my mind. I love buybacks as a way to create value over the long term as management teams snap up cheap stock but this is not a case of that happening. There is simply no way to value HSY as 'cheap' at this point using any metric I've ever seen so the fact that management is going to spend heavily to buy shares at current levels isn't great. But for what it's worth, it will help provide a small tailwind to EPS in the process.
Overall, Q4 made me more bearish, not less, as the company's volume woes continue. I simply can't pay 20+ times earnings for a company that is shrinking and that is exactly what HSY is doing right now. I understand earnings are still growing but even though that's true, ~5% EPS growth is nowhere near enough to pay 20+ times earnings for this stock. The yield is fine but not great and I just think the reasons to own HSY have dissipated. I think HSY will trade down to its lows at $82 and what happens then is crucial; does it bounce again or fall through and make new lows? Either way I think HSY at $90 is still a short for the time being due to its weak fundamentals.
Disclosure: I am/we are short HSY.
I wrote this article myself, and it expresses my own opinions. I am not receiving compensation for it (other than from Seeking Alpha). I have no business relationship with any company whose stock is mentioned in this article.