Last week we discussed the huge amount of stock buybacks biotech juggernaut Gilead Sciences (NASDAQ:GILD) plans to do in 2016 which would remove over 10% of its outstanding float at current prices. This is in addition to the 20% of its shares it has retired via repurchases over the past years. Essentially the company is buying itself back at dirt cheap valuations (< 7 X Earnings) utilizing its massive and increasing free cash flow.
Yesterday we looked at the company's developing pipeline outside of its core HIV and Hepatitis C (HCV) franchises. Although sales outside of HIV & HCV amount to approximately six percent of Gilead's overall sales mix, it will be a primary focus area in the years ahead as the firm focuses on diversifying away from being a "two-hit wonder", although their HIV and HCV compounds are blockbusters.
Outside these franchises, Gilead's main focus right now is oncology, anti-inflammatory as well as other diseases of the liver such as Hepatitis B. The company has made comments recently that it is increasingly open to make acquisitions to further these development efforts. Given the recent huge bear market in biotech Gilead certainly will get better prices than biotech brethren Celgene (NASDAQ:CELG) and AbbVie (NYSE:ABBV) who made large purchases last year when valuations were significantly higher in the market.
Based on the conference call transcripts I have read through over the past year, Gilead is primarily focused in making acquisitions in the $1 billion to $5 billion range. However, the company certainly has the financial flexibility and firepower could make a much, much larger acquisition. Gilead's last major purchase occurred in 2011 when it bought Pharmasset for $11 billion. That acquisition brought the blockbuster hepatitis C drugs Sovaldi & Harvoni into the company. Those two drugs did over $19 billion in overall sales in FY2015 and the purchase should be a Harvard Business School case study as one of the most accretive purchases in biotech history.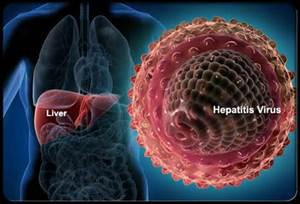 There are a couple of companies that I think would make for more than a logical purchase for Gilead. Obviously any buyout would be good for the shareholders of these concerns from a capital appreciation perspective as they would very likely happen with a substantial premium over current trading levels.
One of the most logical smaller acquisitions Gilead could make right now is Dynavax Technologies (NASDAQ:DVAX). The company's primary potential product in a hepatitis B vaccine HEPLISAV - B which delivered great Phase 3 trial results late in 2015. The company will filed a NDA for approval from the FDA by the end of this quarter according to comments from management. HEPLISAV - B should quickly garner half of the $600 million to $700 million global market for hepatitis B vaccines as it is clearly superior to what is currently on the market. Obviously, given the size Gilead's salesforce worldwide; distribution and sales would be accelerated should it purchase Dynavax.
The vaccine would also mesh well with Gilead's effort to target hepatitis B as a disease. Given the amount of political rhetoric and scrutiny around drug makers, it would make for some nice counter spin. "We not only cure disease but we also try to prevent it in first place". Dynavax also has a very promising oncology candidate "SD-101" in mid-stage development that at least one analyst believes is worth more than HEPLISAV-B potentially. This drug would be a nice addition to Gilead's current oncology pipeline.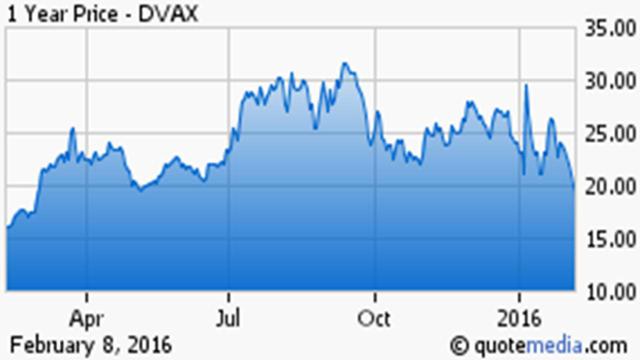 Click to enlarge
Dynavax trades at just under $19.00 a share. The stock actually was trading north of $30.00 a share in anticipation of positive trial results for HEPLISAV-B in the fourth quarter of 2015. The stock is now trading substantially below that level even though those results were positive and the company is proceeding through to approval. A takeout price of $35.00 to $40.00 would amount to a cost of roughly $1.3 billion to $1.5 billion, right in Gilead preferred range. Current price targets range from $35.00 to $60.00 on DVAX by the four analysts that cover the company.
The other small acquisition that seems to make a lot of sense eventually would be in Galapagos (NASDAQ:GLPG). Gilead recently made a major investment in a collaboration deal with this small Belgium based concern. Gilead paid a $300 million license fee and made a more than $400 million equity investment for just under 15% of the company.
The companies will co-develop Galapago's lead product candidate filgotinib for inflammatory indications, starting with rheumatoid arthritis (NYSE:RA) and Crohn's disease. Phase 2 trial data show that filgotinib has the potential to be an effective and well-tolerated oral therapy for patients with RA and Crohn's disease. Phase 3 trials results will be greatly anticipated.
Gilead will also owe Galapagos substantial milestone payments and royalties should development lead to successful approval and commercialized products. Galapagos has a smaller collaboration deal with AbbVie targeting cystic fibrosis which would make an acquisition a bit more complicated, but nothing Gilead would not be able to work through if it is so desired.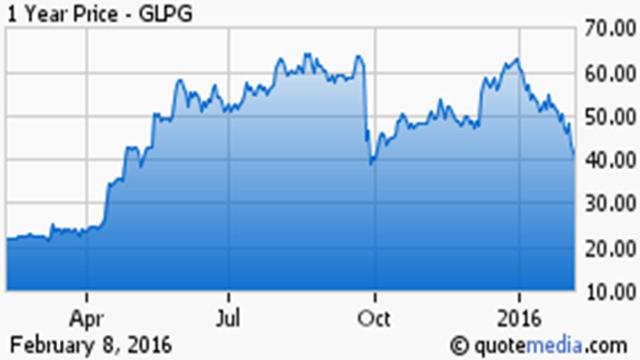 Click to enlarge
Galapagos traded north of $60.00 a share before all the "fun" in the biotech sector and the overall market began a few months ago. GLPG currently trades at around $40.00 a share. A buyout in the range of $60.00 to $70.00 a share would cost around ~$1.9 billion to ~$2.2 billion backing out the stake Gilead already has in Galapagos and the cash on the smaller concern's balance sheet. It would also save a lot of milestone and other payments for Gilead should filgotinib development efforts proved fruitful.
Both companies would expand Gilead's development efforts outside of HIV & HCV, both are attractive buyout targets after the recent pounding the biotech sector has taken and both fall neatly into the $1 billion to $5 billion target range Gilead has given as its ideal acquisition size. They also both have late stage assets which is one of the reasons Gilead finally bit the bullet and bought Pharmasset.
Disclosure: I am/we are long ABBV, DVAX, GILD.
I wrote this article myself, and it expresses my own opinions. I am not receiving compensation for it (other than from Seeking Alpha). I have no business relationship with any company whose stock is mentioned in this article.