Earlier this week I wrote about my distaste for Conoco Phillips COP and that the method of utilizing debt to fund a dividend is an idea I am not keen on. A company I am keen on though is Phillips 66 PSX. As I am sure many of you know, Phillips 66 was a part of Conoco Phillips until May of 2012 when it was spun off and in its first year Phillips 66 nearly doubled from $33.34 to $64.48. The trend of PSX outperforming COP continued to the present:
(click to enlarge)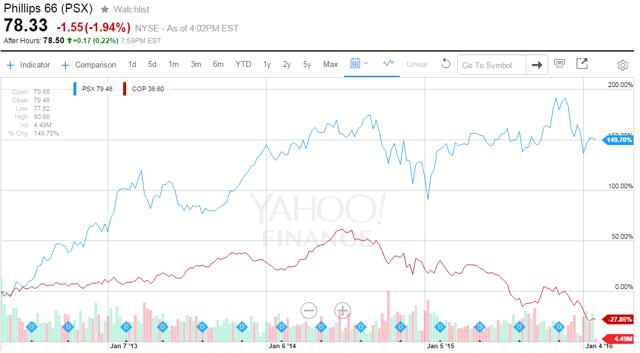 Source: Yahoo Finance
Even more impressive is their return compared to the S&P 500 over the past 3 years.
(click to enlarge)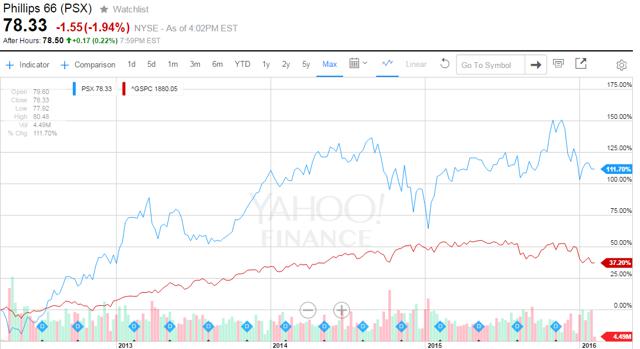 Source: Yahoo Finance
PSX generates an average return on capital of 15% and to boot, takes those returns and distributes them as dividends and further returns values to shareholders by buying back stock. Phillips 66 started paying quarterly dividends in September of 2012 at $0.20 per share. In the fourth quarter of 2012, the company increased its quarterly dividend to $0.25. In 2013 PSX raised its dividend to $0.39 followed by another raise to $0.50 in 2014, and most recently a raise to $0.56 in the first half of 2015. PSX has also committed $7.3 billion to its share repurchases, reducing share count form 624 million in 2012 to 533 million as of the third quarter of 2015.
(click to enlarge)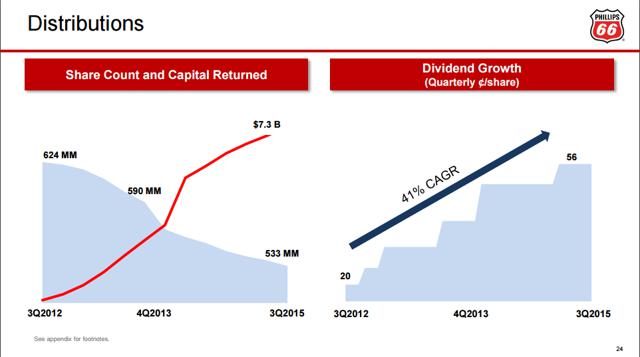 Unlike COP, who funded their dividend with debt, PSX is funding theirs with responsibly with their growing available cash, a credit to their 15% average return on capital employed.
(click to enlarge)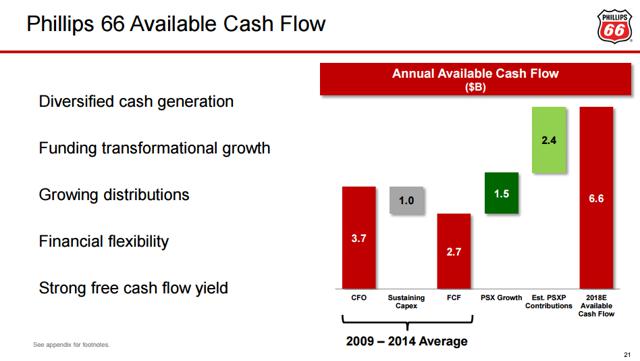 (click to enlarge)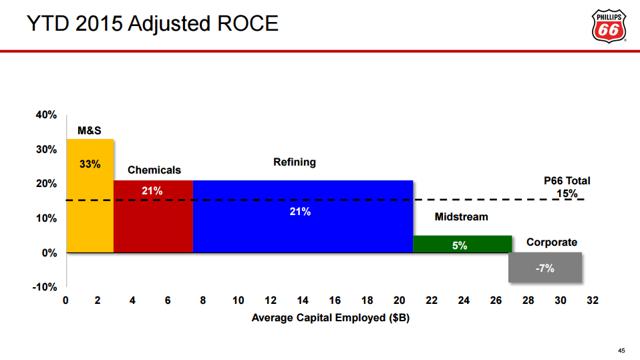 Looking at the chart detailing their return on capital employed you will notice that PSX is diversified across several market segments including midstream, chemical manufacturing, and refining. This diversification enables PSX to weather future markets that may present unfavorable conditions to once sector but have little to no effect on others. There was what I believe some undue concern in December when the stock dropped 11.5% due to congress lifting the ban on exporting crude oil, but this certainly does not spell doom for the company. Before the price gap closed between U.S. and International crude PSX certainly enjoyed the benefits of larger profits from moving refined products overseas, but the company still experiences strong margins on its refined products thanks to the price of oil still being very low.
Another area that PSX is benefiting from is its relationship with Phillips 66 Partners PSXP. Phillips 66 provides capital to Phillips 66 Partners via the purchase units/shares comprising its 69% interest in the partnership, and in return receives distributions/dividends from PSXP. This is much like with Spectra Energy SE and Spectra Energy Partners SEP - (which I have written about here).
(click to enlarge)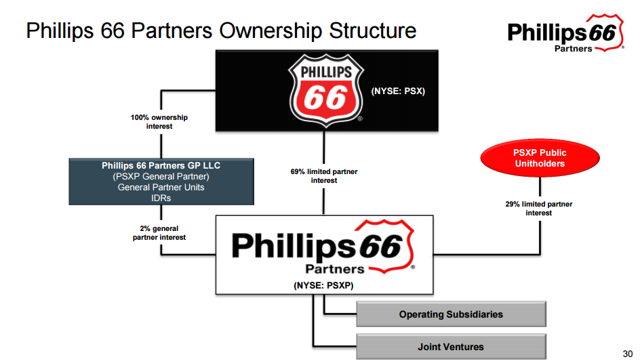 PSXP has been also performing strongly with a quarterly distribution that began in 2013 at $0.15 that is now at $0.43. That is almost a 200% increase. While that may raise some red flags, PSXP has been increasing their DCF to exceed these generous distribution increases.
(click to enlarge)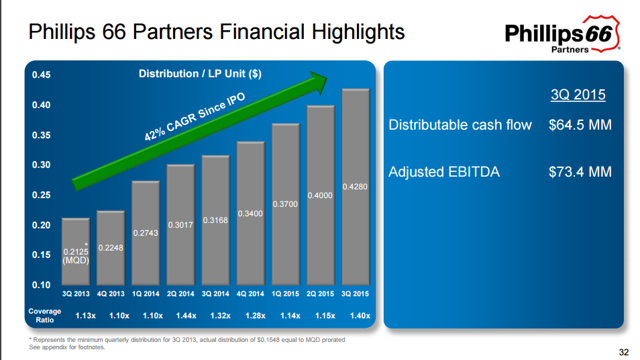 Since 2012 PSX has been returning value to its shareholders through dividends and buybacks, executing on operations by increasing their free cash flow, and are poised for a strong future. Refining is not as exciting of an investment as bio-tech, but looking at the numbers here I would not be one to complain about the results PSX has offered to its long-term shareholders. Going forward of course there will be ebbs and flows in the commodities market that will influence PSX to some degree, but with their diversification in midstream, marketing, refining, and chemical manufacturing they should be just fine and continue to excel in any market.
Disclosure: I/we have no positions in any stocks mentioned, and no plans to initiate any positions within the next 72 hours.
I wrote this article myself, and it expresses my own opinions. I am not receiving compensation for it (other than from Seeking Alpha). I have no business relationship with any company whose stock is mentioned in this article.