To buy when others are despondently selling and to sell when others are avidly buying requires the greatest fortitude and pays the greatest ultimate rewards. - Sir John Templeton, 1958
Introduction
For over a year now, I have written about the bifurcated stock market, where a number of stocks appeared grossly overvalued, while at the same time there were certain stocks, and sectors, that were historically undervalued. I theorized that this gap would have to close, with either market capitalization indices retreating, or the out-of-favor stocks advancing, or perhaps even both occurring simultaneously.
Thus far, over the past two months, we have seen a significant move down in the broader market indices, with momentum favorites and over-owned equities leading the charge lower. While overvalued stocks have declined, we have not, yet, seen a wholesale advance in undervalued equities, but the seeds have been planted and green shoots are emerging. All that remains is for market participants to embrace the fact that value stocks offer relative opportunity to growth stocks.
Deep value stocks, which are one of my passions in the stock market, are still experiencing extreme volatility. Nowhere was this more evident than in the price action of Chesapeake Energy's (NYSE:CHK) shares yesterday. The day started with a rumor of bankruptcy, which was promptly refuted by Chesapeake's own press release. In the press release, Chesapeake stated a number of positives, including this widely quoted statement:
Chesapeake currently has no plans to pursue bankruptcy and is aggressively seeking to maximize value for all shareholders.
While one would expect Chesapeake's share price to recover upon their repudiation of the potential restructuring, rumors and innuendos, can, and often do, rule the day, and that was the case yesterday, as shares in CHK still finished down by over 30%.
Admittedly, there were some funny jokes at the Chesapeake's expense, including Seeking Alpha's own Harry Polizzi, who authored this response that was well received, and made me chuckle.

Click to enlarge
While the market continues to buzz with sound of a market correction in full gear, Chesapeake's shares have officially become "too cheap to ignore," which is also the title of a running series I am writing.
Legendary investors Carl Icahn and Mason Hawkins agree on the undervaluation, as their firms have purchased shares of CHK at much higher prices, and they continue to hold their positions, and both men have been actively involved in Chesapeake's turnaround efforts.
Will the turnaround in Chesapeake work? There are still significant risks, including the substantial risk of bankruptcy, but some of the heavy lifting has been done, including tremendous progress on governance, and cost cutting, positioning the company to be one of the biggest potential winners in a natural gas and oil recovery.
Thesis
Out-of-favor, undervalued, heavily shorted stocks have the potential to be big winners in 2016.
Is CHK Out Of Favor? Yes.
With its stock price down 55% in 2016, 77% in 2015, 23% in 2014, and 93% cumulatively over the last five years, while the S&P 500 Index, as measured by the SPDR S&P 500 Trust ETF (NYSEARCA:SPY), has risen 55% over the preceding five years, CHK is definitely out of favor.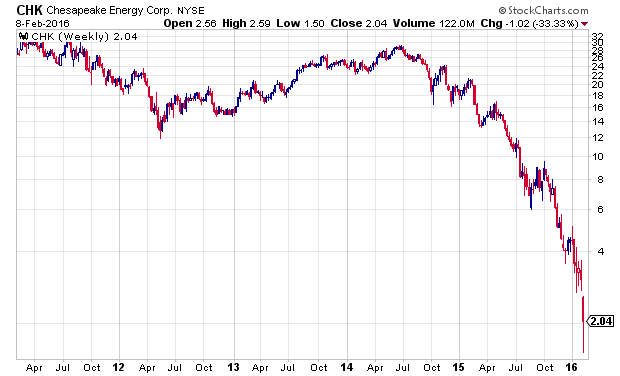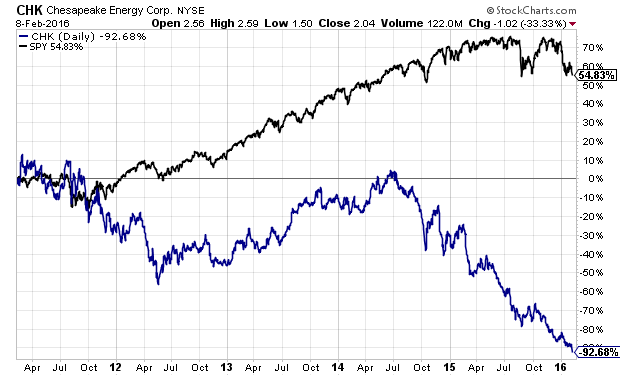 Chesapeake Energy has fallen alongside natural gas prices, as measured by the United States Natural Gas ETF (NYSEARCA:UNG), and oil prices, as measured by the United States Oil ETF (NYSEARCA:USO), in the five-year performance chart below.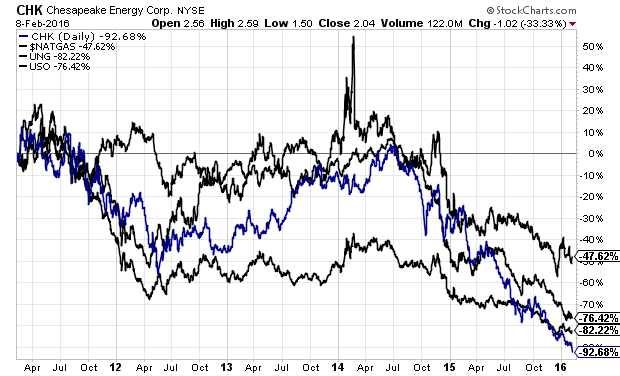 While Chesapeake has increased its drilling for oil and natural gas liquids, over two-thirds of the company's revenues remained tied to natural gas prices. The more recent decline in oil has hurt results, but the much longer bear market in natural gas prices has weighed far more heavily on CHK's shares. Compared to their natural gas peers, including Southwestern Energy (NYSE:SWN), the fourth largest U.S. natural gas producer, Cabot Oil & Gas (NYSE:COG), the sixth largest, and Antero Resources (NYSE:AR), the eleventh largest, CHK's shares have struggled even on a relative basis.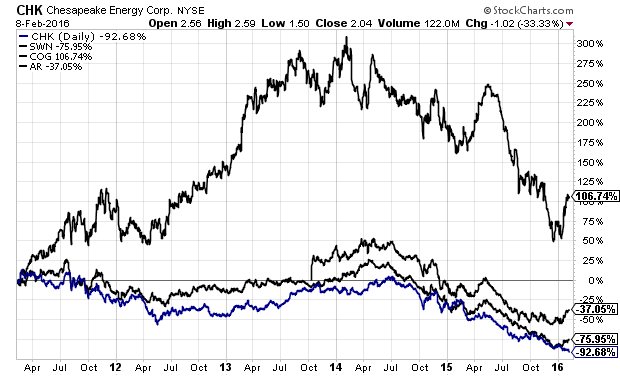 It should be noted, I am bullish and continue to recommend shares of Southwestern Energy, which was already profiled in the "Too Cheap To Ignore Series", and Antero Resources. For the record, I own both companies in "The Contrarian" Portfolios, which is my premium research service on Seeking Alpha.
From the chart above, it should be clear that the gas focused producers have struggled more than their more oil centric peers. In comparing the share performance of Chesapeake, the number two U.S. natural gas producer, versus Exxon Mobil Corporation (NYSE:XOM), the number one natural gas producer, Anadarko Petroleum (NYSE:APC), the number three natural gas producer, and Chevron Corporation (NYSE:CVX), the tenth largest domestic natural gas producer, its shares have clearly trailed these more diversified industry giants.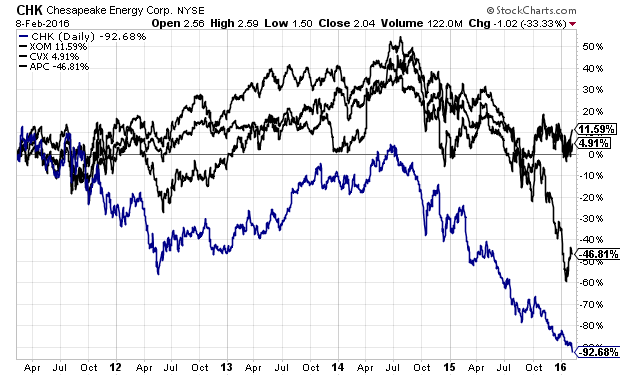 While going long Chesapeake is definitely a high risk/high reward proposition, there is a strong case to be made that shares of Chevron, and to a lesser extent, Exxon Mobil are overvalued in the current pricing environment for oil and natural gas.
Is CHK Undervalued? Yes, The Most In Its History
Like most of the companies that are deep value investments, Chesapeake Energy's stock market capitalization, approximately $1.3 billion at today's prices, has become a fraction of its enterprise value. The declining role of equity, and the increasing role of debt, can be seen in the graphic from Morningstar.com.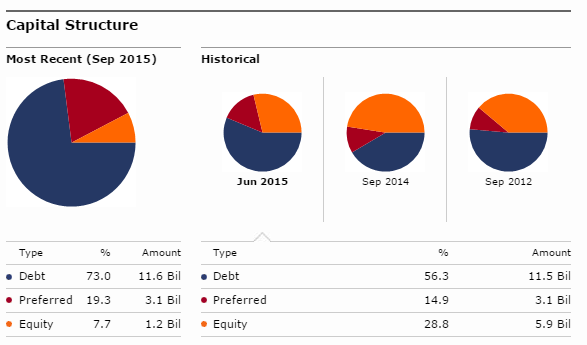 Debt dominates Chesapeake's capital structure. Yet, management has clearly stated that they are aligned with the interests of large activist investors by maximizing the value for all shareholders. With this statement as the backdrop, how cheap are the valuations of CHK? The answer is all-time lows, as the following table from Morningstar.com shows.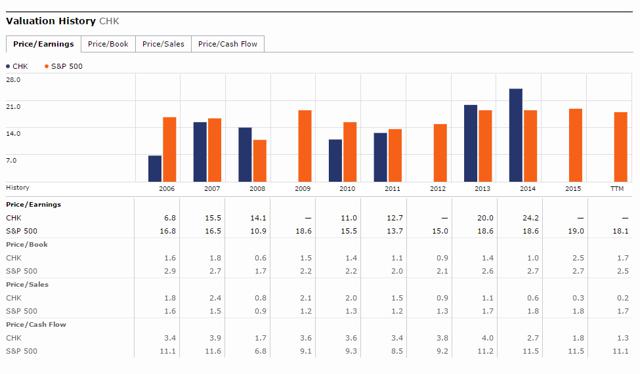 Click to enlarge
Looking at price-to-book value (P/B), price-to-sales (P/S), and price-to-cash flow ratios (P/CF) in the above table, it is amazing to see how cheaply CHK trades for a company that has routinely exceeded the $10 billion revenue mark, and sometimes much more, over the past five years.
Are CHK Shares Heavily Shorted? Off The Charts
With 231 million shares short, equal to approximately 45% percent of the float, Chesapeake Energy's shares are among the most heavily shorted names in the entire stock market, and a reversal of the downturn in its share price, could spark an epic short covering rally.
The Best Reason To Own CHK's Shares
The number one reason to own CHK's shares, in my opinion, is the combined presence of Mason Hawkins, of Southeastern Asset Management, and Carl Icahn, two legendary value investors, who are actively involved and have owned their shares for several years at much higher prices.
They first orchestrated their influence by replacing CHK's infamous CEO, Aubrey McClendon, in 2013, with the more conservative and fiscally responsible Doug Lawler, as the following screenshot of an article from The Dallas Morning News depicts.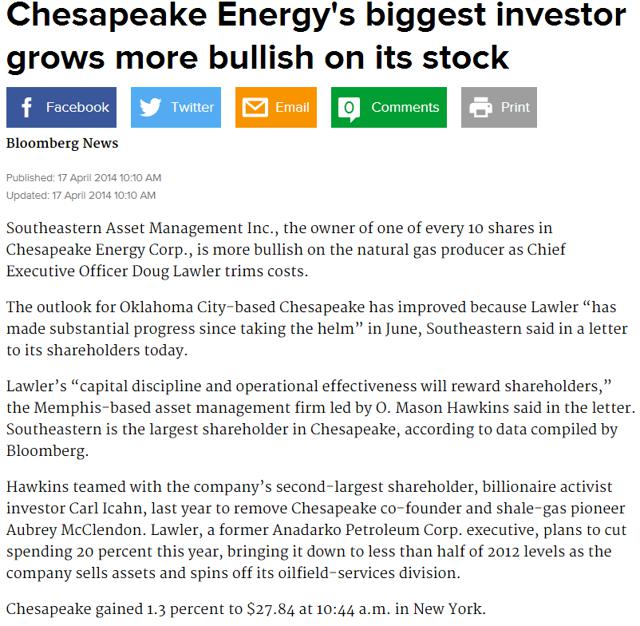 Click to enlarge
Look at the last sentence from the article above, dated April 17th, 2014, which showed CHK's shares quoted at $27.84. As CHK's share price has declined to roughly $2 per share, Hawkins and Icahn have remained resolute in their commitment to the company, and both hold firm to their estimates of substantially higher shareholder value. Their current share holdings are shown in the most recent institutional holding data.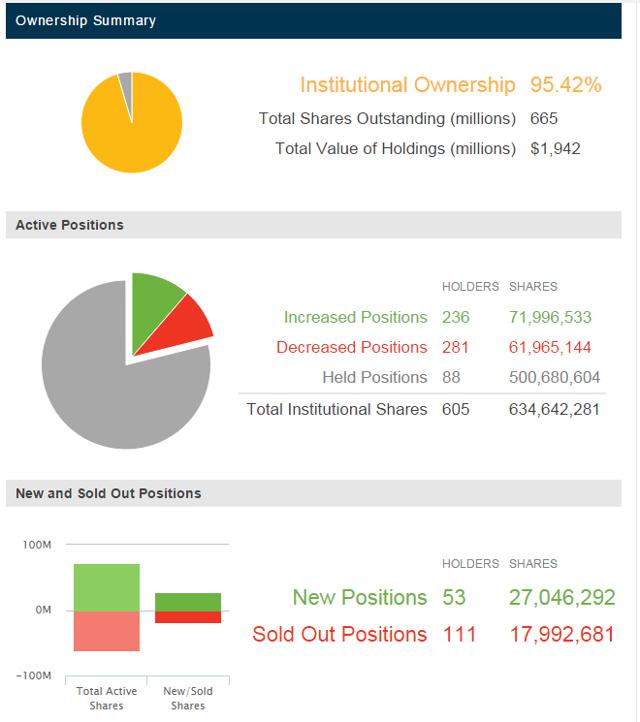 Click to enlarge
Click to enlarge
From the table above, four of the top five institutional shareholders are universally respected, value oriented, active stock picking organizations. This is nice company to be in as a shareholder, and re-emphasizes the fact that other fundamentally driven investors see value in Chesapeake's depressed shares. Additional catalysts are listed below.
Catalyst #1 - Size And Scale
Chesapeake is the second largest natural gas producer in the United States, and it possesses a nearly unmatched portfolio of acreage, including over 9 million net acres, across all of the attractive basins. For a visual look of where Chesapeake ranks in terms of natural gas production, I have included the following table from the Natural Gas Supply Association: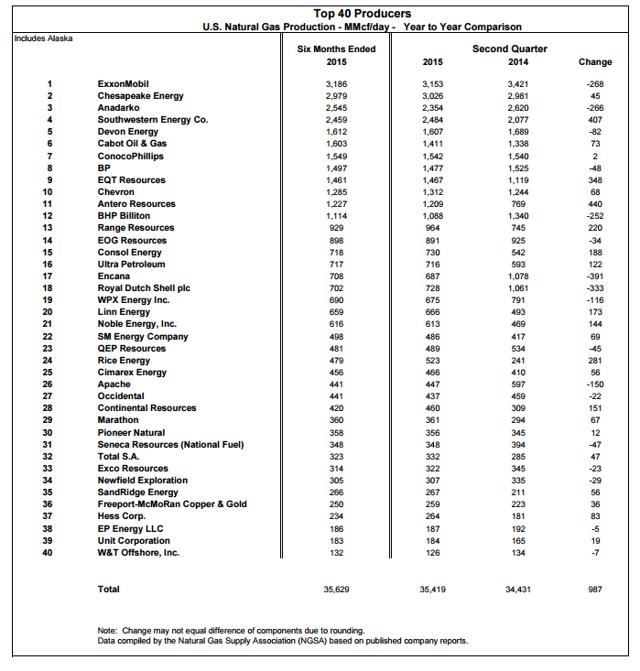 Click to enlarge
There is no doubt that natural gas prices and oil prices are substantially off their highs, and currently both gas and oil trade at uneconomic levels for a majority of producers. Even in a depressed state, Chesapeake's assets have value, which could bring in much needed liquidity. The sale of assets to Southwestern Energy in 2014 highlights the potential value to an acquirer, and serves as an example of the type of cash proceeds that could be delivered to Chesapeake in potential asset sale.
Catalyst #2 - Rising Natural Gas Prices
Chesapeake remains predominately a natural gas producer, with approximately 70% of its sales attributed to natural gas. As I have articulated in multiple research pieces on natural gas, the supply/demand balance for natural gas is set to rebalance in favor of higher prices in 2016. From the demand side, increased demand will be driven by increased LNG exports, pipeline exports, and domestic electricity generation. On the supply side, low prices will cure low prices, as drilling rigs for pure gas plays hover near all-time lows, while associated gas production from oil drilling has plunged as oil prices have plummeted.
Catalyst #3 - Lower Costs
When Southeastern Asset Management and Carl Icahn forced Aubrey McClendon to retire, and replaced him with Anadarko veteran Doug Lawler, their primary focus was to turn a serial acquirer of assets into a more mature company focused on expense reduction and cash flow generation. Lawler has delivered, during a difficult environment, as the following two slides from CHK's December 16th, 2015 investor presentation show.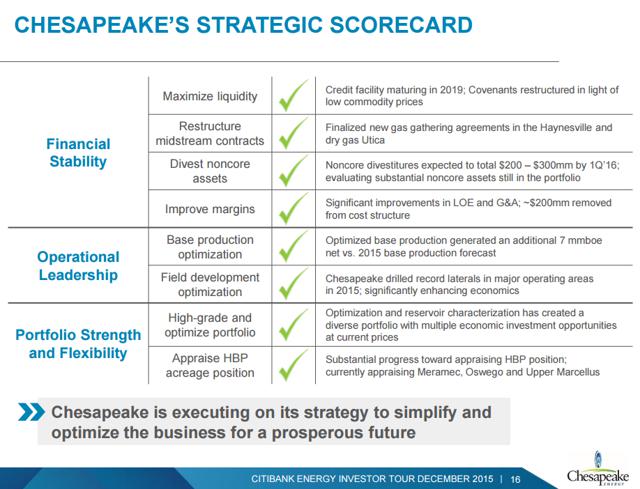 Click to enlarge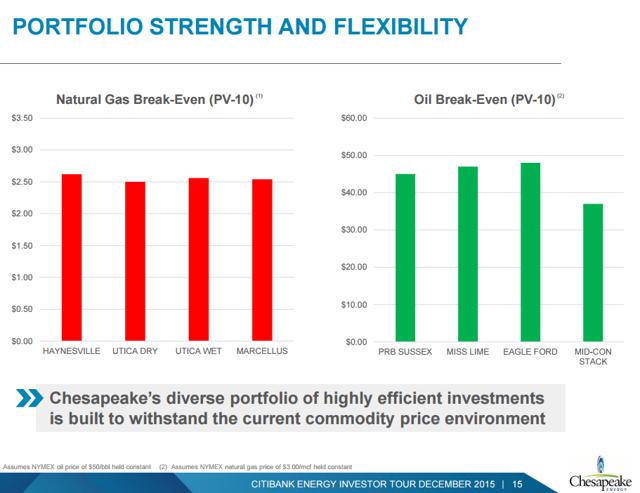 Click to enlarge
The throttled down Chesapeake, run by Lawler, does not need $100 oil and $5 gas in order to generate cash flow and deleverage. Breakeven rates are much lower as the above charts illustrate, and a modest rebound in natural gas and oil prices could deliver tremendous benefits to CHK shareholders.
Risks - Debt Overhang Dominates Risks
Chesapeake Energy's primary risk, especially from the perspective of a common equity owner, is its substantial debt, and debt obligations not on the balance sheet. We showed earlier in this research piece that debt dominates the capital structure, and with over $11 billion of total debt, and a reduced operating cash flow due to lower natural gas and oil prices, debt holders are nervous.
The following table from Morningstar.com shows Chesapeake's near-term debt maturities.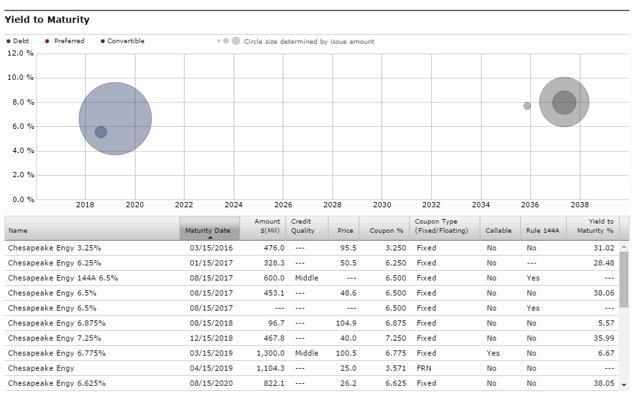 Click to enlarge
Fortunately, Chesapeake has the cash on hand to deal with its 2016 and 2017 debt maturities, as the following balance sheet information from Morningstar shows a cash balance of $1.8 billion.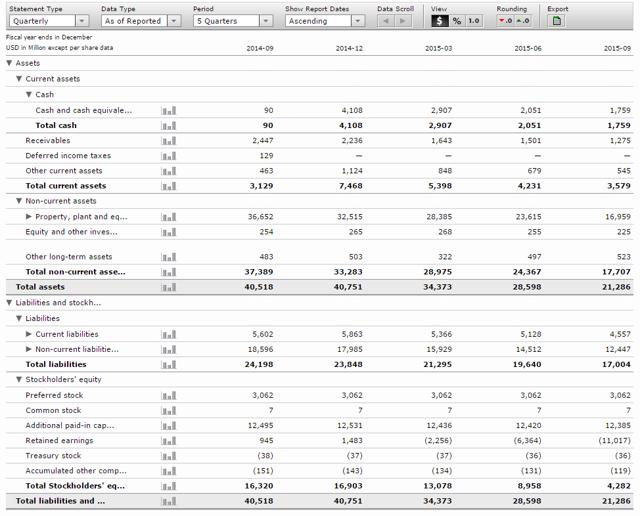 Click to enlarge
For those investors interested in Chesapeake's bonds, here is another slide from the December 2015 investor presentation listing Chesapeake's bond issues and CUSIPs.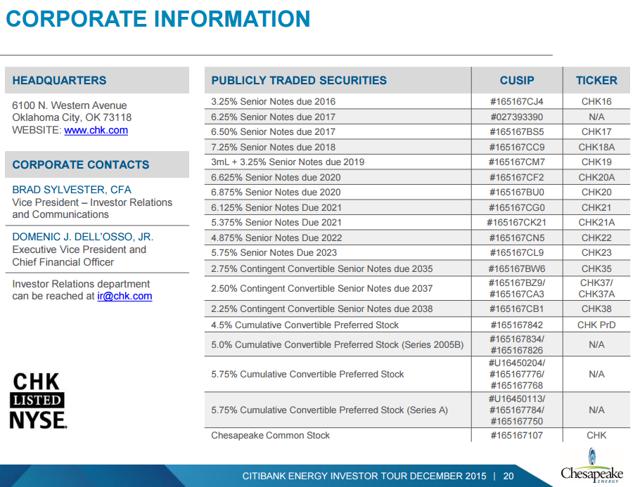 Click to enlarge
Overall, lower natural gas and oil prices that keep Chesapeake from generating cash flows to pay back debt is the principal risk today for investors in Chesapeake's common shares or in its bonds.
Chesapeake has historically generated impressive operating cash flow, including $5.1 billion in 2010, $5.9 billion in 2011, $2.8 billion in 2012 (a down year for natural gas prices), $4.6 billion in 2013, $4.6 billion in 2014, and even $1.9 billion over the trailing twelve months. The problem has been that expenses, whether for acquiring acreage, for leaseholds, or for takeaway capacity, has always outpaced operating cash flow, putting the company in a negative free cash flow situation year after year. Doug Lawler was brought in to change this predicament, but he walked into the buzz-saw of plummeting oil and natural gas prices.
Off-Balance Sheet Obligations and Repercussions
Chesapeake has significant revenues, has historically produced significant operating cash flows, and owns some of the best acreage in the oil and gas industry. Seemingly, it could engineer further asset sales to solve its balance sheet problem, and its investors would be removed from purgatory. Why has that not happened? What could investors be missing?
In a nice summary article from Reuters, there is an overview of Chesapeake's financial situation, and it is mentioned that the company has commitments to pay approximately $2 billion per year for space on several pipelines, including pipelines owned by William's Companies (NYSE:WMB). Like a panicked customer yelling "fire" in a movie theatre, investors predictably rushed for the exits in WMB, Energy Transfer Partners (NYSE:ETP), Williams Partners LP (NYSE:WPZ), and Energy Transfer LP (NYSE:ETE), as the following charts illustrate.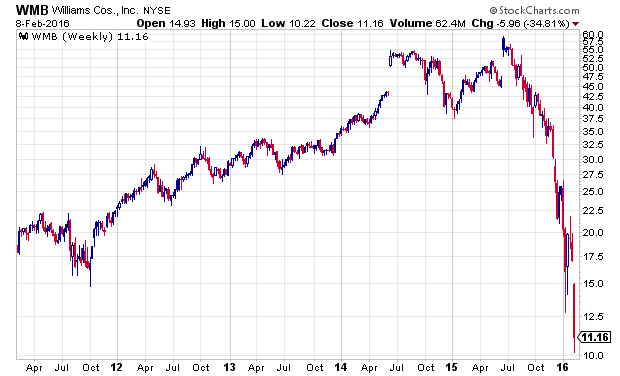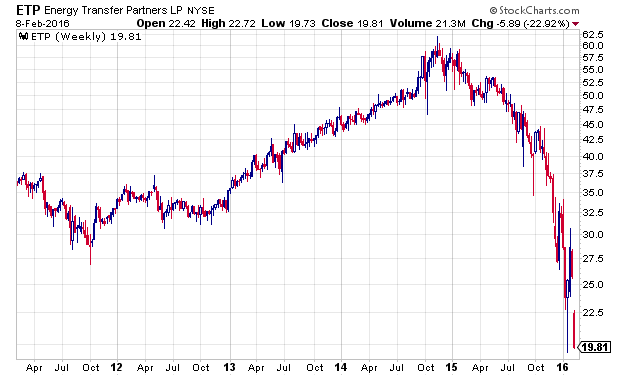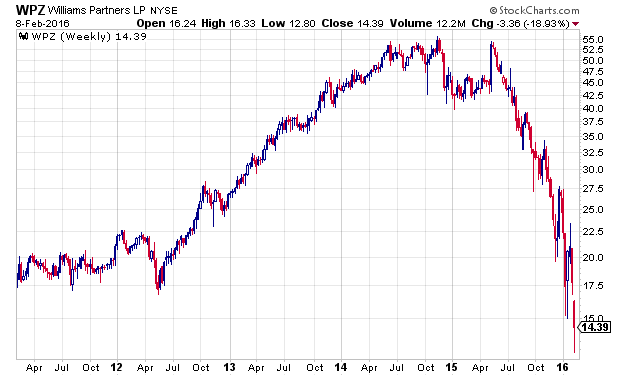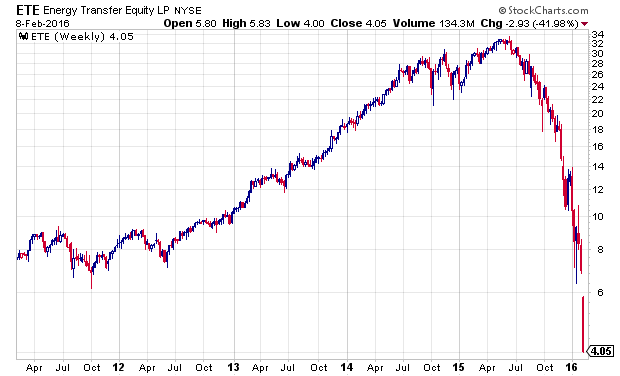 The selloff in each of the above listed company shares have created compelling opportunities. I am working on a piece for subscribers to my premium research service, "The Contrarian," that features each of these companies, along with several others, and price targets. For now, the selling is unjustified, as the near-term counter-party risk is overstated, in my opinion. I am bullish and recommending long positions in shares of WMB, ETP, WPZ, and ETE.
To be clear, the storm is not over for pipeline companies, as many investors reached for yield without understanding the underlying business models and risks of pipeline operators and their LPs.
Having said that, the current fear reminds me of 2009 when I personally purchased shares in Atlas Pipeline Partners (NYSE:APL) and Atlas Energy (NYSE:ATLS), which were acquired by Targa Resource Partners (NYSE:NGLS) and Targa Resources Corp. (NYSE:TRGP), after an investment in Atlas from Chevron when shares were depressed, and Crosstex Energy, which combined assets with Devon Energy (NYSE:DVN) to form EnLink Midstream (NYSE:ENLC), and EnLink Midstream LP (NYSE:ENLK). I am bullish on NGLS, TRGP, ENLC, and ENLK today, and recommend long positions. Keep in mind that this is my personal view, I am not serving in an investment advisory capacity, and investors need to do their own due diligence.
Quantifying The Upside In Common Shares
We diverged into a pipeline tangent, but all of the above listed pipelines have been impacted by the decline in Chesapeake shares. I believe the pipelines have significant upside, and I believe Chesapeake shares also offer substantial return potential.
That begs the question, if Chesapeake is able to survive the downturn in natural gas and oil prices, what is the upside in its common shares?
Morningstar.com sees upside to $12 per share for CHK, using a multiple of enterprise value to EBITDA. Morningstar.com had a $13 price target initiated on December 22nd, 2015, and a $19 price target prior to that revision. In rare agreement for an unloved, out-of-favor stock, S&P Capital IQ has a $7 fair value price target for shares of CHK.
With a more constructive view on natural gas prices, I am able to model a valuation north of $20, with natural gas prices averaging $3.50, which I think is a conservative long-term assumption, in my opinion, due to the permanent sources of long-term natural gas demand coming online, including LNG exports, exports to Mexico, and permanent demand in U.S. electricity generation.
Portfolio Strategy & Deep Value Investing
The primary appeal of buying dirt cheap companies selling at or near all-time low valuations is that a rebound could spark significant share price gains, with shares having the potential to double, triple or more. The other side of this coin, however, is that a further weakening of a distressed company's business prospects could wipe out equity holders who have the lowest position in a company's capital structure. To offset this risk, when buying distressed companies, investors should consider buying a basket of distressed names. From my perspective, investing in out-of-favor companies is similar to venture capital investing, where you know going in that you will have some companies that fail, wiping out shareholders, but the winners and their corresponding share price gains, will more than make up for the companies that do not make it. To illustrate the merits of this approach, I have been using the following table I have put together, comparing a 10% basket of distressed companies with the remaining portfolio in cash (Portfolio B) to a more traditionally invested portfolio.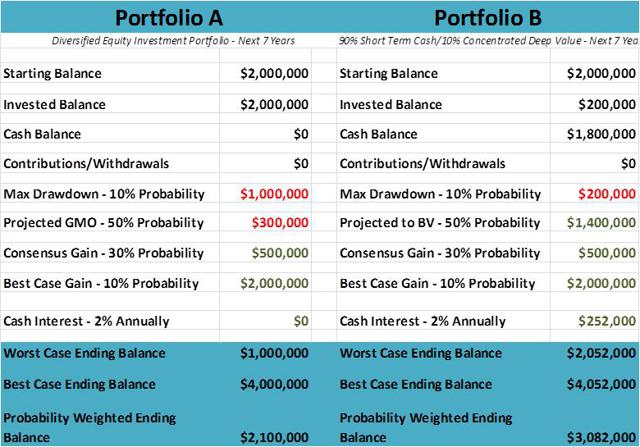 Click to enlarge
Recently, I have written widely on portfolio strategy, and I cover this topic extensively in "The Contrarian premium service.
Conclusion: Chesapeake Is A Potential Home Run
Investors purchasing shares of Chesapeake today get to piggyback off the research, knowledge, and activist efforts of two the greatest investors of our generation, while purchasing shares at a fraction of the price that Mason Hawkins and Carl Icahn purchased their own positions.
Additionally, management is fighting for the survival of all stakeholders as the following press release from Chesapeake clearly exemplifies.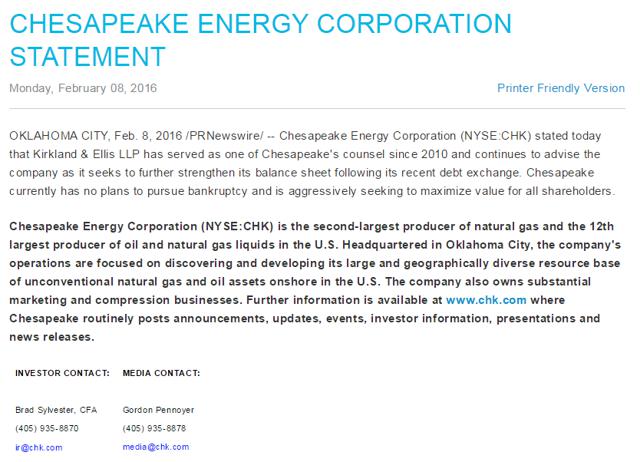 Click to enlarge
This denial of bankruptcy, affirmation of the size and scope of Chesapeake's operations, and management's deleveraging intentions is exactly what investors hope to hear from the management of distressed companies. Sadly, management teams in these situations are often frozen, like deer in the headlights, and they end up staying silent, so Chesapeake's statement was the exception, not the rule.
To close, the risk of low natural gas and oil prices causing the firm to eventually restructure are substantial, but Chesapeake's management is controlling what they can control, they are on the side of shareholders, and commodity prices are notoriously fickle, with booms routinely followings busts. Chesapeake does not need a boom to prosper, though that is certainly welcome and investors should not rule it out. A simple return to $3 natural gas will do wonders for the firm's prospects, and that makes Chesapeake's shares one of the highest potential return investments in the stock market from today's levels. Long Chesapeake.
Disclosure: I am/we are long CHK, SWN, AR, WMB, WPZ, ETP, ETE.
I wrote this article myself, and it expresses my own opinions. I am not receiving compensation for it (other than from Seeking Alpha). I have no business relationship with any company whose stock is mentioned in this article.
Additional disclosure: Every investor's situation is different. Positions can change at any time without warning. Please do your own due diligence and consult with your financial advisor, if you have one, before making any investment decisions. The author is not acting in an investment adviser capacity. The author's opinions expressed herein address only select aspects of potential investment in securities of the companies mentioned and cannot be a substitute for comprehensive investment analysis. The author recommends that potential and existing investors conduct thorough investment research of their own, including detailed review of the companies' SEC filings. Any opinions or estimates constitute the author's best judgment as of the date of publication, and are subject to change without notice.