Sector Analysis
The popularity of sector and index ETFs have changed the dynamics of today's marketplace. Business schools around the nation teach the efficient market hypothesis and emphasize diversification over anything else. They teach you that the best way to maximize your risk adjusted return is to buy ETFs that track an entire index or sector. A new school of asset managers have helped a growing number of clients achieve their diversification goals by offering numerous investment vehicles at extremely low fees. Massive amounts of money flowing into ETFs and index funds have de-emphasized fundamental stock picking. Although I do believe that the fundamentals of individual companies will prevail in the long-run, general market sentiment and sector performance dictate short-term price movement. These gravitational forces can create phenomenal opportunities for long term investors to step in and buy companies with solid fundamentals at bargain prices.
For those of you that have not realized it yet, the biotech sector is in a bear market. The IBB, the biotech ETF, has fallen 36% from the highs achieved last summer. Most of this decline can be attributed to the bull market ending (or at least pausing) last summer as investors worried over global growth, oil, and the Fed. The biotech sector has underperformed the S&P since last summer because a lot of the companies were trading at unsustainable multiples and fears of a biotech bubble have surfaced. The sentiment has only gotten worse recently because all of the major presidential candidates are making promises to wage war against these drug behemoths charging unfair prices. This negative sentiment, although overblown in my opinion, will likely continue to drag down the sector until a new president is elected at the end of the year. The decline has presented long term investors with a compelling opportunity s to pick up the high quality biotech companies with strong earnings growth at depressed valuations. The company with the most ridiculous valuation relative to the industry and its past and forecasted earnings growth rate is GILD.
The Story
Gilead is one of the worst stocks I have ever encountered. The company, which is phenomenal, continues to execute flawlessly. They generate massive amounts of free cash flow while beating expectations every single quarter. GILD is a secular growth stock; they do not need favorable macroeconomic conditions to foster earnings growth. They return 75% of their cash flow to investors via dividends and buybacks. Yet, all the market cares about is whether or not GILD is making an acquisition in the near future. I believe they will, eventually. Unfortunately, management gets no credit for being patient and prudent while stalking their next target. After a detailed review of Q4, I am more confident than ever in the long term prospects for the company and have no problem buying on the way down.
Gilead is still growing at an impressive pace despite fears of Hep C market saturation. Gilead generated $8.4 billion of revenue in Q4, up 12% year-over-year and 14% sequentially. Q4 EPS came in at $3.18, an increase of 45% compared to Q4 of last year. Revenue and earnings growth for the full year was even more impressive. Revenue of $32.6 billion is 31% higher than last year, while net income of $18.1 billion is 50% higher than last year.
Revenue generated by the Hep C franchise was $4.9 billion in Q4. This represents 59% of total revenue, and this is one of the main reasons GILD trades at a depressed multiple. The market rightly assumes that once all patients are cured, GILD's revenues will take a significant hit. What Wall Street does not realize is that the Hep C market is far from saturated. The US alone still has 3 million people untreated, and only 400k have been cured. An even smaller percentage of people in Europe and Japan have been cured, and certain markets in the APAC and Latin America regions of the world have not even been reached yet. Although growth will likely slow and eventually decrease, GILDs Hep C franchise will generate billions of revenue for years to come. Investors also believes that market share will be stolen by Merck's competing drug, Zepatier, and pricing pressure will be applied by regulators. I do not anticipate that Zepatier will steal significant market share because doctors are already familiar with GILD's products and are probably not willing to risk trying a new drug made by another company that may not be as effective. Although the Harvoni / Sovaldi list price is higher than Zepatier's, the actual selling price is comparable when you factor in rebates and insurance discounts. Furthermore, the Harvoni / Sovaldi combo is the superior drug, it cures a higher percentage of people in a shorter time. Despite their market dominance, GILD is still making efforts to augment their existing portfolio of Hep C drugs. They are waiting on approval for a combination that would be the first regimen to offer a 12 week cure for all genotypes. Lastly, fears over pricing pressure from regulators are overblown as well. I don't think the market realizes the lobbying power that these biotech companies have in Washington. Also, our president will have bigger fish to fry, such as ISIS, cybersecurity, and the economy, once he or she takes office later this year.
Gilead is also a market leader in HIV, with 70% market share. This segment of the business generated $3 billion revenue in Q4, growth of 3% sequentially and 5% year-over-year. Other drugs generated $1.9 billion in revenue, growth of 16% compared to Q4 of last year. Gilead has a strong, undervalued pipeline that will allow them to maintain market share in HIV / Hep C, and diversify revenue streams by gaining traction in new markets. Genvoya, the company's first TAF-based single tablet regimen for HIV, was just approved in the US and Europe. Gilead has 2 products for HIV, the Hep C combo mentioned earlier, and 1 Hep B drug, all waiting approval. Management is also very excited about the progress made in the nonalcoholic steathepatitis (NYSEARCA:NASH), oncology, and inflammation markets. Gilead will utilize the recent partnership made with Galapagos to develop drugs that treat inflammation. Management also indicated that they are willing to pursue similar strategic partnerships when the opportunity presents itself.
Other highlights from the conference call include an additional $12 billion repurchase program that will be added to the current $15 billion program, and a 10% increase in the annual dividend. Management stated that this capital return program "underscores the confidence of the board and management and the strength of the business and future cash flows." They also stated that they will continue to return the majority of free cash flow to shareholders, but may reduce repurchases "due to acquisitions and other pipeline investments that are prioritized to drive future long-term growth." This confirms management's commitment to investing cash in a way that will benefit long-term shareholders. Gilead's pristine balance sheet and substantial cash flow give them the flexibility to patiently pursue acquisitions, invest in the pipeline, and return capital to shareholders all at the same time. The allocation between these investing activities will change as opportunities present themselves. Right now, management realizes that the best way to reward shareholders is to buy massive amounts of its own undervalued stock. I am happy to get paid while I wait for Gilead's proven management team to make a move.
Valuation
According to Yahoo Finance, Gilead earned $12.61 per share in 2015, and is expected to earn $12.21 per share in 2016. This gives the company a trailing PE of 6.74 and a forward PE of 6.96. Given management's conservative nature and aggressive buyback, I suspect that the 2016 EPS estimates will prove to be way too low. Gilead has been able to grow EPS by 55% on average over the past 5 years, and they are expected to grow earnings by 8% for the next 5 years. These estimates give GILD as PEG ratio based on forward earnings of 0.85, which is very reasonable. I believe that this 8% estimate can easily be exceeded. If earnings stay constant, the buyback alone will grow EPS by at least 3% per year. The calculation is showed below. This assumes that GILD evenly spaces its remaining $20 billion buyback into $4 billion per year for 5 years, and that GILD buys at an average price of 100. It also conservatively assumes that net income stays constant for the next 5 years. The EPS growth from the buyback alone will likely be closer to the 8% estimate because I anticipate GILD will add to its buyback throughout the next 5 years as cash continues to pour in from the Hep C and HIV franchises.

Click to enlarge
Furthermore, if GILD makes an accretive acquisition during this time period or certain drugs in the pipeline materialize, then earnings growth could be much higher than 8%. It is also worth noting that when an acquisition is made, GILD will likely see significant multiple expansion and trade at a PE more in line with its industry peers and historical averages. Earnings growth combined with multiple expansion is a formula for significant stock appreciation. The industry PE is over 100, but this is not really a useful comparison because there are a lot of young biotech companies with no earnings in the group. Therefore, I selected a list of competitors with similar growth characteristics and market caps to compare and contrast with GILD. This group consists of CELG, BIIB, and REG. The average trailing PE of this group is 23. Gilead also looks cheap when you compare its current PE to its historical PE over the past 5 years. The max is 46, the average is 20, and the low is the current PE of 6.9. When the PE of a secular growth company gets this low, one of two things will happen: earnings will decline significantly or the multiple will expand significantly. I think you know which camp I am in.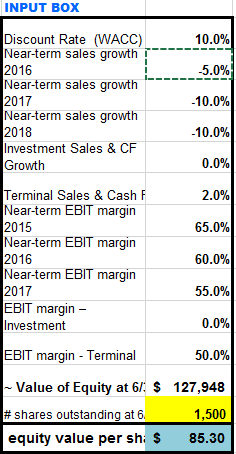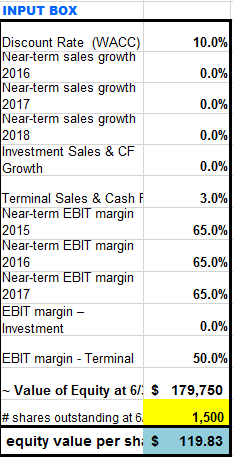 My reverse DCF model (pictured on the left) confirms that the current market price is reflecting a worst case scenario for GILD. A price of $85 implies sales declines of -5% in 2016 and -10% in 2017 and 2018. The market is also expecting a 500 basis point decline in operating margins per year for the next 3 years. I conservatively keep the terminal growth rate at 2% for all my models because this is the low end of historical long-term GDP growth. The current market price also implies that the terminal EBIT margin will be 1500 basis points lower than current margins.
The market is giving Gilead's phenomenal management team no credit. I believe they will be able to diversify their revenue streams enough through partnerships, acquisitions, and pipeline investments to at least offset the likely revenue declines from the Hep C franchise. As mentioned earlier, I also conclude that margins will stay constant because fears of pricing pressure are a bit overblown. My base case scenario (on the right) which assumes no growth in sales and no change in margins, yields a fair value of $120. This conservative valuation gives investors a 29% margin of safety. Gilead represents one of the most compelling value opportunities in today's market. The problem is that stocks can stay undervalued for long periods of time. However, I am confident that the market will wake up and value Gilead correctly at some point.
Technical Analysis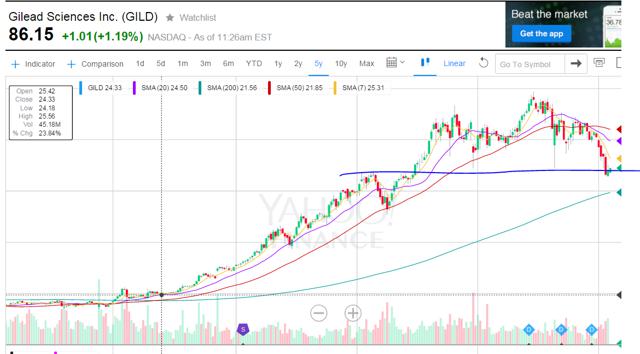 Click to enlarge
My technical analysis suggests that Gilead has at least reached a short term bottom. A basic premise of technical analysis is that once resistance is broken through, that resistance becomes support. As you can see, in the spring / summer of 2014 GILD encountered resistance in the 83-85 range. It tested that level multiple times before finally breaking through in July 2014. You can also see that GILD is currently bouncing nicely off that previous resistance line. The stock closed at a 52 week low of $82.79 on February 2nd. The next day, GILD reported a blowout quarter and has since rallied 4 points from the low. As I am writing this article today, the stock is showing strong relative strength. GILD is up over 1% while the S&P is down over 2%, and the IBB is down over 3%. I think now is a good time for investors to take advantage of the market weakness and at least start establishing a position in this high quality name. But as always, I suggest not buying all of your position at once. There is a good chance that the market continues lower and drags GILD down through the low of $82.79 made last week. If this happens, the next line of support is the 200 day MA at $75.
Summary
I believe Gilead has a sustainable competitive advantage because of its superior drugs, quality management team, and pristine balance sheet. The behavior of the stock over the past year or so has been truly disgusting, and I have thought about selling multiple times. But after realizing that the current market price reflects a worse-case scenario and that the stock is bouncing off long-term technical support, I actually believe it is time to buy some more. Gilead's management team and pipeline are getting absolutely no credit. Even if earnings from the HCV franchise do decline as expected, Gilead has enough financial flexibility to offset this decline via dividend increase, more buybacks, acquisitions, and pipeline investments. As everyone is fearful of slowing world growth, negative interest rates, oil going to $10, a biotech bubble, pricing pressure, and competition from Merck, I believe it is time to take Mr. Buffet's quote to heart. "Be greedy when others are fearful, and fearful when others are greedy". It is time to start being greedy and slowly buying shares of high quality companies like GILD.
Disclosure: I am/we are long GILD.
I wrote this article myself, and it expresses my own opinions. I am not receiving compensation for it (other than from Seeking Alpha). I have no business relationship with any company whose stock is mentioned in this article.