With increased market volatility due to unpredictable oil prices, China woes, uncertain market growth capacity, and everything in between - Cementos Pacasmayo (NYSE:CPAC), the leading cement construction player in Northern Peru, can be the portfolio anchor you need to attain steady gains going forward.
CPAC is one of the strongest cement companies in Peru, operates in a market with extraordinarily difficult barriers to entry, and produces nearly 20% of Peru's total cement output. Over the past two years, it has undergone a severe stock price depreciation yet carries a hefty 7% dividend yield and is astonishingly more financially stable than any of its peer companies.
(click to enlarge)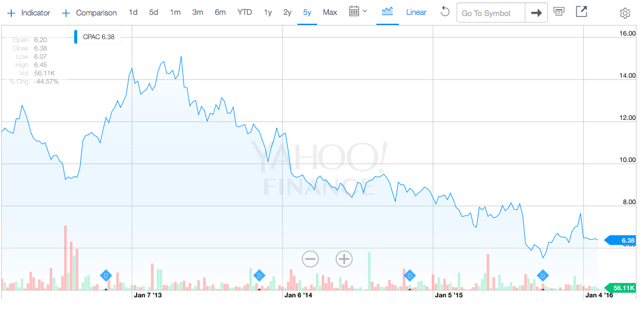 Click to enlargeSource: Yahoo Finance
Some of the key financials and ratios are depicted below:
Operating margin: 26.90% (industry - 6.11%)
Net margin: 18.62% (industry - 4.30%)
Return on equity - 10.99% (industry - 7.38%)
Return on asset - 6.68% (industry - 3.33%)
EBITDA (3Y) growth - 19.90% (industry - 5.20%)
PE ratio - 11.30 (industry - 16.30)
Current ratio - 2.51 (industry - 1.59)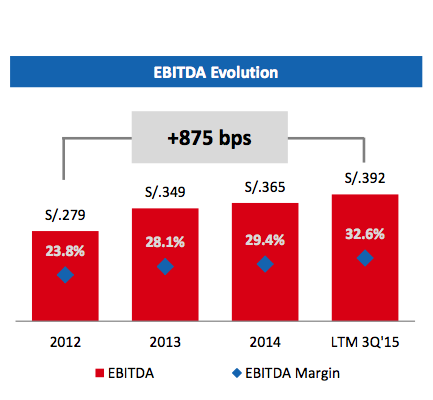 Despite outpacing growing EBITDA at an extraordinary pace, its stock has been extremely oversold. In September, the company actually issued a share buyback for the portion of its company trading on the Lima Stock Exchange. US shares immediately shot up 10%+, but due to macro events, have since depreciated back to undervalued prices.
A huge reason for CPAC's past success is its efficient usage of its plants in Pacasmayo and Silva. However, although the company's operating margins currently exceed that of its peers (image depicted below), its new Piura plant has yet to be factored into CPAC's price.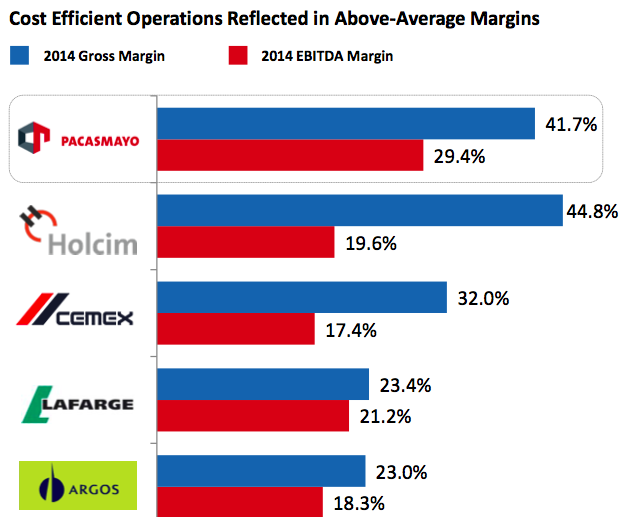 Click to enlarge
The following is an excerpt taken from Cementos Pacasmayo's 3Q15 presentation:
"The new Piura plant is expected to have a 1.6 million and 1.0 million MT of annual cement and clinker capacity, respectively, which will improve Pacasmayo's competitive position and allow for substitution of higher priced clinker imports"
Not only will the new plant increase cement exportation, benefit operating margins, diversify risk, and reduce transportation costs of raw material, it will also tap into a geographical area with a rapid population growth and desire for infrastructure. Since 2007, the population of Piura has quintupled - moving from a measly 377,000 to over 1.8 million!
Although the Piura plant began production in 3Q15, its clinker production didn't get underway until the most recent quarter. The following picture depicts the added benefit the Piura plant will add to Cementos Pacasmayo's cement and clinker production:

Click to enlarge
The Piura plant will only further improve financials (3Q15 report depicted below), by operating closer to clients in Piura and tackling a higher growing environment.

Click to enlarge
Outside of the Piura plant, Cementos has other catalysts approaching; namely, the government's increased infrastructure program and Northern Peru's self-construction interests. Although Cementos remains cautious and closely monitors the effect of El Nino (increased Pacific Ocean water temperature that generally causes flooding), the newly elected government has recently expressed in public construction and added state infrastructure. The company also noted that the self-construction sector remains rather resilient despite the few risks. The company's business breakdown is depicted below: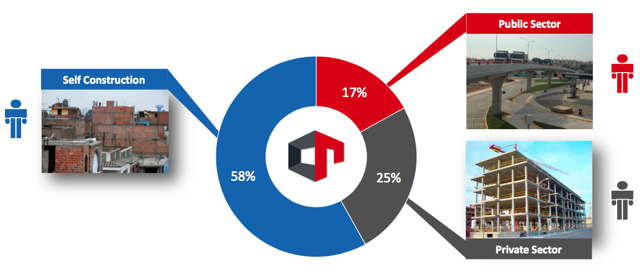 Click to enlarge
Valuations
Using the Peter Lynch Earnings growth line and the Ben Graham number valuation metrics, CPAC is significantly undervalued.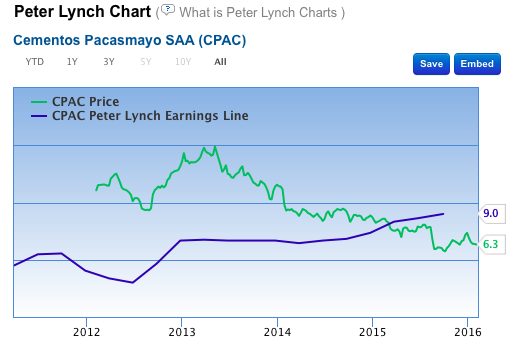 According to the chart above, CPAC is trading at a 40% discount to its Peter Lynch true value.
According to the Graham number, CPAC is trading at a 25% discount to its true value.
Square root of [22.5 * ((Tangible book value per share) * EPS)]
Square root of [22.5 (5.6*0.622)] = $8.86
According to the 10-year median P/S ratio valuation metric, CPAC is trading at a near 30% discount to intrinsic value.
(Total annual sales/shares outstanding * 10 year median P/S ratio)
3.35 * 2.54 = $8.51
Bottom Line
The Piura plant, financial stability, increasing margins, high profitability and severe price depreciation allow for a no-brainer entry point. Although the markets have been a bit shaky recently, if you are looking to put your money in a safer area, CPAC could be a good pick. 4Q15 earnings are being reported later this month. Keep an eye on this one, because it's going way up.
Disclosure: I/we have no positions in any stocks mentioned, and no plans to initiate any positions within the next 72 hours.
I wrote this article myself, and it expresses my own opinions. I am not receiving compensation for it (other than from Seeking Alpha). I have no business relationship with any company whose stock is mentioned in this article.