Along with most other oil majors, Exxon Mobil (NYSE:XOM) recently reported its 4Q 2015 results. While a multi-billion dollar quarterly profit put the company ahead of nearly every other oil major, the company still has a number of challenges it faces in the current low price environment.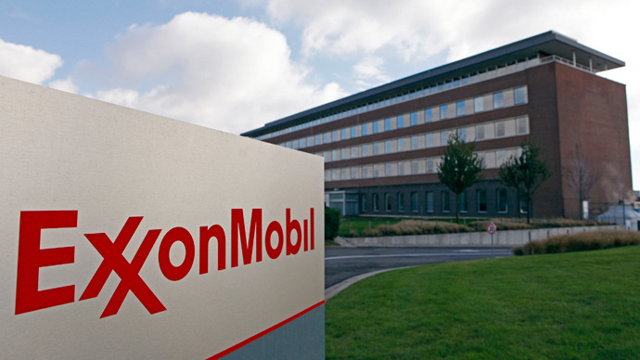 Exxon Mobil Building - Gazette Review
While oil prices have taken a devastating hit from the start of the year, Exxon Mobil has seen its stock price remain strong. While oil prices are less than 30% of their highs set in 2014, Exxon Mobil's stock is roughly 75% of its 2014 highs. More so, while oil prices have fallen almost 30% from their August 2015 lows, Exxon Mobil has actually seen its stock price increase by more than 10%.
Fourth Quarter Overview
Before we talk about the nitty-gritty of the company's results, let's begin by providing an overview of the company's results. Exxon Mobil reported fourth-quarter earnings of $2.8 billion with full-year earnings of $16.2 billion. The company generated $32.7 billion of cash flow mainly as the result of relatively significant asset sales. These asset sales were more than sufficient to cover the company's annual dividend of approximately $11 billion.
At the same time, despite the difficult pricing environment, Exxon Mobil has continued increasing its production. The company's upstream segment saw 3.2% volume growth as a result of starting up 6 major projects. Meanwhile, strong margins in the company's downstream segment has contributed to the company's ability to maintain profitability.
Globally, the oil markets have been dragged down by fears of weakening demand from both the United States and China. China especially has been one of the world's fastest growing economies and a slowdown hear could heavily weigh down global markets. Beyond this, the recent lifting of sanctions on Iran followed by a subsequent renewal in production has continued to contribute to the global oversupply that has weighed down oil markets.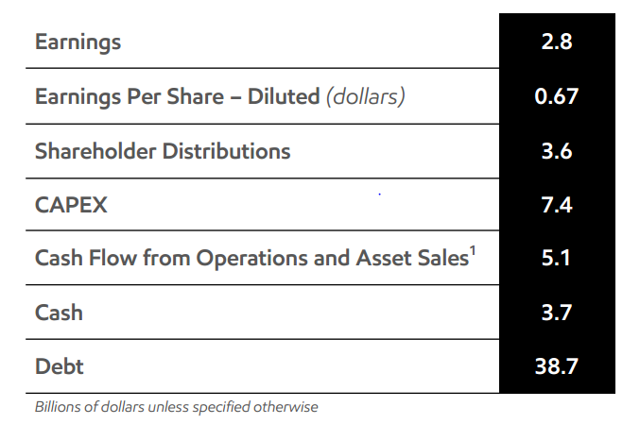 Exxon Mobil Earnings - Exxon Mobil Investor Presentation
This difficulty is shown best in the company's fourth quarter results which have had to deal with a substantial recent drop in oil prices to below $30 per barrel. Throughout the quarter the company had $2.8 billion of earnings dwarfed by $3.6 billion of shareholder distributions. capex of $7.4 billion more than doubled the company's earnings for the quarter.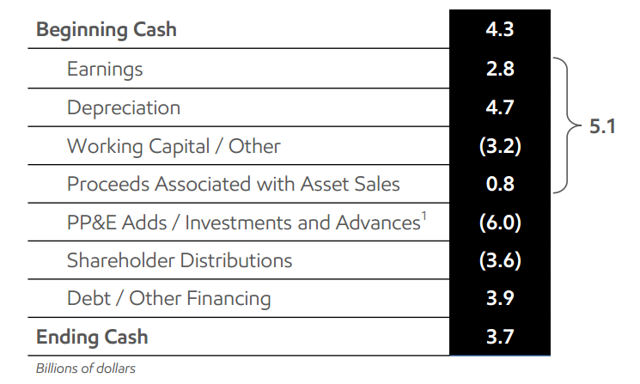 Exxon Mobil Cash Changes - Exxon Mobil Investor Presentation
Exxon Mobil has been addressing such a decline through asset sales and the destruction of its cash pile. Exxon Mobil's cash flow from operations and asset sales for the quarter was $5.1 billion almost double its raw earnings. At the same time, the company's cash flow decreased by $0.6 billion during the quarter despite the raising of $3.9 billion in debt.
There is no denying the financial difficulty the company faced during the recent quarter. In one quarter, the company managed to decrease its cash pile by 15%, increase its debt by 10% and sell $5 billion worth of potentially valuable future assets. Extrapolated over a year of similar conditions this will result in a 40% increase in debt and a 60% decrease in cash, a devastating one-year development.
However, one important thing I want to highlight is how these conditions are temporary. For 4Q 2014, when the oil crash was already in full swing, the company managed to earn $6.6 billion putting itself at a P/E ratio of approximately 15. Taking the pre-crash numbers and the company's current P/E ratio is less than 10 meaning that investors could be well rewarded waiting for a recovery.
For this reason, I am particularly frustrated by Exxon Mobil's sale of billions of dollars of quality assets - the only kind of assets that will sell in the present market situation. The company's triple A credit rating (one of three companies with the credit rating along with Johnson & Johnson (NYSE:JNJ) and Microsoft (NASDAQ:MSFT) allows it to borrow billions for just a few % (2-3%).
Exxon Mobil, one of the longest lasting oil companies, well understands that the oil markets are cyclical. Without specifically delving in, I doubt that the company's rate of return on the assets it sold were 2-3% a year. As a result, the company could easily have borrowed instead of selling assets.
If the company became starved enough for cash, it could issue short-term bonds at 2% and buy-back shares to save on the dividend costs.
Growth
Now that we have delved into the company's fourth quarter results (we even branched out a little bit past that), it is time to talk about the company's growth prospects. The oil industry is one of a few cyclical industries that best epitomizes the common saying, "you need money to make money."
One of the reasons Exxon Mobil's stock price has held up during the market is it is widely seen as the stalwart of the oil injury with a multi-decade history of increasing dividends and making sound investments. The company's high credit rating and minimal debt allow it to take advantage of opportunities once they present themselves.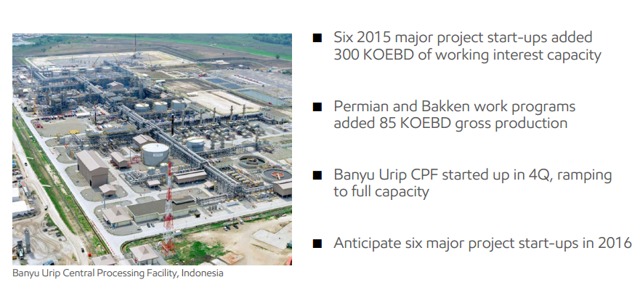 Exxon Mobil Project Startups - Exxon Mobil Investor Presentation
Already, Exxon Mobil had six major project startups in 2015 that resulted in 300 thousand barrels per day of increased production. The company's 4Q production saw an impressive 3.2% volume growth that expanded out reached almost 10% of volume growth for the year.
The company's major Banyu Urip CPF project turned on the lights in the 4Q and is expanded to ramp up to full capacity in the coming quarters. This should help provide a nice boost to production. More importantly, the company anticipates six major projects start-ups in 2016 that should result in a subsequently similar production increase of almost 10%.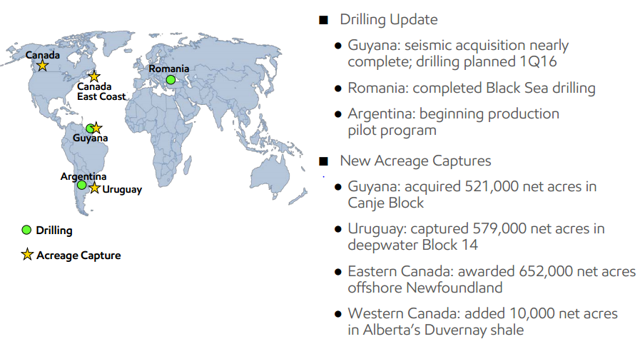 Exxon Mobil New Projects - Exxon Mobil Investor Presentation
Lastly, Exxon Mobil has been taking advantage of the pricing downturn for everything oil by acquiring new properties with substantial potential. The company managed to acquire almost 2 million acres worth in the recent quarter, with substantial amounts of this new land in the offshore regions.
Exxon Mobil has done a solid job of understanding that the major onshore oil fields of the world are going into decline and hopes to find the next major fields in the offshore region. With the world's oceans representing its greatest frontier, Exxon Mobil is well positioned to find major fields where they present themselves.
Investing Strategy
Now that we have covered the company's results and potential in detail, let's talk about my recommended investment strategy. I recommend selling cash-covered puts on Exxon Mobil stock, namely the January 20, 2017 puts with a $80 strike price currently trading at $8.80 per share.
Under the scenario that these puts expire, you set aside $8000 for a full year to capture a $880 premium giving you a very respectable annual yield of 11%. Under the converse scenario where the puts are exercised, you receive 100 shares of Exxon Mobil stock with a cost basis of $71.20 per share. At your cost basis, your Exxon Mobil shares will give you a respectable long-term yield of 4.10% compared to the present yield of 3.65%.
Conclusion
Exxon Mobil has had a difficult time recently, though not nearly as difficult as one would expect based on the recent oil price movements - oil prices are currently just 30% of their highs originally set in mid-2014. At the same time, Exxon Mobil's devastating fall in profits mean that it is trading at a relatively expensive present P/E of 20.
As a result of this higher price, I don't recommend investing in Exxon Mobil at present prices. However, selling cash-covered calls for $80 that expire January 2017 will either give you an annual premium yield of 11% of Exxon Mobil shares with a much more reasonable cost basis of $71.20 per share, at which point they would yield more than 4%.
Disclosure: I am/we are long XOM, JNJ.
I wrote this article myself, and it expresses my own opinions. I am not receiving compensation for it (other than from Seeking Alpha). I have no business relationship with any company whose stock is mentioned in this article.