With its earnings slashed down badly, 2015 was a terrible year for Chevron (NYSE:CVX). The big oil company suffered on account of lower oil price realizations all throughout 2015, as a result of which it ended up with earnings of $4.6 billion for 2015 as compared to $19.2 billion in the prior-year period. What's more, the severity of the crude oil weakness was seen in full flow last quarter as average realized prices fell almost in half to $35 per barrel as compared to $66 per barrel in the prior-year period, pushing Chevron to a surprise loss.
The following chart clearly shows how huge an impact the massive decline in oil prices had on Chevron's bottom line: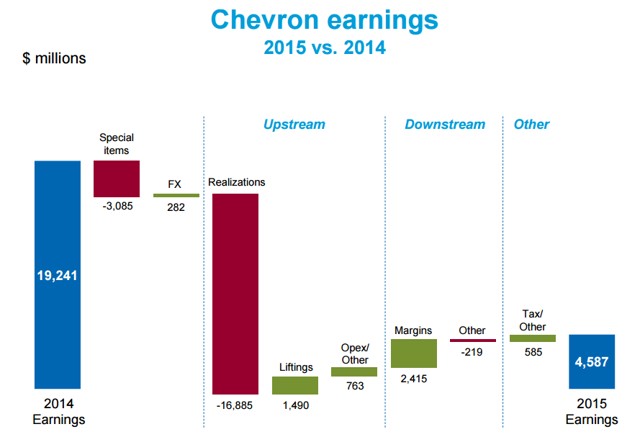 Click to enlarge
Source: Chevron
As seen above, Chevron saw its bottom line erode by a substantial margin of almost $17 billion on account of lower oil price realizations. So, in order for the company to make a comeback, it is essential for its upstream business to make a recovery. Now, that will happen only when oil prices start showing some signs of stability, while Chevron also needs to make progress on the cost reduction front. As such, in this article, we will take a closer look at possible improvements in key areas that are necessary for Chevron to make a comeback.
The oil price scenario
As already mentioned, the steep drop in oil prices throughout 2015 due to industry oversupply led to massive weakness in Chevron's upstream business. However, the decline in oil prices will be a key reason behind the market achieving a demand-supply balance going forward. This is because low oil prices are hurting the cash flow profile of E&P companies, as a result of which investments in new projects is taking a backseat.
For instance, last year, as Brent prices dropped from over $50 a barrel to around $35 a barrel, oil and gas infrastructure spending dropped by $250 billion. This year, the Brent index has seen a lot of volatility with prices falling to less than $30 a barrel last month before making a recovery in February. As a result of this volatility, oil companies are anticipated to cut $320 billion in spending this year.
In fact, out of 30 top oil companies in the U.S., 18 have already lowered their spending budget for this year by 40% on an average. As a result of these cuts, it is anticipated that oil production in the U.S. will come down to 8.5 million barrels per day in November this year as against production of 9.2 million barrels per day in December of last year, indicating a drop of over 7.5%. Moreover, the IEA expects that non-OPEC supply will decline to the tune of 600,000 barrels per day this year, which will be enough to offset the increase in OPEC production. The following chart shows the decline in non-OPEC production this year: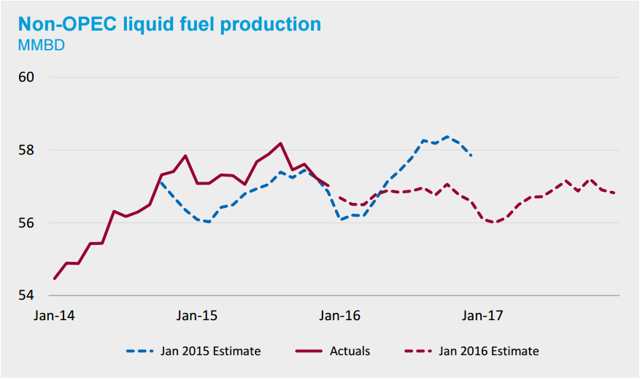 Click to enlarge
Source: Chevron
Along with the decline in oil production, demand is expected to rise to the tune of 1.2 million barrels per day this year. Hence, it won't be surprising if the oil market moves toward balance going forward as shown in the chart below: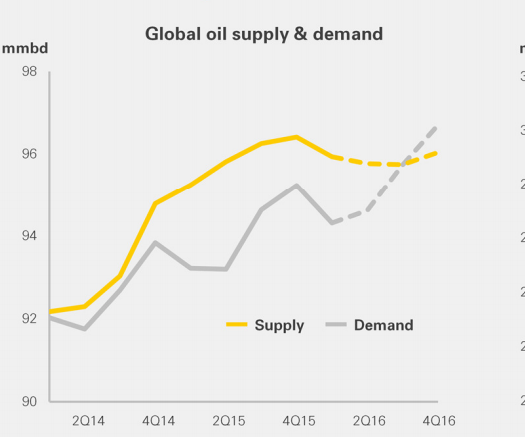 Source: BP
Thus, the mechanics of a low oil pricing environment will lead to better demand and lower supply going forward, and this will lead to a gradual improvement in prices. But, apart from expecting better prices, Chevron will continue to reduce its cost profile this year in the upstream business which should allow it to mitigate the volatility in the end-market to some extent.
More cost reductions in the cards
Chevron has lined up a number of cost reduction moves in the upstream segment. The company will be putting up its contracts with third-party suppliers for rebids, which will allow it to negotiate for lower rates in a weak pricing scenario. Concurrently, Chevron will be reducing its activity levels further this year so as to align itself with end-market conditions.
In all, Chevron plans to achieve 13%-18% reductions in operational and capital and exploratory costs combined this year as compared to last year's spending of $61 billion. Moreover, the fact that Chevron was able to lower its upstream operating costs by over 10% last year to around $16 per barrel, as shown in the chart below, has allowed the company to improve its gross margin despite the end-market weakness: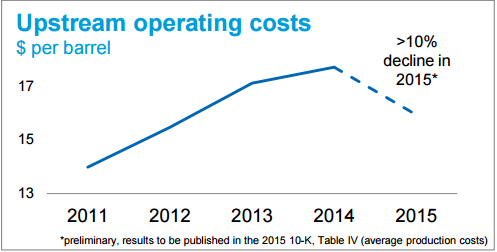 Source: Chevron
In fact, Chevron's cost-reduction moves have been quite effective till date as its positive gross margin performance easily outpaces its other big oil peers. This is shown in the chart below: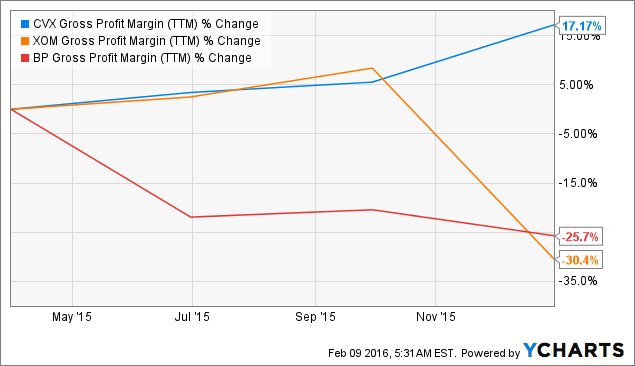 CVX Gross Profit Margin (TTM) data by YCharts
Conclusion
As discussed in the first part of the article, a recovery in Chevron's upstream business looks likely given the dynamics set into motion by the oil price crash. Additionally, Chevron's cost reduction moves have been effective enough to help it improve its gross margin profile even though the end market has been weak. So, in my opinion, it will be a good idea to remain invested in Chevron given its resilience despite adverse conditions in the oil market.
Disclosure: I/we have no positions in any stocks mentioned, and no plans to initiate any positions within the next 72 hours.
I wrote this article myself, and it expresses my own opinions. I am not receiving compensation for it (other than from Seeking Alpha). I have no business relationship with any company whose stock is mentioned in this article.