J.C. Penney (NYSE:JCP) is the turnaround story that you've been waiting for. In fact, you've been waiting for several, several years. While different CEOs have orchestrated different directions for the company, the analyst camp is back to thinking that the third time is the charm - that CEO Marvin Ellison can pull this company and it's equity out of the gutter and restore it to former glory. This is undoubtedly a tall task and I think that analysts are overbearing in their optimism, especially with the broader market being swollen with pessimism. I would not allocate capital to a J.C. Penney long position and would instead keep that cash on the sidelines or invest it in a reliable, current income equity.
Are The Shorts Running Out Of Steam?
An article on Seeking Alpha was written just before the end of 2015, by an exceptional contributor, Seth Golden. The article was a direct dismissal of my previous article on J.C. Penney, which you can view here. Seth makes some excellent points and I'd like to address his bullish case for JCP.
First and foremost, Seth believes JCP is better managed than before. While results and consistency in those results will ultimately dictate if CEO Marvin Ellison is capable of being a great CEO and an even greater leader, I don't deny that the company is taking steps in the right direction to create longevity and that's exactly what you want to see from new management. Past performance does not dictate future results, so Marvin Ellison gets a fresh slate.
However, the claim that it is "irrefutable" that JCP has improved its metric performance over the last two years is largely subjective despite the chosen diction. See, the comps that J.C. Penney was competing against were minimal - some of the lowest in the industry. With either flat or negative increases in SSS consistently YOY coming out of the crisis, I can't say I'm impressed by the recent 6.4% increase in Q3 sales. Furthermore, I stand by my statement that buying into a stock based upon blind confidence in a CEO without looking at the financials is a poor decision. I believe my audience is well-educated enough to know what I meant the first time around.
J.C. Penney looks like a diamond in the rough: same-store sales increased 6.4% in Q3, despite a massive dip in the equity due to broader fears surrounding the retail market. That figure is appealing, but it's up from 0.0% the year prior. Now, Seth has made it known that this 0.0% figure was due to the company running out of stock of crucial units during the back-to-school season. Interesting, now there's excuses. I'm not just going to forgive the company for dropping the ball, no, I'm going to allocate my capital elsewhere. The 6.4% SSS growth is going to be a standard for Q3 2016 as well as moving forward and I assure you that the company doesn't want it looking like a negative anomaly. Now, the company did report in early January that SSS grew 3.9% in the last two months of the year. Considering the stock has not popped considerably, perhaps investors are realizing that a 6.4% growth rate is now an unsustainable standard.
Another problem I had with Seth's article is that he stated, "Net income is negative because it is supposed to be at this stage of the business cycle." More excuses. One of their closest competitors, Kohl's (NYSE:KSS) has positive net income in the LTM despite this challenging "business cycle." Am I supposed to tell my parents, "Hey, my bank account is negative because I spent it all on 4 a.m. pizza, but this is just a cycle, don't worry I'll stop at some point"? Not one analyst knows when business cycles end or start, but we do know that if revenue is increasing (JCP improved $40 million in Q1-Q3 2015), then there's a shot at the company posting negative net income because it just has to control its costs effectively. Unfortunately, for JCP, SG&A has been higher than gross income the last three quarters.
Is Traffic An Issue?
Predicting holiday traffic's effect on earnings is a difficult task, as there are so many conflicting reports. This is such a crucial factor in determining how profitable J.C. Penney is going to be in both the ST and the LT.
There's traffic concerns regarding a lack of winter weather related purchases, mainly stemming from Kohls' earnings report. While I believe it is probable that we'll see some sort of negative impact on revenue because of this event for JCP, the magnitude will be different.
The MasterCard report, dated December 28, shows that U.S. retail sales grew 7.9% YOY, up from a 5.5% gain the year prior. Shoot, that's exceptional. Another interesting fact contained within that report is that online sales grew 20%, which is interesting given that my claim that "e-commerce is king," while a hyperbole, seems to be holding up in the court of Seeking Alpha. Furthermore, if it seemed like I cherry-picked information, consider that Seth didn't choose Visa's (NYSE:V) report on holiday sales, American Express' (NYSE:AXP), or Capital One's (NYSE:COF), or frankly any bank's report on traffic.
I said last time that J.C. Penney is taking the right steps with respect to its app and website to facilitate traffic and to create an excellent online presence. This is what the company needs to focus on moving forward as it is clear that this is how consumers want to shop. Notice the staggering difference in online versus retail growth rates as presented in an even bullish article for J.C. Penney above.
Even if e-commerce isn't king, it's still growing at a faster rate than brick and mortar, and that's what I'm looking at for the future. If it continues to grow at a strong, double-digit growth rate and continues to take market share from brick and mortar stores, then the pressure for J.C. Penney to have an exceptional online platform swells. There's two ways you, the investor can look at this.
Brick and mortar stores obviously have a larger market share, thanks to a multiple century time advantage.
The growth rates of the two are incredibly different, and e-commerce is the faster of the two, at an average growth rate of 16.68%.
What Should We Expect From Earnings?
Gauging earnings report performance based upon competitors earnings reports is the best way I see of making an accurate prediction at the moment. Kohl's dropped 18.8% after posting their earnings report, citing warmer weather as a cause behind less winter purchases. They said holiday sales were strong, but same-store sales were only up 0.4% for the quarter, missing an expectation of 0.8%. Kohl's is a direct competitor of J.C. Penney, and that already creates unstable ground for the latter's earnings report. Furthermore, Kohl's cut their full year guidance. Subsequently, the weak Kohl's report caused a 4.8% dip in JCP, a carryover effect we witnessed with the Q3 earnings season.
Macy's (NYSE:M), another competitor, will report on February 23, but has had a lot of trouble in the operating environment in the last few months, considering the strong decline in its equity, despite a bounce back in January. Store closures are decent first step to cutting costs, but will assuredly cut into the top-line. This company is also dealing with the increased potential REIT formation of its properties, but I'm waiting to hear from management before speculating on its implications.
Bed, Bath and Beyond (NASDAQ:BBBY) also missed on sales and even saw its revenue decline considerably YOY. It was down to $177.8 million from $225.4 million. Now, I do not expect JCP to follow this same bottom line trend, as I expect JCP to have efficiency gains readily reflected in net income as directed by Ellison, but this is just another example of a comp missing earnings. At some point, the expectations become too high, especially when you start attaching the word "turnaround" to the company.
Then there's Target (NYSE:TGT). While I don't view Target a direct competitor of J.C. Penney (Target is more of a direct comp to Wal-Mart), the company has nonetheless been included consistently in J.C. Penney's small universe. Target will report earnings on February 24 and the company's recent deal with CVS Pharmacy really sets it up to have an excellent 2016. Target's diversification is much stronger than that of JCP's and again, really do not want to include this into a comp.
That brings us to JCP's last comp, Wal-Mart (NYSE:WMT). I feel the same way about Wal-Mart as I do Target in reference to JCP. WMT is gearing up to report earnings on February 18, but as we know, this company experienced a significant setback in 2015 and hit a low of $56 in mid-November, but rallied up to $67 in January. The company is suffering from weak sales and only expects "modest" sales growth in 2016. I can't say that's a huge confidence booster for someone looking to invest in JCP. While I believe Wal-Mart is better suited in e-commerce space than JCP is based upon their amount of capital invested and their results from Black Friday, the fact remains that this company is better positioned for a broader market decline than JCP is.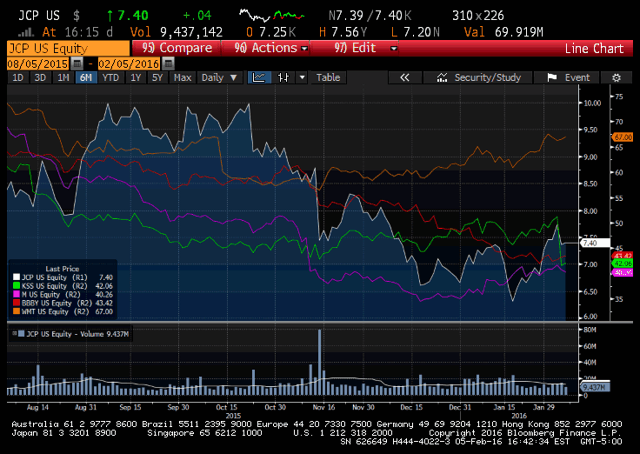 Click to enlarge
Source: Bloomberg
With regards to my previous statement about the company breaking even on FCF 2015, I wanted it to be viewed in the light absent of Q4 results. See, when you take the last four quarters FCF, without the holiday sales, a different understanding of the company forms. Of course Q4 is going to be significantly better - it's supposed to be. If it wasn't, we'd have some serious problems. In my view, FCF is -$1.03 billion. In the LTM view, it's only -$15 million. For the company to have FCF breakeven for the full year 2015, they're going to have to post FCF of $650 million, which naturally represents a $15 million increase in FCF YOY. The two views certainly paint conflicting pictures and I'll leave it up to the reader to decide the implications.
There are also going to be expenses associated with the recent employee cuts, and while Seth doubts that they are high, the fact is that we have no way to know. We know there will be a cost and speculating on a cost, let alone how it will impact earnings, is a ridiculous task.
The Trade Today
So, what are you going to do? Are you going to bet on JCP being the anomaly in its comparable group come the earnings report to actually beat expectations or are you going to play it safe with pessimistic market conditions and realize that close comps likely experienced similar results as JCP?
A short prior to Q3 earnings was ideal and I understand that longs are disappointed, but things happen in the market all the time that disappoint investors. It's best to pick your capital up and allocate it elsewhere rather than losing twice. The largest question I have for J.C. Penney shareholders is why would you choose to allocate capital here? If you bought on the dip in mid-January, seen below, then I understand what you're trying to do, but given the effect the Q3 earnings report had, can you manage that kind of volatility? I feel that there are less risky spots in the market that would provide ample returns for any investor. I even believe certain energy and commodities companies are better plays than JCP, but that's just me.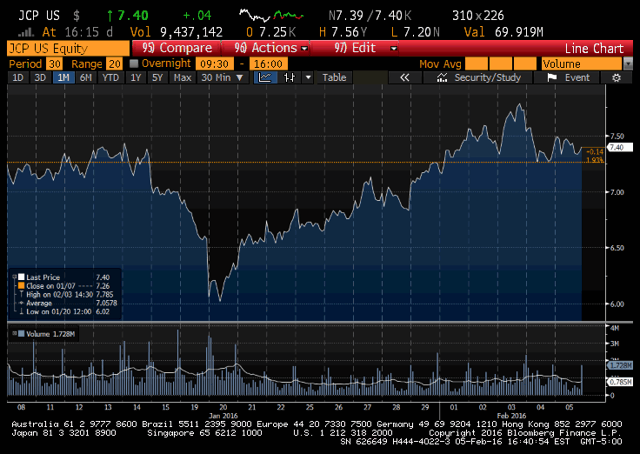 Click to enlarge
Source: Bloomberg
Short interest is still incredibly strong, now at 99 million shares, up from 91 million shares last March. If JCP's turnaround was happening, wouldn't we see the slightest bit of short covering? We did see some back in the fall when JCP posted the 6.4% same store sales growth figure, but the interest climbed as 2015 came to a close.
Additionally, there's been a considerable amount of panic in the markets as of late and certain individuals believe that J.C. Penney will be the positive beneficiary of more traffic as consumers feel the losses. Now, that statement is stretch - consumers won't feel equity market pain until quite some time and furthermore, J.C. Penney's equity isn't going to be the positive beneficiary of fear in the markets. Do people say, "Give me a mid-tier retail stock with a volatile past, no yield, and new management with little track record of positive performance? No, they say "Close my position. I want my money."
Conclusion
J.C. Penney is set to report earnings during the last week of February. If you do not wish to pursue a short strategy, there's are a variety of other options to suit your investment interests, so I do not want to convey a limited scope, here. I have since closed my short on JCP because I am allocating the capital to short elsewhere in the market.
Disclosure: I/we have no positions in any stocks mentioned, and no plans to initiate any positions within the next 72 hours.
I wrote this article myself, and it expresses my own opinions. I am not receiving compensation for it (other than from Seeking Alpha). I have no business relationship with any company whose stock is mentioned in this article.