After watching WTI and Brent fall from over $100 a barrel to less than $30, ConocoPhillips (NYSE:COP) made a (relatively) bold move. It cut its dividend by roughly 66%, sending its yield down to 3%. Not bad for an upstream independent, but not the lofty 8% payout that it was sporting before. The market, unsurprisingly, sent shares lower on the news. However, this is the right call from a fundamental viewpoint.
It's no secret that ConocoPhillips, along with the rest of the industry, was hemorrhaging cash in order to prop up both capex budgets and dividend payments. At the end of 2014, ConocoPhillips had a debt position of $22.6 billion. That increased to $24.9 billion by the end of 2015 even as the company sold off $2.2 billion in assets, ate up $2.7 billion of its cash pile, and shrank its capex budget. Low oil and natural gas prices are primarily to blame, as was ConocoPhillips hefty dividend payments.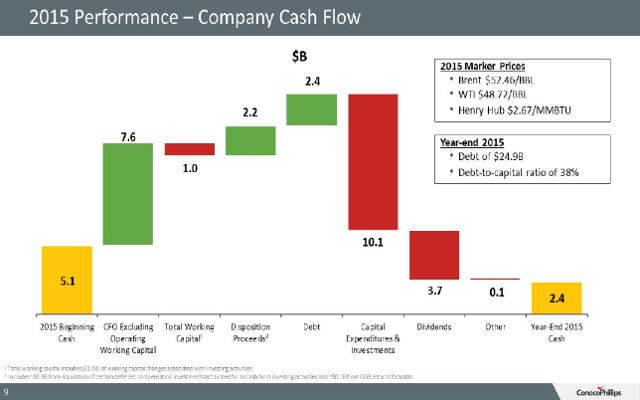 Click to enlarge
Source: ConocoPhillips Earnings Presentation
If ConocoPhillips had continued to payout almost $4 billion a year in dividends, it would have had to take on more debt. Management noted that for a company of Conoco's size that $1 billion - $2 billion in divestitures is considered normal, but that wouldn't go far enough short of a pricing recovery.
To keep up the momentum, Conoco is slashing its 2016 capex budget down to $6.4 billion from $10.1 billion last year. By bringing the Surmont 2 steam-assisted gravity drainage oil sands project online in Alberta and bringing the first train of its APLNG facility in Australia online (the first LNG cargo was shipped off in January), ConocoPhillips will be able to spend a lot less while still maintaining its production base as major project spending rolls off.
When adjusting for divestitures and downtime, Conoco sees its 2016 output coming in at 1.5 million BOE/d - 1.54 million BOE/d. Conoco pumped out an adjusted 1.525 million BOE/d on average last year, up 5% y-o-y. Ramping up output from its major developments will allow the company to hold onto those gains this year.
Going from 2016 to 2017, Conoco needs to replace 120,000 BOE/din output per year to keep it output flat as its base decline rate is 8%. The company estimates it needs to spend around $7 billion a year on capex to do so.
New cost structure
Management used to see $60 Brent as the general level where Conoco would generate enough cash flow to cover both its capex and dividend payments. With a lower dividend and projected operating cost, which will free up $4.4 billion in cash flow this year, ConocoPhillips now sees itself capable of breaking even at $45 Brent. That is a huge improvement worth taking note of, because it's the reason why Conoco did the "unthinkable".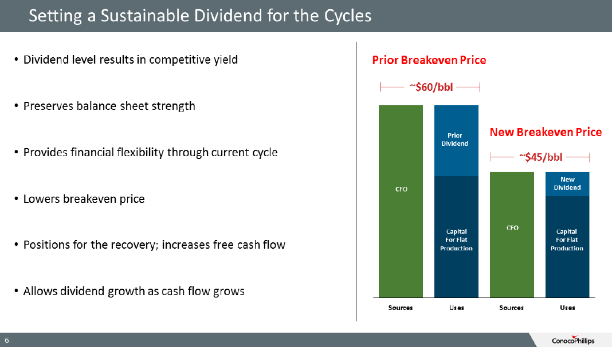 Source: ConocoPhillips Presentation
The EIA, for what it's worth, sees WTI and Brent averaging $38.54 and $40.15 this year and $47 and $50 in 2017, respectively. Conoco would have been forced to cannibalize its asset base and balance sheet through that entire time period (and possibly beyond) to cover its cash flow shortfall. That does little to preserve shareholder value.
There are a lot of moving pieces going in both directions in regards to the current oversupply hanging over the market. On one hand, additional Iranian crude supply and the unwillingness of OPEC to take a step back will further exacerbate the surplus. Non-OPEC supply reductions and demand growth push back against that narrative. It is probably reasonable at this point to assume that 2016 will be more of a transitional year for the crude market that one with a strong pricing recovery. By the second half of 2016, there is a decent chance there will be at least somewhat of a bounce as WTI/Brent head their way back up to $40/barrel+.
2017
Global LNG prices have fallen in lockstep with Brent, which is why Conoco is going to have to contribute around $700 million - $800 million this year towards its APLNG venture to finish building the second train. Initially, ConocoPhillips was guiding for the APLNG development to be self funding by 2016, but LNG prices are too low for that to happen. The second train is supposed to be completed this year, with LNG production ramping up after that.
On top of that, ConocoPhillips' $800 million in deepwater exploration spending this year will be "virtually zero by the time we (Conoco) get to 2017." As spending rolls off on these major development, including some of ConocoPhillips' other ventures, management is guiding for another $2 billion in cash flow to be freed up going into 2017. Some of that will most likely be deployed to the company's unconventional assets, especially if WTI firms up a bit.
Final thoughts
ConocoPhillips' stock took a big hit on the news its dividend was cut, with analysts repeatedly bringing it up during the conference call. The main point of contention was how will ConocoPhillips reward shareholders with a lower yield and flat production base. I would contend that hemorrhaging cash, cannibalizing the balance sheet and/or asset base, and pursuing growth at the bottom of a pricing downturn is a terrible way to reward long term shareholders and a great way to ruin the fundamentals of a company.
Going forward, ConocoPhillips will continue to trade in tandem with oil prices now that the payout cut news is out. With most of the bearish catalysts already in play (dividend cut, lower for longer environment), as long as ConocoPhillips stays the course, it will survive with its current operations, balance sheet, and dividend intact. Management doesn't expect Conoco to take on a material amount of debt this year after factoring in $1 billion - $2 billion in asset sales, and if Brent moves back to $45/barrel, the company can start rewarding shareholders through various moves (dividend boost, debt reduction, production growth).
It may not be time yet, but we are drawing nearer to the proverbial "buy when there's blood in the streets, even if the blood is your own". Ultimately, however, it comes down the price of oil.
Disclosure: I/we have no positions in any stocks mentioned, and no plans to initiate any positions within the next 72 hours.
I wrote this article myself, and it expresses my own opinions. I am not receiving compensation for it (other than from Seeking Alpha). I have no business relationship with any company whose stock is mentioned in this article.