Coca-Cola (NYSE:KO) recently reported its Q4 numbers, posting better than expected earnings and revenues. Though, there were some areas that were more impressive than others. As of this writing, the market has Coca-Cola flat to up less than 0.50% for the day, a good relative performance given the 100 point drop in the Dow.
Volumes are growing nicely
The number that most pops out in Coca-Cola's report are the volume figures. The company saw total volumes surge 3% in Q4 and 2% for the full-year. This was led by considerable growth in still beverage volumes such as bottled water. Of note, sparkling beverages volumes, which refers mostly to soda, were up 2% in the quarter and 1% for the year. In other words, fears regarding the demise of soda have been greatly overstated. Keep in mind that these are the global numbers so there are some areas with better trends than other.
North America remains Coca-Cola powerhouse
You would think that with the move towards "healthy" drinks and away from soda here in the US that Coca-Cola's North America numbers would be lackluster. However, this does not appear to be the case.
Coca-Cola posted 3% volume growth in North America in Q4 and 1% for the year. Still beverages were obviously the leader, up 6% in the quarter and 5% for the year. Though, soda volumes were hardly that poor given that sparkling beverage volumes grew 2% in Q4 and were flat for the year.
Though, there was a shift in what Americans were drinking. Diet Coke continues to decline in favor of Coca-Cola Zero. Ready-to-drink tea and bottled water volumes also grew nicely. Of note, Coca-Cola record its 23rd consecutive quarter of NARTD beverages value share gains - Coca-Cola's brand is stronger than ever.
Currency headwinds hit hard in Latin America
As for an area of weakness, Coca-Cola's Latin America units are struggling from the impact of the strong dollar. Yes, volumes grew by 2% for the quarter and 1% for the year. However, weaker currency hit revenues for this unit by a massive 25% in the quarter, only partially offset by price increases.
As a result, reported net revenues fell 18% for the quarter and 13% for the year, a miserable performance. Without these forex issues, revenues from this region would have been up 7% for the quarter and 11% for the year.
Free cash flow and the dividend - expect a smaller dividend increase
Coca-Cola generated $10.5 billion in operating cash flow for 2015, down 1% from last year, while capex was $2.5 billion, up 4%. This left the company with ~$8.0 billion in free cash flow, down 3% from last year.
Falling free cash flow is not a good thing, but understandable given Coca-Cola's forex headwinds and ongoing bottling operating turnaround expenses.
The dividend payout ratio was ~71% using free cash flow in 2015, up from 65% in 2014. When including net share buybacks, which totaled $2.3 billion in 2015 and $2.7 billion in 2014, Coca-Cola spent over 100% of its free cash flow on shareholder returns in 2015 versus 98% in 2014.
Unless free cash flow were to suddenly increase drastically, I expect Coca-Cola to not be able to post a large increase in its dividend in 2016 without it shifting cash over from the buyback program. A payout ratio in the 70% range is a tad too high for my taste and it would be prudent to slow down the rate of cash burn. I'll have more on this in a future article.
Conclusion
Coca-Cola is one of the most dependable stocks in my portfolio . While its performance has hardly been flashy, this was a stock that was actually able to easily beat the markets in 2015. The 3% dividend yield offers well above average levels of income, which is slated to grow given that the company has raised the dividend for over 50 consecutive years. While I am somewhat pessimistic on the dividend growth level this year, I remain firmly in the bull camp for the beverage giant. Hold Coca-Cola for the long-term.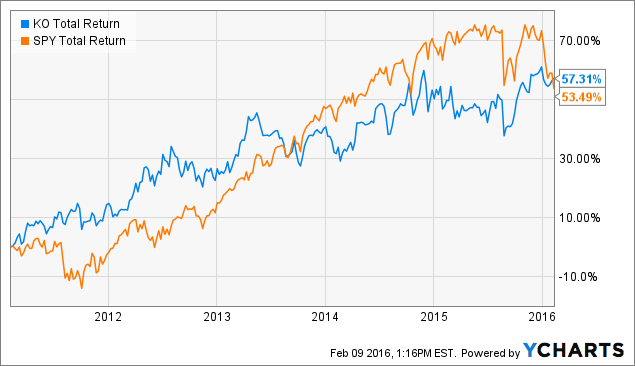 KO Total Return Price data by YCharts
Disclaimer: The opinions in this article are for informational purposes only and should not be construed as a recommendation to buy or sell the stocks mentioned. Please do your own due diligence before making any investment decision.
Disclosure: I am/we are long KO.
I wrote this article myself, and it expresses my own opinions. I am not receiving compensation for it (other than from Seeking Alpha). I have no business relationship with any company whose stock is mentioned in this article.