Cisco Systems (NASDAQ:CSCO), one of the growth giants of the 1990s, has struggled like most of the 1990s bull market technology giants in terms of reinventing itself away from the core business segments that drove its incredible growth 20 years ago - mainly switching and routing.
When the reports its fiscal Q2 2016 on Wednesday night, February 10th, 2016, after the closing bell, the Street consensus is expecting $0.54 in earnings per share (EPS) on $11.78 billion in revenue for expected year-over-year growth of +2% and -1%, respectively. (While the consensus EPS estimate has remained the same since the November 2015 earnings release, the consensus revenue estimate has fallen slightly in the last three months, but probably less than that for other multi-national tech giants.)
With fiscal Q1 2016's results, Cisco management reduced fiscal Q2 revenue guidance from up mid-single digits to flat to -2%, which was not an insignificant guide-down for revenue.
For fiscal Q3 2016, current consensus is expecting $0.55 and $12 billion in revenue for 2% y/y EPS growth on a 1% decline in revenue.
If the revenue estimates are kept exactly where they are as of today, this could be the first consecutive two quarters of negative y/y growth for the company since late 2009.
For fiscal 2016 ended May 2016, Street consensus is expecting $2.26 on $49 billion in revenue for expected y/y growth of 2% on flat revenue growth.
By Segment
Switching and routers remain 60% of CSCO's total revenue (give or take a few percent), and while the switching business has shown flashes of low-teens year-over-year growth, the router business has gravitated from +2% to -7% growth in the last few years.
The Data Center business is roughly 8-10% of the company's total revenue, and that segment grew 22% last quarter, at the lower end of the growth rates in the last eight quarters.
Security is the other rapidly growing segment at 5% of CSCO's revenue, growing between 12% and 25% per quarter.
Management changes
When Chuck Robbins was named CEO of Cisco last year, I thought it finally meant that John Chambers could play some golf and treat the chairman's position as the ambassador's role it can sometimes be. But when Cisco announced the joint venture with Apple (NASDAQ:AAPL), and it was Chambers and Tim Cook doing the mating dance at the media announcement, my first thought was, "Nothing has really changed."
Every organization needs a fresh set of eyes and new perspective, and I thought Cisco was long overdue in the mid-2000s, but John is hanging onto Cisco's leadership role like a dog on a bone, and I don't know if that is such a good thing for shareholders.
It is just an opinion, and many disagree. Here is the article from last summer, where I thought John was taking a less visible role. Sure doesn't appear to be the case.
Valuation
At $22 per share, CSCO is trading at 6(x) cash flow (ex-cash) and 6(x) enterprise value to cash flow, with a 3.5% dividend yield. So, investors that can hold for the longer term, particularly through this current market turmoil, might be rewarded.
Cisco hasn't been this cheap on a P/E or cash flow basis since late 2012-early 2013.
What I worry about is that the company has become the technology equivalent of a consumer staple. Just like Intel (NASDAQ:INTC) and so many other large-cap tech giants, Cisco's ability to create growth away from its core strengths has been a struggle, at best.
Technical analysis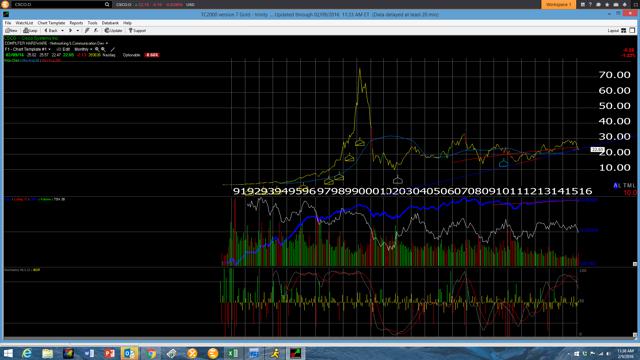 Click to enlarge
This chart shows that CSCO could be on the cusp of trading below longer-term support levels, as the chart looks very overbought.
This doesn't mean the stock will break down later this week, but it is at a very important longer-term level.
This chart also means that for those looking to go long the stock, the low $20s is a lower-risk level, with a nice dividend yield. Just be very conscious of the longer-term support levels. A trade below $20 for Cisco on heavy volume, and the stock is broken.
Conclusion
Cisco could be your classic value trap, or it could continue to remain stuck in the trading range that has been the $20s for a while.
For those wishing to collect a nice dividend and wait on a trade back to the high $20s, the stock is lower-risk here.
Clients have no exposure to the stock outside of one longer-term position bought in January 1998, on which there is still a 140% gain.
In this market turmoil, and the prospects for more ahead, it is highly unlikely I would add to Cisco ahead of Wednesday's nights earnings.
Disclosure: I am/we are long CSCO, AAPL.
I wrote this article myself, and it expresses my own opinions. I am not receiving compensation for it (other than from Seeking Alpha). I have no business relationship with any company whose stock is mentioned in this article.