Since the start of the final quarter of 2015, I have warned readers that ConocoPhillips (NYSE:COP) has very limited potential to sustain its current dividends. Many times, the company's management assured investors of dividend stability, but I held my own opinion about COP's dividends. I was vindicated when the company recently announced a huge cut of 66.2% in its quarterly dividends. COP now offers a dividend of $0.25 per share.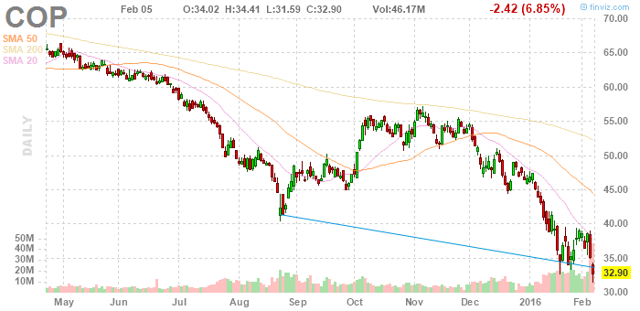 Click to enlarge
The company's share price has been slipping over the last twelve months amid falling commodity prices and an uncertain market environment. Its stock lost almost half of its value in the past twelve months alone. However, following the dividend cut, COP's share price was slashed by another 15%. That accounts for just the last five trading sessions. It's obvious that investors are not admiring the board's decision to reduce dividends, especially after hearing so many promises to the contrary. Unfortunately, the company has no other choice at the moment.
After posting significant losses in the second and third quarters of 2015, it generated even worse results for the final quarter. Despite notable growth in production, the company was unable to reduce its losses. In Q4, it generated a production growth of 32 MBOED to 1,599 thousand barrels of oil equivalent per day, compared to the same quarter of last year. This growth was primarily due to new production coming from major projects and development programs, in addition to improved well performance, partially offset by a normal field decline. In Q4, ConocoPhillips generated a net loss of $3.5 billion, compared to its loss of $39 million in the same quarter of last year.
For the full year, the company's net loss stood at around $4.4 billion, compared with its earnings of $6.9 billion in fiscal 2014. Due to the drop in earnings; COP's cash generating potential also declined, forcing it to make significant cuts in investments and dividends. In fiscal 2015, it generated an operating cash flow of $7.5 billion, which represents a notable drop from the $16.7 billion of last year. After making a capital investment of $10 billion, the company was left with a negative free cash flow of $2.4 billion. This means that its operating cash flows are not adequately covering its capital requirements and dividends. Thus, the dividend and investment cuts were necessary for the company's survival.
Now the question is, what's next? Does their financial problem diminish after the dividend cut? The answer, in my view, is no. I believe the company's business fundamentals are weak and are likely to remain challenging for the duration of this year. However, due to significant dividend cut, low capital investments, and cost cutting measures, COP may see a slight improvement in its financial health.
The company is reducing its 2016 capital expenditures to $6.4 billion. This represents a drop of $3.7 billion over 2015 and a $1.3 billion reduction from its original 2016 capital investment plan. In addition, COP is cutting back to only three rigs in the Lower 48 States, due to current oil prices. Moreover, the company is trying to cut costs to lower its breakeven point. At the moment, it will break even at $45 per barrel Brent.
In a conference call, the company's CEO said its combined reset of capital, operating costs, and dividends will enable it to generate free cash flows that it can apply across a range of opportunities, including increased investment into its low-cost supply resource base, while continuing to return capital to its shareholders. The CEO also stated that this reset will allow the company to increase its dividends in the future while allowing its cash flows to grow at a much lower mid-cycle price. I concur with this opinion. I believe that the company's decision will impact investors' confidence, but it was a necessary step in order to maintain the company's financial health.
In Conclusion
Despite costs and dividend cuts, I believe it would be quite difficult for the company to generate profits in 2016. ConocoPhillips still needs oil prices to perk up to $45 per barrel, but this appears unlikely. The EIA has predicted oil prices to stay around $37 per barrel for this year. It doesn't expect prices to rise to $45 per barrel until 2017.
Fundamentals for oil prices are also looking bleak as major producers are not looking to cut production. In the month of January, OPEC members generated record output, which is not a good sign for oil prices, nor for the already oversupplied market. In addition, Iran is ready to add significant oil inventories in the second half of this year, which could have a significant impact on oil prices. Consequently, I'm not expecting any improvement in oil prices this year, certainly not to the level of $45 per barrel. For COP, it could be another year of significant headwinds from all sides.
The company's share price is likely to remain depressed for the short term, due to low oil prices and its own tumbling financial performance. However, patient long-term investors can gain some profits by buying this stock at its multi-year low.
Disclosure: I/we have no positions in any stocks mentioned, and no plans to initiate any positions within the next 72 hours.
I wrote this article myself, and it expresses my own opinions. I am not receiving compensation for it (other than from Seeking Alpha). I have no business relationship with any company whose stock is mentioned in this article.